Lifestyle
Where you can see a 10-foot-long blue lobster ice sculpture this week
Plus, find out where you can visit an Enchanted Forest of ice sculptures on Sunday night.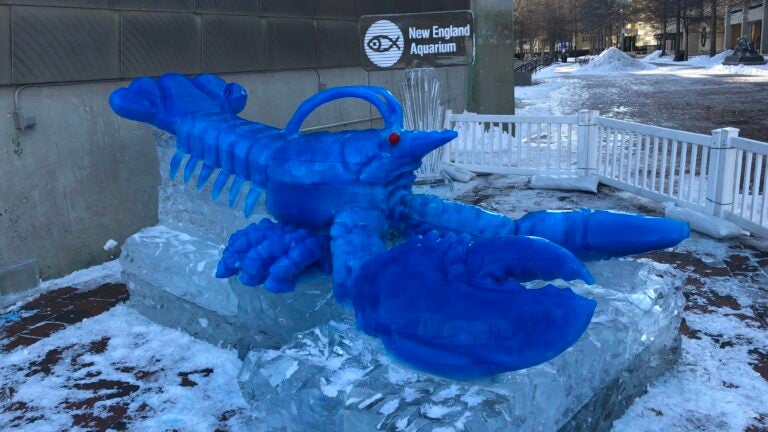 A gigantic blue lobster made entirely of ice is welcoming visitors outside the New England Aquarium this week.
Longtime sculptor Don Chapelle of Brilliant Ice Sculpture in Lawrence created the 10-foot-long lobster, coloring him by combining paint and heavy cream. The crustacean will hang out on Central Wharf until at least First Night, according to a statement from the aquarium.
Boston is experiencing bitter cold weather this week, which forecasters say will continue into the New Year. This bodes well for the ice lobster, as well as for the many other ice figures being sculpted around the city in time for New Year's Eve.
Ice sculptures have been greeting visitors in Copley Square on First Night for more than 40 years, according to First Night organizers. For the past three years, organizers have invited local businesses to display ice sculptures, as well, thus creating an ice sculpture stroll that stretches through the Back Bay.
This year, look for an oversized ice teddy bear at the Four Seasons and an enchanted ice wizard outside of the Boston Public Library. One sculpture — a princess embracing a frog prince — will even be located on the Boston Common Frog Pond. (You can skate on the pond Sunday from 10 a.m. to 3 p.m.) There will be 13 ice sculptures in all.
This year's presentation has an "Enchanted Forest" theme and will be full of unicorn, dragon, enchanted castle, and fairy princess sculptures. Organizers are calling the experience, which will include a light display, a "multi-sensory journey" and right out of a storybook.