Lifestyle
2 fashion insiders on where to find Boston's best vintage everything
From denim to boots to cocktail dresses.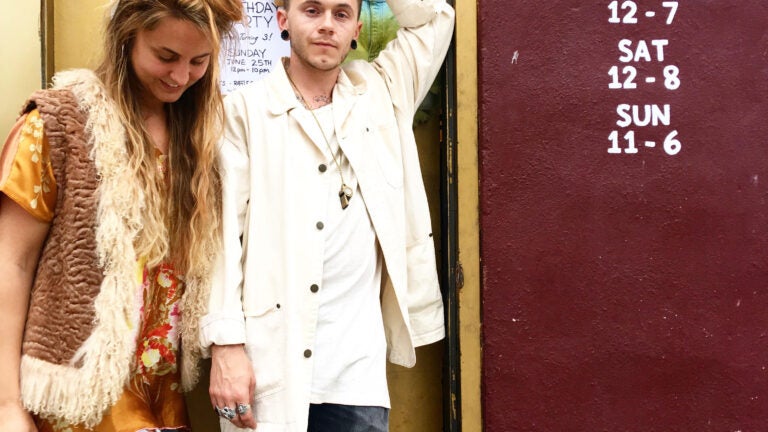 For an essential guide to the city, sign up for How to Boston, Boston.com's weekly culture and lifestyle newsletter.
Boston can be a tricky city for vintage goods, and no one knows that better than two of the city's biggest fans: Amanda Dugay Forrester, owner of freelance fashion styling firm Wardrobe by Redbird, and Justin Pomerleau, co-owner of Allston's Vivant Vintage.
"Vintage is already intimidating to people, but there's an even smaller scene in Boston because of the large tech and student populations," Dugay Forrester said. "Workplace dress codes mean people can't necessarily dress creatively all the time."
Both Dugay Forrester and Pomerleau cited rising rents, the popularity of online retail, and the recent closure of several long-standing vintage stores, like Somerville's Artifaktori and local chain Second Time Around, as reflections of waning vintage culture in the city. Still, both Dugay Forrester and Pomerleau are committed to investing in, and perpetuating, the city's vintage offerings.
"As much as I love online shopping, you have to dig [for vintage]," Dugay Forrester said. "That's part of the fun."
We asked Dugay Forrester and Pomerleau for tips on how and where to score the best in Boston vintage, from cowboy boots to cocktails dresses. Whether you're wandering booths or picking up well-worn Levi's at Pomerleau's own Vivant Vintage, Dugay Forrester offers this advice for making the most out of the treasure hunt: "Be super open-minded. Just try everything."
Retail Shops
High Energy Vintage
Both Dugay Forrester and Pomerleau love this Somerville shop for its menswear and video games, as well as its vinyl and vintage electronic gear. "It's harder to find shops that have a strong menswear curation, but High Energy has it all, from flannels to cowboy boots," Dugay Forrester said.
Great Eastern Trading Company
Even if you've already been, Dugay Forrester suggests revisiting this funky Cambridge standby — the large shop changed hands recently, and it offers a mix of costume and vintage gear. "It's a whole new level of awesome now," she said. While there's an abundance of Western shirts and cowboy boots to be found, she particularly loves it for its selection of dresses, including vintage wedding gowns. Appointments can be made by brides-to-be who are looking to find their something old among the store's collected inventory.
Vivant Vintage
Dugay Forrester pegged Pomerleau's shop as one of her favorite spots for denim, boots, and jewelry. Vivant boasts a denim bar full of jeans for men and women, as well as a large collection of silver and turquoise rings. Pomerleau suggests visiting the shop during its popular events, like Tarot and Tea, happening on Jan. 28, during which shoppers can enjoy free drinks and tarot readings while they browse the shop's selection of clothing and oddities.
Recollective
This Fenway newcomer features streetwear from the '80s and '90s, a focus Dugay Forrester calls "brilliant" considering the student populations that reside nearby. Find acid-washed jeans, embroidered hoodies, and track jackets for men and women among this multi-dealer shop's well-packed racks.
Bobby from Boston Warehouse
Popular vintage retailer Bobby from Boston has a secret, and it's in Lynn. The high-end South End outfitter of fashionistas and period films the city over also owns a warehouse on the North Shore, chock-full of everything from vintage baseball uniforms to sequin cocktail dresses. You can make an appointment to visit the well-priced treasure trove, or check the warehouse's Instagram account for public opening announcements.
The Garment District
"People say they have a hard time finding great stuff here, but the trick is to go often," Dugay Forrester said. The two-floor staple of Boston's vintage scene bills itself as "an alternative department store" and includes a large costume selection, ample menswear offerings, and used clothing ranging from turn-of-the-century to today. Motivated shoppers should be sure to dig around in the "Dollar-A-Pound" area, where piles of clothing sometimes yield diamonds in the rough.
Markets
SoWa Vintage Market
Pomerleau finds larger markets to be some of the best places for vintage, noting that "people like the ephemera aspect" of a space occupied by multiple vendors with different points of view. The SoWa Vintage Market, located downstairs at the SoWa Market, is open year-round, featuring booths from vendors whose focuses range from clothing to housewares to lighting to furniture. Dugay Forrester is particularly fond of Wishlist, a vendor specializing in women's clothing from the 1930s through the 1980s. "Every single thing on the rack is so well curated," she said.
Brimfield Antique Show
Pomerleau curates the "Traveling Spectacular," an enormous tent housing multiple vendors at the region's most famous antiques fair, and Dugay Forrester has some pro advice for making the most of what can be an overwhelming event: "Go in July," she said. "Fewer people go [then than in the spring and fall], because it's so hot, so you get great deals. Make sure to bring sunblock, drink lots of water, and wear comfortable shoes."