Lifestyle
Shop local on Valentine's Day with these gift ideas
From custom accessories to cooking and exercise classes.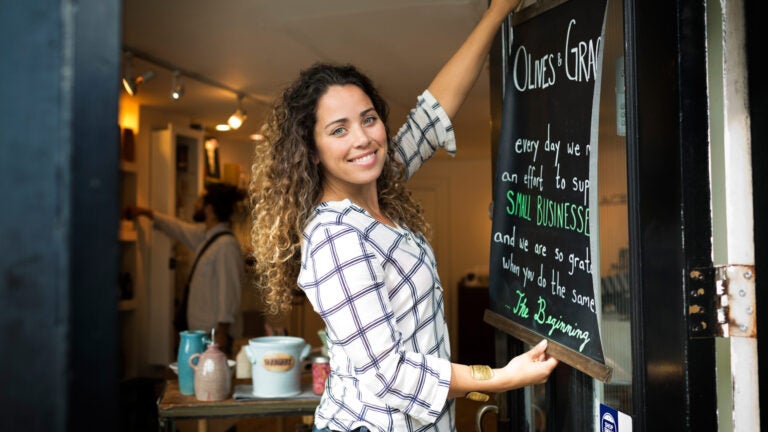 For an essential guide to the city, sign up for How to Boston, Boston.com's weekly culture and lifestyle newsletter.
At award-winning South End design haven Olives & Grace, Valentine's Day isn't "just about hearts and love," according to owner Sofi Madison.
"The theme is about celebrating friends, self-love, romance, and community," she said. "It's about giving thanks."
Madison said Valentine's Day can be a difficult holiday for shoppers who want to get creative and gift beyond the classic flowers and chocolate. With that in mind, Madison has planned a full week of imaginative shop events in advance of Feb. 14. The goal, she said, is to honor the holiday's traditions, while also making sure the shop is chock-full of uncommon and locally crafted gift ideas for the loves of your life — whether that's your partner, your family member, or you.
Olives & Grace's shop motto is, "A curtsy to the makers," and Madison focuses on the stories behind the companies she works with as much as the products themselves, carrying bespoke and handcrafted items almost exclusively from small and family-owned businesses.
Here are Madison's picks for Valentine's Day things to do and gift ideas, in her own shop and beyond.
Sterling silver jewelry from Ashley Procopio
Jeweler Ashley Procopio quit her day job to pursue her entrepreneurial dreams, and today her handcrafted line of minimalist sterling silver jewelry is an Olives & Grace favorite, especially the dainty stacking rings ($32). The local artisan will host a trunk show at the shop on Feb. 10 from 1 to 4 p.m.
Wine at Haley.Henry
"It doesn't get much better than the old school playlist at Haley.Henry to get your night started," Madison said. She recommends the snug Downtown Crossing wine bar as a cozy spot for a romantic night out, though she said the scene there is "open arms to couples and singles alike." Diners can expect to graze on a selection of charcuterie, cheeses, crudo, and imported tinned fish while sipping on small-production and natural wines from all over the world.
Handkerchiefs from The Everyday Co.
Custom-monogrammed handkerchiefs are a specialty from this sustainability-focused company that's best-known for its hand-sewn napkins made from found fabrics. Madison recommends them as a twist on the pocket square for the men in your life, and the linen fabric option as a luxe upgrade.
Stir classes
Madison said home chefs should head to cooking classes at Stir, an intimate South End demonstration kitchen and cookbook store from chef and restaurateur Barbara Lynch. The creative class offerings range from "French country comfort food" to "Carnival in Rio de Janeiro," and Stir's cookbook series classes provide deep dives into recipes from popular cookbooks.
Inspiration from "In the Company of Women"
Madison suggests gifting this best-selling book ($35) about female business owners to creative entrepreneurs. As a woman running her own business, she finds the book to be a crucial source of motivation and positive influence. "I think it's so important to have inspiration and support from other women," Madison said. "I hold on to that book really tightly. When you have zero inspiration left in your tank, you can open it up and just push through." Madison received the book from her sister, but she also recommends it as a thoughtful romantic gift. (Although it isn't produced locally, it is available for purchase at Olives & Grace.)
Peanut butter cups from Seacoast Sweets
Newburyport chocolatier Seacoast Sweets is helmed by founder Kirstyn Pearl, who was inspired to start the business by childhood memories of her grandfather's homemade peppermint patties. Today, she uses the business as a vehicle for philanthropy, donating often to her favorite local charities, like Dream Big!, an organization that empowers girls from low-income backgrounds through sports. Madison loves Pearl's dark chocolate riff on the Reese's peanut butter cup, packaged in gift-ready boxes and tied up with a colorful ribbon. Seacoast Sweets will be popping up at Olives & Grace on Feb. 11 from 1 to 4 p.m.
A class package from Recycle Studio
Madison suggests couples "keep that libido going" with classes at Recycle Studio, a South End and Back Bay indoor cycling studio. The classes, which are choreographed to music, offer a boutique and local variation on the indoor cycling experience.
Bouquets from Boston Pollen
Boston florist Krissy Price, owner of Pollen Floral Design, is known for her opulent, nature-inspired aesthetic. Price is almost exclusively a wedding and editorial florist, but last-minute shoppers will be able to snag some romance in floral form on Feb. 13 and 14, when Price will host a Valentine's Day grab-and-go pop-up of ready-made bouquets.