Lifestyle
You can learn to curl with these Massachusetts curling clubs
They're only a stone's throw away.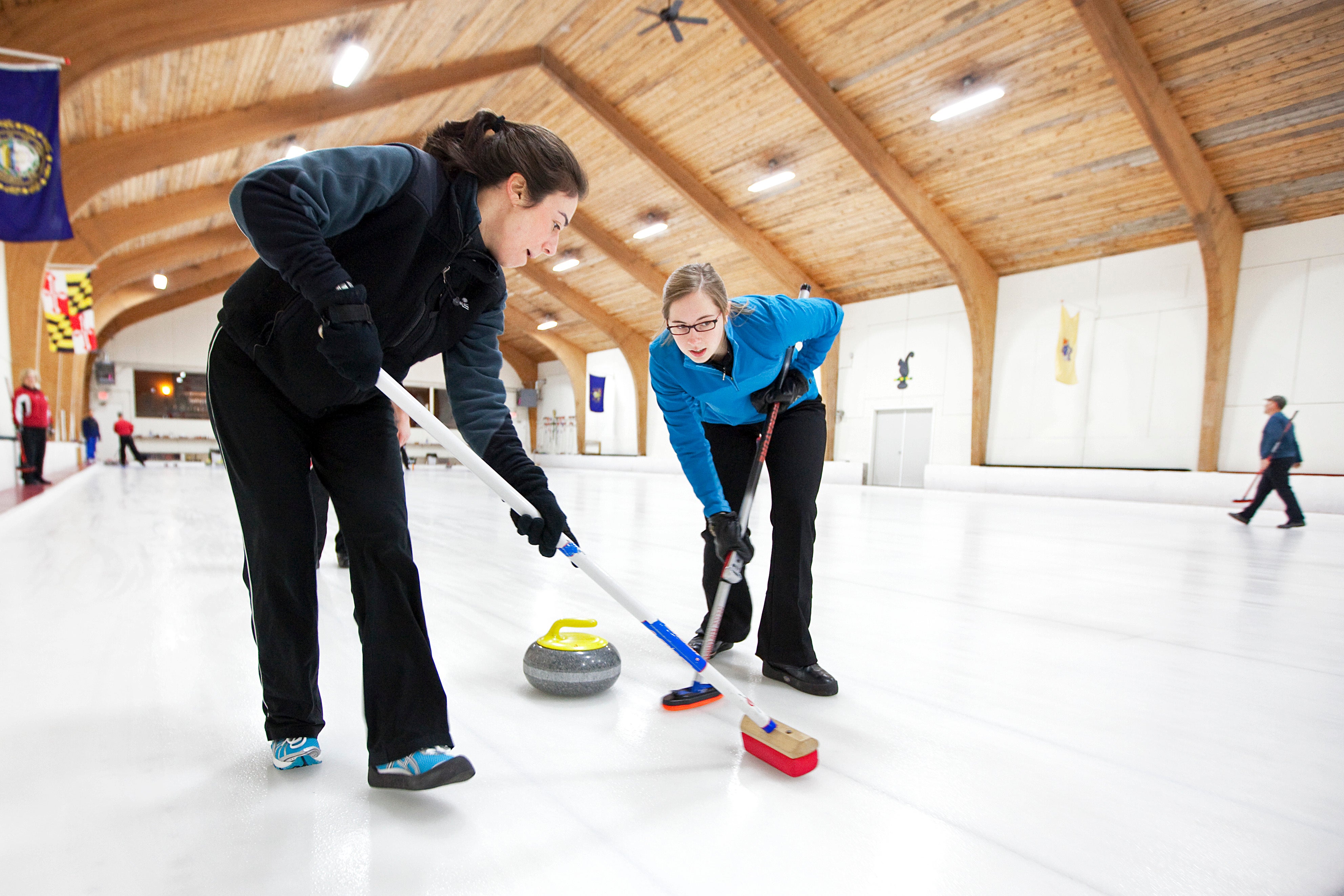 For an essential guide to the city, sign up for How to Boston, Boston.com's weekly culture and lifestyle newsletter.
The world is watching. Olympic curling, that is.
And Massachusetts residents eager to throw a stone of their own are selling out curling classes across the state.
"It's just been a flurry of activity because of the popularity of the Olympics," said Russ Lemcke, 78, past president of the Cape Cod Curling Club. "But the popularity of curling has been growing for some time now."
New England is a great place to learn the sport, according to Lemcke, who said he's called the "Johnny Curlingseed" of New England curling because he's so passionate about the sport and has helped set up 11 curling clubs across the Northeast. Lemcke learned to play as a child in Canada before picking up curling again 20 years ago when he moved to Cape Cod and joined the club.
"It's excellent because there's enough winter around [here] that people are looking for a winter sport," Lemcke said. "It's not that expensive to curl, and it's a load of fun and excellent exercise. And there's the camaraderie. It's a very sociable sport."
As Team USA prepares to compete in the Olympic men's curling championship game this weekend, discover five Massachusetts spots currently offering beginner classes and other curling events.
You can learn the ins and outs of sweeping and throwing stones at a Post-Olympic Open House with the Broomstones Curling Club on March 10 from 12:20 to 5 p.m. The class is offered to adults and children as young as 8, and participants must preregister for the event. The cost is $15 for ages 13 and up and $10 for kids age 8 to 12. (1 Curling Lane, Wayland)
This busy club's learn-to-curl classes are sold out for the season, but you can still take part in some "couch curling," according to Lemcke — meaning you can watch the Olympics on the club's couch with enthusiastic members who are more than happy to provide commentary about the action unfolding on the screen. Those who want to see members in action can attend the Nantucket Friendly at the club's Falmouth location on March 17. The club will once again offer beginner lessons in the fall — a five-week adult session will cost $80, Lemcke said. (37 Highfield Dr., Falmouth)
Marlborough Curling Club members are inviting the public, ages 8 and up, to learn curling basics at two upcoming "Curl-a-palooza" events — one this Saturday, Feb. 24, and another a week from this Sunday, on March 4, both at the New England Sports Arena. The cost for each of the 40-minute sessions is $15 for curlers ages 13 and up and $5 for ages 8 to 12. The club also offers two-hour learn-to-curl classes for $40, and although many of them are currently sold out, there is still room in a March 4 class from 7 to 9 p.m. (121 Donald Lynch Blvd., Marlborough)
Wheelchair curlers can learn with the best — Meghan Lino, a Paralympic champion, and Tony Colacchio, a wheelchair curling coach from the Cape Cod Curling Club — at the $30 Paralympics Wheelchair Accessible Event, taking place at the North End Curling Club on Sunday, Feb. 25. All of the other learn-to-curl classes with this club, which plays at the Steriti Memorial Rink in the North End, are currently sold out. (561 Commercial St., Boston)
The Petersham Curling Club is offering a beginner class for adults and kids as young as 5 this Sunday, Feb. 25, from 5 to 9 p.m. for $40 per person. The class will teach participants the basics of curling before organizing a game during which everyone can put their newly acquired skills to the test. (250 Main St., Petersham)