Lifestyle
How to fit working out into rooftop bar season, from a Boston cycling instructor
The Handle Bar's Candice Peak shares her tips for getting in both a sweat session and a social session this season.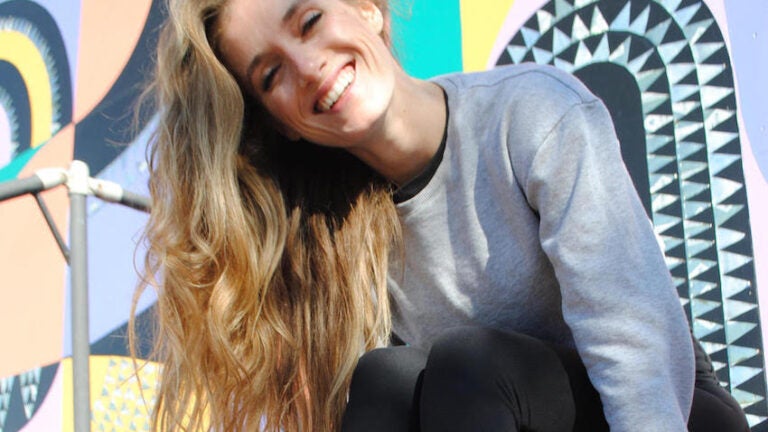 For an essential guide to the city, sign up for How to Boston, Boston.com's weekly culture and lifestyle newsletter.
As soon as Bostonians joyfully shed their parkas and snow boots, calendars start to fill up with invitations to patio brunches, beer gardens, and outdoor markets.
In the spring and summer, working out is often one of the first obligations to fall to the wayside. (And who wouldn't choose a rooftop bar over the gym?) However, there are ways to find the will and time for fitness and still make it to post-work cocktails.
Candice Peak has enthusiastically led the sweaty masses (sometimes in the earliest of morning classes) at The Handle Bar's indoor cycling studios for the past three and a half years. She found her way into cycling while looking for an intense cardio workout that wouldn't do more harm to an injury she sustained while running the 2013 New York Marathon, and quickly "fell in love" with the loud music and upbeat tempo of the classes.
Peak also competed in the 2008 U.S. Olympic Trials for swimming, so fitness has been a core part of her daily routine since grade school.
Here are her suggestions for how to overcome the barriers to getting a workout in — and make the experience a whole lot more enjoyable while you're at it.
1. Be truthful with yourself.
In order to commit to a workout, you need to be honest about the kinds of exercise you enjoy and when you're most likely to do them, Peak said. Paying $25 for a cycling class might not make sense if you're the kind of person who can regularly motivate yourself to bike outdoors for free for an extended period of time. On the other hand, for many people –– including Peak –– having the structure of a class is key to establishing discipline.
"I'm one of those people who just can't go to the gym and lift weights on my own," she said.
Similarly, some people are able to get up at 5:30 in the morning and make it to a 6 a.m. cycling class — Peak is one of them. For others, this is just one more reason to dread working out — and increasingly avoid it. Even if you desperately want to be a morning workout person, it doesn't mean you are, and that's perfectly OK, Peak said. Finding the variables that function in your favor can make all the difference in setting up a fitness routine.
2. Equate your workout with socialization.
As someone who works a day job as a marketing communications manager, teaches cycling classes, and is also training to start teaching at Barry's Bootcamp, Peak is no stranger to the "I'm too busy" excuse. That's why she started integrating her social life with her workout schedule.
"I have a lot of friends that go to the same classes I do, and meeting them or seeing them there adds an additional layer of motivation to make me go instead of sitting at home or going out that night instead," she said. "Go to class and then get a beer with friends after, or go to a class before brunch. There's a million ways to fit socialization in with working out, and that knocks out the urge to skip class to hang out."
3. Experiment.
One of Peak's secret exercise weapons is switching things up. She frequents and strongly recommends the HIIT (high-intensity interval training) and weight training sessions at Barry's Bootcamp in downtown Boston, which she loves because "there isn't time to get bored," she said. "You're always moving, and you're always being challenged. Also, the community there is just filled with diehard people who are great to be around."
She's also a fan of the brewery and Seaport Sweat series pop-up workouts from Eliza Shirazi, of the popular kickboxing brand Kick It by Eliza.
"There are a lot class options throughout the day to help you stay on track and fit your lifestyle so it doesn't seem like a burden," Peak said.
4. If you miss a workout, find a small way to be active.
"I'm definitely not one of those people who will freak out if a workout doesn't happen one day," Peak said. "If it didn't happen, it didn't happen."
She firmly believes in giving herself a break on days when she needs it.
"The mental health aspect of fitness and having a healthy relationship with working out is a really big deal to going," she said.
That said, on days when Peak doesn't attend or lead a fitness class, she'll try to fit some movement into the day — for example, by walking her dog.  
"It all counts," Peak said, "and giving yourself a day off if you need it is important as long as you get back into it again afterward."