Lifestyle
A guide to Somerville's Bow Market, opening this weekend
Art. Beer. Food. More.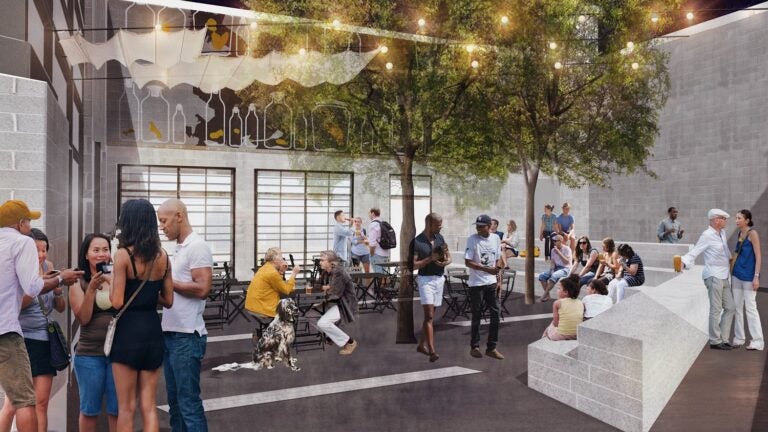 Bow Market, the innovative new market in Somerville's Union Square neighborhood, is set to officially open its doors this Saturday.
When you first encounter its stone courtyard set several yards back from the sidewalk on Somerville Avenue, you might think of Faneuil Hall, or perhaps Boston Public Market. But Matthew Boyes-Watson, one of the developers of the project, said that the market's closest analogues aren't in the U.S.
"Artisan's Asylum in Somerville is great, and obviously the spirit of Faneuil Hall is there," Boyes-Watson said. "But a lot of our inspiration came from out of the country. Specifically, we were inspired by the markets of Marrakech. Its streets are only 10 feet wide, and storefronts line both sides that are only 10 feet wide, and they go back, back, back from the street. It's a completely different economy, made up all of these small, independent owners."
Many of the shops at Bow Market are also only about 10 feet wide, especially on the second floor, which houses several artists and small retail vendors. On the first floor, small food shops will debut soon and buffet a large central space occupied by Remnant Brewing, a brand-new brewery with a wide-open porch attached.
Because the building only recently secured its final permits and approvals, only about half of the shops will actually open on Saturday. More and more vendors will begin to operate in the coming weeks and months, and many of the more established businesses will find ways to schedule pop-ups while they work toward their launch dates.
Here are five things you should expect to see when visiting Bow Market in the coming months.
1. Beer from a brand-new brewery
Remnant is the first tenant of Bow Market to open to the public, holding a friends and family night on Thursday and officially opening Friday night. The leadership team is comprised of brewery veterans, including David Kushner (formerly on the brewing team at John Harvard's Brewery), Joel Prickett (formerly of Lord Hobo Brewing), and head brewer Charlie Cummings (Mystic Brewery, Castle Island Brewing), who all plan to keep their business small and local.
"We are brewing at a super small scale, and we're not selling anywhere else," manager Brittany Lajoie said. "We're just selling here, which lets us be super adaptable. We always want our beers to be on point."
One of the highlights of Remnant is the outdoor patio space, which features leftover rocks from the Longfellow Bridge construction project.
On Thursday night, some of the food businesses soon to move in sold snacks to brewery customers, which Boyes-Watson said should be a regular occurrence while construction is ongoing.
Right now the brewery only has four beers on tap, but will likely scale up to eight soon, according to Lajoie.
2. Vendors in small spaces with big ideas
Part of Bow Market's mission is to provide artists, vendors, and other burgeoning entrepreneurs with their first brick-and-mortar opportunities.
"The spirit of the project was to create affordable storefront opportunities for aspiring retail vendors," Boyes-Watson said. "A traditional brick and mortar can cost upward of $60,000 to get off the ground. There's a gap…where a lot of incredibly innovative and potentially successful folks are getting stuck."
While you'll still find plenty of boutique shops in categories you might see at a standard mall, including a shoe shop (Adelante), home goods and gift shops (9000 Things, Homeslice), and a jewelry store (Filomena Demarco), little to nothing you'll find at Bow Market is mass-produced or part of any large chain.
3. Awesome art from local creatives
Earlier this year, MassDevelopment, the state's economic development and finance agency, pledged to match any funds raised by Bow Market for its arts programming, up to $50,000. Boyes-Watson said that part of that money will be spent on creating five murals in the large semicircular stone courtyard that houses the market. He is also hoping to use $10,000 to reserve one storefront for use by a new local artist each week, rent-free.
"$10,000 of the $100,000 we're raising will keep [the space] free for a year," Boyes-Watson said. "We'll pop up a different artist every week, with an art opening every Saturday, and everything the artist sells is 100-percent their work."
4. Lots of laughs
For 21 years, the Comedy Studio was a fixture in Harvard Square, albeit a hidden one. It served as a stepping stone for lots of up-and-coming area comedians like Eugene Mirman and Brendon Small from the third floor of the Hong Kong, a bar and restaurant routinely filled with Harvard students and other 20-somethings on weekends. Now, it will have a home of its own at Bow Market with a soon-to-be-built stage and bar — which will have a high-quality cocktail program.
"For the last five to seven years, we've had to turn so many people away from our spot at the Hong Kong," said Kirsten Sims, who handles marketing and communications for the studio. "People wanted to record their stand-up specials, put together podcasts, and all sorts of cool projects, but we didn't own the space, so we couldn't say yes. Now, you can do whatever you want, because we're not asking anybody for permission but ourselves. And our whole M.O. is to support and cultivate talent."
Sims said that the Comedy Studio hopes to have a soft opening of sorts later in the summer, possibly in July or August, with a more formal opening when students head back to the area in the late summer.
5. Plenty of food
As rents in the Boston area have steadily climbed, aspiring restaurateurs have tried creative new ways to build businesses, whether it be via food trucks, scheduled pop-ups, or cooking at commissaries. Some of the shops that will open at Bow Market are recognizable in part because they've become regulars at markets and breweries around the Boston area, including Jaju Pierogi and Buenas, which sells empanadas.
Other tenants include Saus, the Belgian frites restaurant with a downtown Boston location; Maca, a macaron bakery that offers lively flavors like Fruity Pebbles and Orange Blossom; and Hot Box, a comfort food restaurant from the owners of Mike and Patty's with menu items that evoke both the South Shore (bar pizza) and the North Shore (roast beef sandwiches).
According to Boyes-Watson, none of the 11 food businesses will be open in their brick-and-mortar spaces come Saturday, but businesses like Buenas and Jaju Pierogi will likely hold pop-ups until they open in their actual retail spaces.