Lifestyle
3 steps to planning a staycation, according to a Boston-based travel blogger
Meaghan Murray shares her favorite hotels, food, and activities for a "vacation" right here in the city.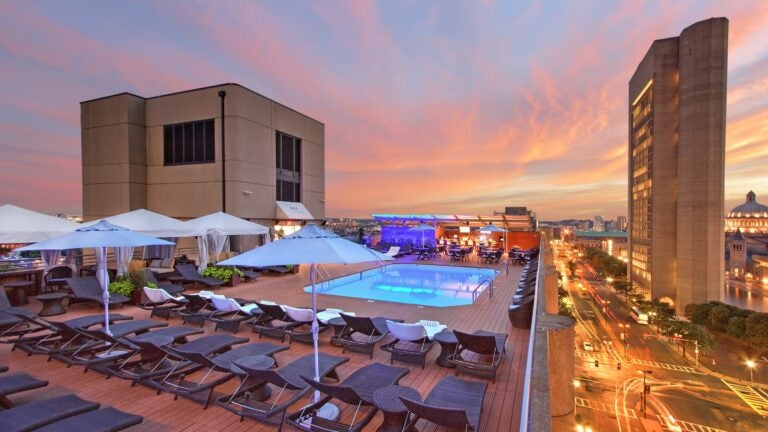 As the words and lens behind The Stopover, food and travel blogger Meaghan Murray has done her fair share of traveling over the past two and a half years. By sharing dispatches from weekend trips to spots like Salem and Portland, Maine, and longer getaways to destinations like Barcelona, Spain, and Edinburgh, Scotland, Murray guides visitors with the same voice you'd use to recommend a great pasta dish or cozy hotel to a close friend.
While it's exciting to save up for a big trip across the country or ocean, Murray said she knows that's not always feasible financially or time-wise. After nearly 10 years in Boston and more than a few great staycations, she said she's developed a true appreciation for playing tourist in her own city.
"If I'm going from point A to point B on a daily basis, I'm not walking around with my head up taking it all in. Staycations are a great way to reconnect with your city," she said.
Here are some of Murray's favorite places to stay, restaurants to try, and sights to see for when you're planning a Boston staycation of your own this summer.
Step 1: Find a homebase.
Murray said that a great staycation can start one of two ways: by checking into a hotel, or from the comfort of your own home.  
"I like to approach a staycation by first choosing a neighborhood," she said. "Figure out what's winking at you, what neighborhood you've been meaning to visit, and start there."
For example, Murray said many of her coworkers in downtown Boston don't venture across the bridge to Cambridge, which is why that area might make for a perfect staycation. She recommended The Charles Hotel in Harvard Square for a central location, and the Hotel Marlowe for great views of the city.  
Boston also has a number of hotels that Murray chooses over and over again.
"I really love The Verb Hotel and The Liberty. There's always a conversation to be had at those two places," she said.
If pool time is part of Murray's staycation plans, she chooses The Verb, The Revere, or The Colonnade.
She also recommended Yotel and the Envoy in the Seaport neighborhood, where she works.
Sometimes, a hotel just isn't part of the plan –– that doesn't mean a staycation is off the table.
"You can do things to feel more luxurious even within your own house," she said. "Maybe hire a cleaning lady to fix up your apartment or book a personal chef for a night."
Step 2: Indulge in delicious local food and fancy drinks.
Murray said she's someone who places the emphasis on comfort when planning a staycation, and she often translates that into choosing restaurants with comfort foods.
"Regardless of the season, I'll go for Toro or Coppa," she said of the South End tapas and Italian spots, respectively. "I love the Mexican corn or the paella at Toro and literally any pasta dish at Coppa. The chefs at those two spots really feel like Boston, to me."
If you're staying at The Verb, Murray said to add modern izakaya Hojoko to your plans, and to be sure to try the Wasabi Roulette, a Russian roulette platter of six sushi rolls, one of which is filled with wasabi.
"A fun dish like that is a great conversation piece," she said. "I've done it twice and I've lost twice. It can make the mood on a night out with a group."
As for drinks, Murray suggested making wine bar Haley.Henry a main attraction on your walk around the city because of both its central location in Downtown Crossing and calming atmosphere.
"I love Haley.Henry!" Murray said, excitedly. "If you're shy about wine, it's a great place to have a conversation and try different things. They have a great approach where you can try two glasses of anything and they'll open you a bottle."
She also recommended Kenmore Square watering hole The Hawthorne to those looking to make a top-notch cocktail program a part of their staycation.
"I think it's one of the best Old Fashioneds I've had," she said.
Step 3: Sleep in, then spend the day exploring.
Murray said she'd weave a ferry trip from East Boston's new ICA Watershed, which opens this July, into any staycation –– especially if you can time it with an ICA First Friday, one of her favorite activities.
A picnic is another experience Murray recommends trying in your own city, especially because it's something you might not do as part of the daily grind.
"If you're in the North End, grab a blanket, buy some ingredients, and go sit outside," she said. "There's a real old-world vibe with the groceries and the Bricco bread shop that I love."  
Another option is to nab ingredients at the Back Bay's Eataly, she said.
Murray also suggested checking out outdoor spaces beyond the common Common, like Glow in the Park in the Rose Kennedy Greenway.
"There are these vintage neon signs that are especially hard to notice during the day, but are very cool to see during the evening," she said. "I don't always notice outdoor art installations [like Glow], but when I take the time to see them, it feels like visiting someplace for the first time."