Lifestyle
How to be everyone's favorite guest and host
Beaumont Etiquette's Myka Meier talks about faux-pas to avoid and tips to remember at your next event.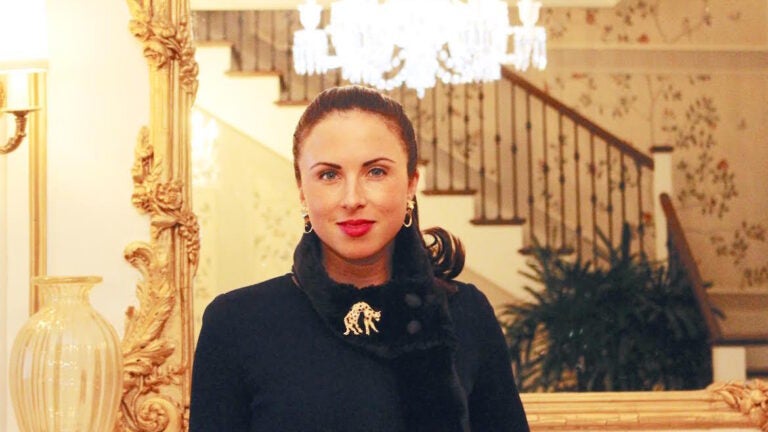 Summertime is a scheduling puzzle of weddings, barbecues, and other get-togethers.
Obviously some parties are more casual than others, but every invitation comes with a certain set of expectations around what to wear, when to arrive, and what to bring.
Myka Meier of Beaumont Etiquette hosts classes across the country that aim to make those etiquette rules feel less stuffy and more modern. In fact, she'll be at the Fairmont Copley Plaza Tuesday and Wednesday from 5:30 to 7:30 p.m. — you can still snag tickets for both courses.
Not sure if you're committing some party major faux-pas, or just want to know once and for all when you should show up for dinner? Take a look at some of Meier's best tips before your next event.
Want to be a good guest? First, learn to be a good host.
Meier's etiquette training often focuses on how to be an ideal guest, but she said that learning to be a good host is just as valuable of a lesson.
"A host should never say, 'Ladies first,' at the start of any event," Meier said, emphasizing the importance of always using modern, inclusive language. "Instead, say, 'After you,' because we never point out gender in our etiquette classes."
She also said that a host should be attentive that guests never linger for too long with empty glasses, and should be comfortable with uncorking a bottle of wine or Champagne.
"The less noise you make with a Champagne bottle — even though not everyone is excited to hear that — the better it is in terms of etiquette," Meier said.
Above all, she said, think about the needs of your guests first. Ideally, you'll have good guests who will be just as respectful of the effort you put into the event.
Learn these rules for cocktail hour.
Cocktail hours are a great way to mingle, meet new people, and enjoy hors d'oeuvres (let's face it —  often the most delicious part of an event!). They're also a time to pay attention to certain etiquette rules, according to Meier.
"When holding a glass of wine, we never hold at the bowl," she said. "We always hold at the stem, if there is a stem. When drinking, always drink from the same part of the glass every single time to avoid that lip ring that can happen from lipstick or just natural oils from your mouth."
If there are canapes or hors d'oeuvres at a wedding or event, Meier said to always take a napkin first, then the food.
"Always put your napkin with food or your glass in your left hand so that your right hand stays open to meet, greet, and shake hands," she said. "Likewise, if you have a clutch or a bag, always hold it to your side or in front of you — never in the pit of your arm."
As you're being introduced to new people, Meier said to resist the urge to ask the natural and obvious question: "What do you do?"
"It can come across as opportunistic, or as if you're asking how someone can help you or if you're asking how much money they make," she said.
Questions about weekend plans, for example, are much better icebreakers.
Truth: You don't get points for getting to dinner first.
Meier said she gets a lot of questions about the appropriate time to arrive, and that varies from occasion to occasion.
"A social networking event for, say, 100 people, is very different from a private home," she said. "If it's a private home and there's a dinner party that starts at 7 p.m., you never show up early — ever, ever."
Meier said people often assume it shows good manners to arrive early, but doing so to someone's home can cause the host a significant deal of stress and potentially derail their last-minute preparations. For an event at someone's home, Meier said it's appropriate to get there five to 10 minutes after the invitation time.
For a large networking event, she said it's fine to arrive up to 20 minutes after the time listed on the invitation.
Follow the rules of the house.
"We always tell people that whenever they enter someone else's home, it's important to always ask if they'd like you to take off your shoes," Meier said.
If you're too uncomfortable to ask, you should look for visual cues upon arriving: Are there shoes lined up by the door? Is your host wearing shoes?
That said, if you're the one who's hosting and you ask your guests to remove their shoes, Meier said she recommends having what she calls closed-toed "house shoes" or slippers to offer. She prefers the disposable kind, and said it can make guests feel more comfortable than being barefoot in someone else's home.
Never show up empty-handed.
Do you usually grab a bottle of wine or some flowers on your way to someone's home for a dinner party? You're definitely not alone, but Meier said that those two common choices aren't necessarily ideal.
"With flowers, people could be allergic," Meier said.
Additionally, "if you're hosting and someone brings you flowers, you have to display those flowers," she said. "You have to find a vase and put them in water, but meanwhile, you've missed your cue as a host to welcome your other guests."
Set on taking flowers? Meier said to aim for an arrangement that comes in a vase.
With wine, Meier said hosts might feel pressured to serve the bottle that you brought, which can be stressful if the menu doesn't necessarily jibe with the varietal at hand. Instead, Meier said to take Champagne, which is almost always appropriate.
Always say thank you.
Everyone loves thank-you cards, and Meier encourages her students to send them after they've been hosted at an event or after they've received a generous gift. In the 21st century, though, it can be difficult to decide on the best method to communicate gratitude: Email? Snail mail? A phone call?
"A good rule of thumb is to mirror the formality of what you're thanking for," Meier said. "If it was a very casual picnic in the park and you want to thank some people for organizing it, an email is fine. If someone hosted you in their home for a dinner, mail is better."