Lifestyle
How to save money while planning a Cape Cod or Boston wedding
Two local wedding planners offer engaged couples ways to slice their wedding budgets.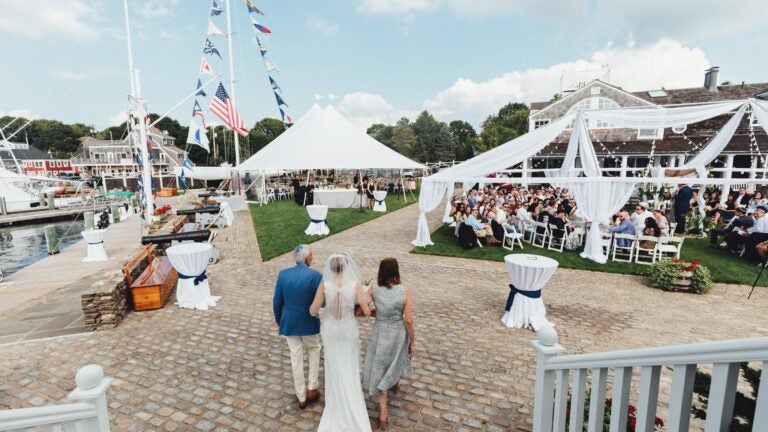 If you dream of tying the knot on Cape Cod, you're likely going to need a bigger budget than most.
According to wedding website The Knot's 2017 Real Weddings Study, which was released earlier this year and for which nearly 13,000 U.S. couples married in 2017 were surveyed, the Cape came out as the fifth most expensive place in the United States to host a wedding.
The average cost of a wedding nationwide in 2017 was $33,391, according to the study, but couples who got hitched on the Cape spent $55,083. Boston ranked No. 13 in the U.S., at $40,667. (The No. 1 most expensive place to host a wedding last year was, no surprise, Manhattan, at $76,944.)
Those numbers don't surprise local wedding planners. Top seaside venues on the Cape can run couples as much as $100,000, said Jamie Bohlin, a Cape Cod native and the owner of Cape Cod Celebrations in Yarmouth Port. Popular tent weddings at private homes on the Cape require loads of rental equipment when you're building a party from the ground up, said Keri Ketterer, owner of Always Yours Events in Falmouth.
"It doesn't mean that you can't have a wedding for $33,000 on the Cape," Bohlin said. "You sure can."
Bohlin and Ketterer offered ways for engaged couples to shave costs off of some of a weddings' biggest budget busters: the venue, the photographer, the music, and the flowers. Ketterer, who also plans weddings in Boston, said these tips can help trim the cost of a city wedding, too.
The Venue
For those who want an ocean view while saying "I do" on the Cape, it can cost around $100 to $400 per person for the venue and food, said Bohlin, who plans nearly 60 weddings per year. There are around 30 on-the-water venues across the Cape, she said, and flexibility is the key to booking one of them for less.
"If you choose a weekday wedding, you're going to save a ton," Bohlin said.
It's also typically less expensive to book weddings on Sundays, during daytime hours, and during the wedding off-season from November to April.
"It's Cape Cod," Bohlin said. "People want to be here in the summer. We get it. But it's still a beautiful place to be in November. You can have a beautiful winter day in December. It's still great. Obviously, it's less money because it's less popular."
Getting married in the off-season means a wedding at your favorite venue and/or on Saturday might become a viable option budget-wise, according to Ketterer. 
But the biggest way to slash your venue cost? Both experts agree that it's by taking a pen to your guest list.
"If you're coming to the Cape and want to have a 200-person wedding for $33,000, it's probably not going to happen," Bohlin said. "But if you have $30,000 and 75 people, you can take that a long way."
Ketterer, who plans eight events per year, said she's currently working on a 75-person summer wedding on the Cape.
"I do find that there's a little bit of a trend starting to pick up with these smaller, more intimate weddings that have all the beautiful things that the larger weddings have," she said.
Photographer
It's of course important to capture photos of your wedding day, but do you really need 12 continuous hours of professional photography? Maybe not, Bohlin said.
Local photographers typically start at $3,500, Bohlin said. You can reduce your costs by limiting your photographer's hours. Perhaps the photographer clocks a six-hour day rather than a 12-hour day and skips the part where the bride is getting ready or leaves after the first 30 minutes of dancing, she said.
A photographer who brings a second photographer for assistance is often more expensive than one who works alone, Bohlin said. Consider asking for a single photographer to shoot your wedding.
Additionally, when you're picking out a photography package, you can always skip the album option and add it back later if you find money for it in your budget, Ketterer said.
Music
If live music is not important to you, skip the band, the experts said. Local bands for wedding receptions cost between $5,000 and $20,000, according to Bohlin.
"Bands are not cheap," she said.
"If it's not a top priority for you and it's putting you over budget quite a bit, consider going with a DJ," Ketterer said. "There are some really outstanding DJs in Boston."
Ketterer said her clients typically book DJs for between $1,700 and $2,500.
If you do decide to hire a band, Bohlin suggested cutting costs by keeping the amount of musicians down.
"A five-person band should be less than a 10-person band," she said.
Or consider using live musicians for shorter periods of the day.
"If you really want that live music, then do that live music for the cocktail hour and the ceremony and then go to a DJ for your reception," Bohlin said.
Florist and decor
Bohlin said that floral prices for local couples begin at $2,000, and there are definitely ways to trim costs.
"With the florist, it's all about reusing," Bohlin said. "So as much as you can reuse throughout the day, you're going to save."
For example, bridesmaid bouquets can have a second life.
"I hate seeing them laying on the ground or laying somewhere on a table or left in a restroom," Ketterer said. "So I will say to the bridesmaids, 'I will take those for you.'"
She'll then place the bouquets inside vases and arrange them on the bar, cake table, or head table.
She'll also create large flower arrangements that can be moved throughout the day — the same two urns of flowers can flank the bride and groom during their ceremony, the opening of the tent as guests arrive, and the band during the reception, she said.
Using greenery to fill out flower arrangements also gives couples more bang for their buck, according to Ketterer.
"Blooms are more expensive than greens," she said. "I find that using greens in a strategic way to increase the size of something can really help make that floral budget go further."