Lifestyle
What it's like to win a $100,000 dream wedding in Maine
Phillip Carter and Jackie Maude are high school sweethearts and lucky fiances.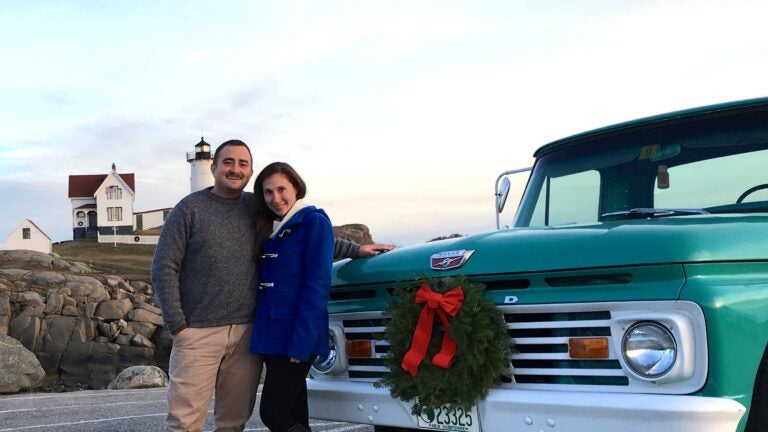 Earlier this year, Jackie Maude's mother told her daughter about a magazine contest for a $100,000 Maine dream wedding. Even though Maude was engaged, at first she didn't give it much thought.
But then the Wells, Maine, resident, 31, and her fiance, Phillip Carter, 30, decided it would be fun to make the two-minute video about their love story that was required to enter. They wanted to talk about how they felt about each other, and about the state of Maine.
"We truly are Maine-made," Maude says in the video, "from running a small family business in Wells, to setting down roots and buying the old fixer-upper next door, to building the future we only dreamed of during the summer nights spent under the stars in Perkins Cove. Maine is who we are. It is our home."
The pair's story actually began in New Hampshire. Maude and Carter met in the halls of Oyster River High School in Durham 13 years ago.
"Most people don't believe two 17-year-old kids could fall in love in a way that truly lasts," Carter says in the video submission. "But when I met Jackie, I knew she was the woman I would spend the rest of my life with."
Carter joined the US Air Force out of high school, has been deployed overseas four times, and currently works in the New Hampshire Air National Guard at Pease Air National Guard Base in Portsmouth as an air craft mechanic. Maude studied at the University of New Hampshire and became a special education teacher in the Granite State. During her summers off, she worked at Brewed Awakenings, her family's coffee shop and bakery in Wells. She loved "the little bakery by the sea," as she calls it, so much so that she decided to leave teaching and take over the business in 2016.
When Maude took over the business, the couple decided they wanted a future in Maine.
"There's just a charm about it that you don't get anywhere else," Maude said. "It's so beautiful here. I honestly couldn't imagine living anywhere else."
So last year they bought their dream home, a 19th-century, three-bedroom Cape next to the bakery. Maude said the house "needs a lot of TLC"; they've been lovingly restoring it.
On Christmas Eve 2017, Carter proposed to Maude at the lobster trap tree in Cape Porpoise, an iconic Maine spot and a fitting one for a couple so passionate about their adopted state. Maude said Carter announced they were going to Cape Porpoise to take family photos with her parents and that she should dress up.
"I actually kind of had a feeling," Maude said. "He was acting very different, and I could tell he was very nervous."
Once at the lobster trap tree, Carter got down on one knee.
"He said he wanted to spend the rest of his life with me, and he couldn't think of a better place to do it than in Maine because it represents our future and our future together," Maude said. "It was very very sweet and heartfelt."
And that's how we end up back at the contest — and Maude and Carter's winning video submission.
After a public vote, the couple won a $100,000 wedding at The Beachmere Inn, a seaside hotel on Marginal Way in Ogunquit, Maine, with breathtaking ocean views. The big day is Oct. 12.
Maude said the couple never doubted that they'd marry in Maine, but they never imagined that their celebration would happen on Maine's stunning Marginal Way.
"I was pretty overwhelmed," Maude said about winning the contest. "I was crying and very emotional. It was quite a moment."
The high school sweethearts met the team at Real Maine Weddings, the hosts of the Real Maine Wedding of the Year contest, shortly after nabbing the prize. As part of the contest, the couple agreed that many details of the wedding would be decided by the public through an online vote, and the couple would simply have a hand in choosing the options that would be voted on. Voters have already picked out everything from the invitations (lacy with a ribbon accent) to the bride's dress (strapless), to the couple's honeymoon destination (Turks and Caicos). Readers are currently voting on the couple's wedding cake.
"I've been very happy with everything that's been chosen," Maude said.
She said it doesn't bother her in the least that the final decisions on outfits, invitations, and more are being decided by the public.
"I think a lot of women would probably have reservations about it," Maude said. "It didn't seem as scary to me, just because we are so busy and have so much on our plate. I think it's such a special moment and the vendors are such talented individuals that I knew that whatever was chosen would be great."
Renovating the house and running the business have kept her on her toes, so she welcomes all of the wedding planning help from the public. Her customers, whom she said are like family to her, have joined the fun as well.
"They're really excited," Maude said. "They've seen me grow up, many of them. They've loved feeling like part of the process. It's been a lot of fun for them."
Her shop, which has been open since May, will close for the season Columbus Day weekend, just in time for the big event.
"We'll wrap things up and go get married," Maude said. "We're very grateful. It's an amazing thing to have happen."