Lifestyle
You can walk through thousands of jack-o'-lanterns at Franklin Park Zoo
Jack O' Lantern Journey opens Friday.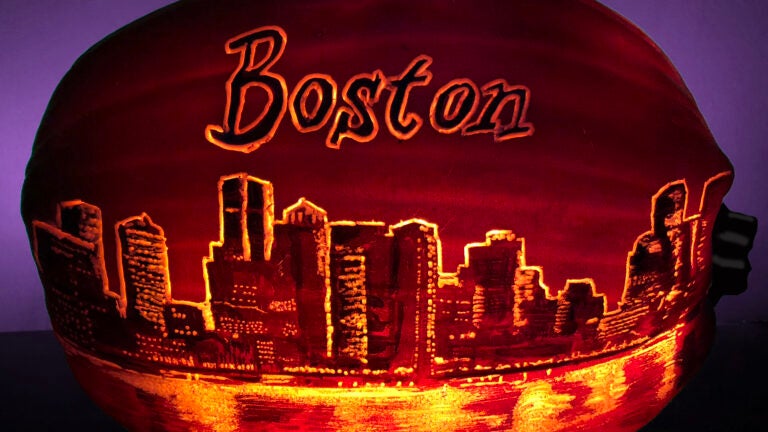 Visitors to the Franklin Park Zoo will soon encounter a giraffe of a different kind: a 15-foot-tall giraffe made entirely of pumpkins.
The lighted gourds are part of a new fall attraction at the zoo called Jack O'Lantern Journey, which will feature a half-mile, tree-lined trail of 5,000 illuminated jack-o'-lanterns. Opening Friday, it will run through Nov. 4 and take place on scheduled days at dusk, after the zoo closes for the day.
A team of about 20 local and national artists have been hard at work this year carving the pumpkins, said Debbi Katz, owner of Debbi Katz Productions (DKP) in New York and creator of the event. The pumpkins will depict everything from animals and sea life to superheroes to iconic Boston images like Faneuil Hall and the USS Constitution. Visitors will also encounter pumpkin structures such as the giraffe, a 15-foot-tall dinosaur, and a 23-foot-tall Ferris wheel, Katz said. The Ferris wheel is part of the "Pumpkin Carnival" section, one of several themed areas throughout the event.
"It's a unique, family-friendly experience," Katz said. "It's really a celebration of the fall season and a celebration of the pumpkin and everything that kind of makes up Halloween."
Katz, who has been producing these pumpkin-filled experiences for the past seven years at venues across the country, said this is her first time creating one in Massachusetts.  Her previous events have attracted between 50,000 and 100,000 visitors, she said.
"There was a big interest by the zoo in creating this family-friendly experience," she said. "We just felt like it's a beautiful space to do something in, and we thought that it just worked, it made a lot of sense."
Katz said the attraction includes a combination of real and fake pumpkins and that the real ones come from Massachusetts farms. She said visitors will be "enveloped in pumpkins" as they stroll the trail, that they'll see pumpkins when they look up, down, to the left, and to the right. Every pumpkin was hand-carved by the artists, with some molded from foam. Then Katz added special effects, lighting, and music to enhance the scenes. The experience is not scary and, therefore, suitable for all ages, she said.
Visitors can also spend time inside a jack-o'-lantern village, where they can watch pumpkin and ice carving demonstrations, buy seasonal goodies such as doughnuts, caramel corn, and cider, drink beer and wine, take photos with roaming princesses and superheroes, and buy pumpkins. Katz said to expect costume contests and other fun seasonal activities throughout the month.
Tickets must be purchased in advance; visitors choose a time slot so organizers can manage the amount of people on the trail. Guests of Jack O'Lantern Journey do not need to pay an admission price to the zoo. Tickets to the attraction cost $16 to $35 for adults and $12 to $35 for children between the ages of 2 and 12. (The cost varies depending on the time of day you go.) Children under the age of 2 are free.
Katz said she hopes to make Jack O' Lantern Journey a tradition at Franklin Park Zoo and bring it back year after year.
"We use, as our tagline, 'Carve out lasting memories.'" she said. "And I think that's what you're going to do here."