Lifestyle
Paul McCartney fires up the crowd at Robert Kraft's exclusive bash
On the set list at the swanky private party: "A Hard Day's Night,'' "Love Me Do,'' "Lady Madonna,'' "Hey Jude,'' and a very timely "Back in the USSR.''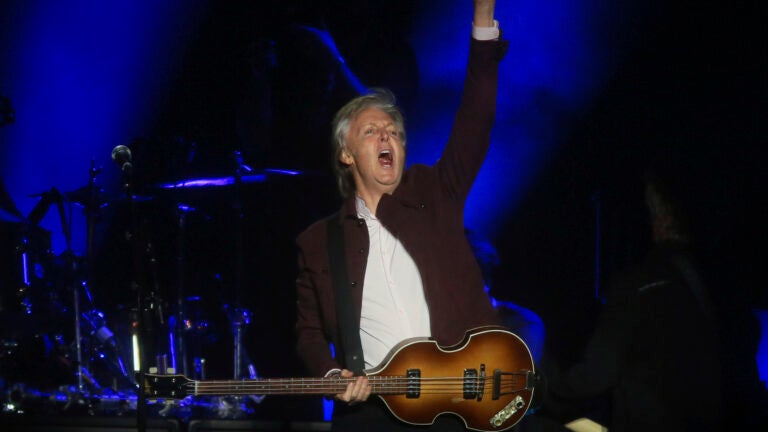 Most of the city was glued to the Sox-Yankees game Tuesday night, but a few lucky souls at Gillette Stadium found their attentions understandably divided.
After all, Patriots owner Robert Kraft invited none other than Sir Paul McCartney to headline his exclusive fall bash — and when the former Beatle starts cranking out hits, it can be hard to concentrate on anything else.
On the set list at the swanky private party: "A Hard Day's Night,'' "Love Me Do,'' "Lady Madonna,'' "Hey Jude,'' and a very timely "Back in the USSR.'' Macca, now touring behind his new album "Egypt Station,'' didn't ignore his work with Wings, rolling out 1973's "Band on the Run'' for partygoers.
But we hear the musical high point was the show's finale, a blistering rendition of "Carry That Weight'' from "Abbey Road.''
Attendees at Kraft's annual shindig included "Friends'' creator Kevin Bright, Davio's owner Steve DiFillippo, Big Night Entertainment guru Ed Kane, Boston Celtics lead owner Wyc Grousbeck, Fidelity Investments CEO Abigail Johnson, Highland Capital Partners' Bob Davis, Attorney General Maura Healey, Putnam CEO Bob Reynolds, and Michael Rubin, co-owner of the Philadelphia 76ers.
McCartney, who was seen speeding through Gillette in a golfcart on the way to the bash, is just the latest megastar to headline the Foxborough bash. Last year, Elton John held court, and in 2016, The Rolling Stones entertained 150 of Kraft's special friends and business associates.