Lifestyle
A WCVB anchor shares 5 tips for becoming a morning person
Don't. Hit. Snooze.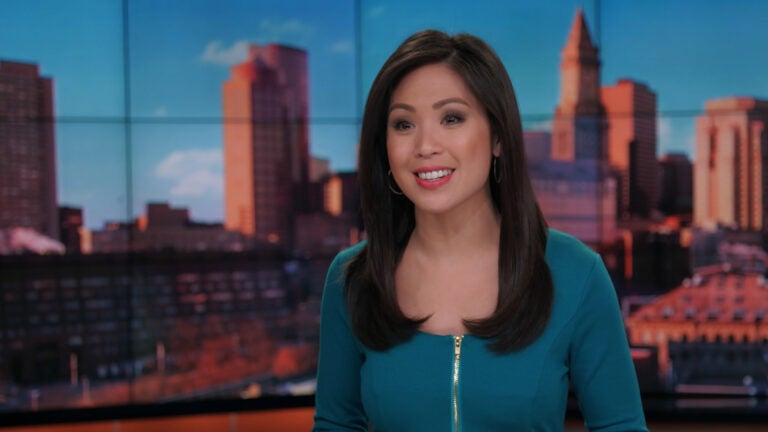 For an essential guide to the city, sign up for How to Boston, Boston.com's weekly culture and lifestyle newsletter.
Antoinette Antonio's alarm goes off every weekday morning at 1:45 a.m.
You read that right.
The WCVB NewsCenter 5 EyeOpener anchor goes on the air at 4:30 a.m., so she's had to become a morning person.
"I don't even consider my hours morning hours; they are middle-of-the-night hours," Antonio said with a laugh during a phone call following her Monday morning shift. She goes on the air again each weekday at noon — full-on late in the day by her standards.
After working as a morning anchor for the past 15 years, Antonio has developed a routine to help her feel and look her best. She said the practices have helped even more so in recent years, now that she's mother to 2-year-old Greyson and 4-month-old Weston.
Antonio said the following five tips will help you become a morning person, too.
1. Stick to a routine
Antonio begins preparing for her day the night before. With two young sons, she said it's hard to get to bed as early as she thinks she should (at 7 p.m.), but she never goes to bed without preparing for the next day.
"I lay out my clothes, my bags are all packed for work, my lunch is made, my coffee is set on a timer," Antonio said. "It's all about the routine for me."
Antonio said that taking steps to prepare the night before helps her mornings run smoothly.
"I put all my bags in one place so there's no thinking in the morning," she said.
She never strays from her routine, and has it calculated down to the minute. That's not an exaggeration: She leaves her house in Canton at 2:52 a.m. to drive to WCVB in Needham.
"I know how many minutes it takes to dry my hair," she said. "I keep my dress shoes at work so I don't have to think about shoes. I keep all of my jewelry in my bag so I'm not hunting and pecking all over the house looking for it. It's all in one place."
Once you've got your routine set, it's best not to deviate from it, she said.
"I'll be laying in bed and think to myself, 'Oh, I've got to bring x, y, z with me to work tomorrow,'" Antonio said. "[But if I don't do it right away], it doesn't happen. If it's not visually there, it doesn't happen. Because I'm in such a routine."
2. Don't hit snooze
"Granted, it feels so good to have that power over your alarm clock and hit snooze over and over again," Antonio said. "It just doesn't help you in the long run."
According to Antonio, sleeping until the last possible minute deprives you of crucial waking-up time. For Antonio, that's the time she spends catching up on all the news that happened while she was sleeping, which she needs to do her job as a news anchor. She immediately checks her email and social media before getting into the shower. That and her beloved cup of coffee (more on that later) help her feel ready to get going.
"When I used to just get up and go, if I didn't give myself enough time to wake up, I wouldn't be awake enough when I got to work," she said. "Waking up is a process."
Antonio said early morning "me time" can include checking your phone, meditating, or watching TV in bed.
"Give yourself a few minutes to wake up," she said. "And do something that's just for you."
3. Eat breakfast
Antonio's morning shift is over before many people even wake up — she's on the air from 4:30 to 7 a.m. But she's learned not to wait to eat.
"A lot of people tend to totally skip breakfast," said Antonio, who added that she's been guilty of doing this in the past, too.
"I find that having that little snack helps me through," she said.
During commercial breaks, she's been known to nibble on granola bars, yogurt, English muffins, and even a bowl of cereal. She said she also needs a cup of coffee every morning. Her husband sets the coffee maker for 2 a.m. each night. She always adds French vanilla creamer to the cup before taking it on her commute.
"It's waiting for me when I get downstairs, and it always brings a smile to my face," she said. "When the coffee hits my lips, I'm awake for the day."
4. Tend to your skin
As for looking your best at such an early hour, Antonio said good skin care plays a big role.
"Everyone looks a little fresher when your skin looks good," she said.
She takes care of her skin by removing her makeup each night and drinking plenty of water throughout the day. Antonio, who does her own TV makeup, has also picked up some helpful makeup tips through the years.
"I've learned how to do my makeup in a way that makes me look more alert," she said. "I wear false eyelashes. Sometimes false eyelashes or mascara can help give you that more awake look."
5. Wake up your positivity
Your mental state plays a big role in how you feel about your morning, Antonio said.
"Attitude is totally part of it," she said. "Think about the things you appreciate about whatever it is [you are doing] — going to work, going to school, being a stay-at-home mom. You've got to find that glass half full."
Though Antonio enjoys her weekends with her husband and young children, she's happy to go to work on Mondays because that's her "adult time," she said.
"A lot of people dread Mondays," she said. "I look forward to Mondays. I look forward to what I do because I like what I do."