Lifestyle
Matt Damon talks about getting teary over the Red Sox
"My Sox came through for me.''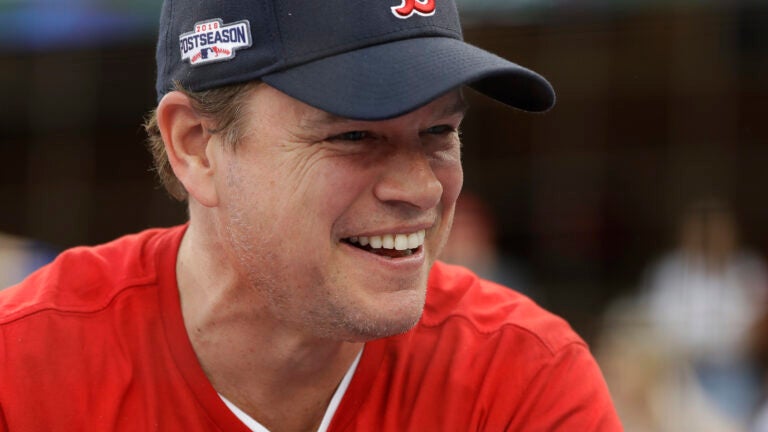 In a recent episode of "Off Camera with Sam Jones,'' Matt Damon became the first interview subject to return to the show.
This might have had something to with a bet he made with Jones, the show's host, ahead of the World Series. Jones, a diehard Los Angeles Dodgers fan, was forced to wear Boston Red Sox gear during the interview, following the Red Sox's world series victory.
"I make bets that I have a high probability of winning,'' Damon said, sporting a Red Sox cap. "My Sox came through for me.''
Damon, who was at Game 5 at Dodger Stadium with Ben Affleck, reflected on seeing so many Bostonians.
"We must have just taken 1,000 pictures,'' Damon said, adding, in a thick Boston accent, "But the Boston way of coming and taking a picture is like 'Matt, Ben, South Shore! South Shore!' ''
"We're just a very particular, weird group of people,'' Damon said fondly.
Damon also recalled the 2004 World Series, especially the parade, which he returned to see with his family and then girlfriend, now wife, Luciana Barroso. After separating from the group so that he could see the team on the Duck Boats — first on Boylston Street and then down by the Charles River — Damon became unexpectedly emotional.
"I was myself on Boylston Street and 34 years old, and the boats went by, and I just started to cry,'' Damon said. "[Expletive] swear to god. Like, quietly cry, just tears streaming down my face.''
"What a team, though,'' Damon said, regarding this year's victory. "That is like a historically good team. I mean, they won more games than any Red Sox team ever has. And that's saying something, since we've been around for over 100 years.''