Lifestyle
Gift guide: 12 notable Bostonians share what they're giving this season
Stuck on a holiday gift? These local tastemakers have a few ideas.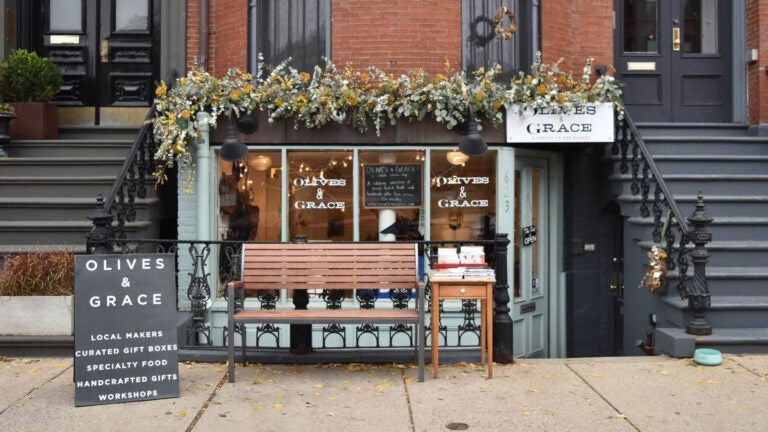 As the holidays approach, nailing the perfect gift for friends, family, significant others, and co-workers is enough to make you want to skip the festivities altogether. How about letting a few local personalities help? We asked Boston chefs, fitness instructors, authors, and others what they were spending their hard-earned money on this year.
Andy Husbands, pitmaster and owner of Smoke Shop BBQ
"I love to give out gifts from Olives & Grace on Tremont Street. It has a lot of different local artisans, from food to clothing to crafts to cards. It's a really well curated, special place in the South End. I send a lot of cards to people, and they have hand-drawn cards that are perfect." (Olives & Grace, olivesandgrace.com)
Amy Finsilver, general manager of XV Beacon Hotel
"I take a lot of photos of friends, family, and places I've traveled throughout the year. I like to print out and frame a specific meaningful photo and add a personal note for the person I am giving it to. The other gift I love to give is a donation to help an animal or family in need of an animal, either through World Wildlife Fund, African Wildlife Foundation, or Heifer International." (World Wildlife Fund, worldwildlife.org; African Wildlife Foundation, awf.org; Heifer International, heifer.org)
Trish Berry, general manager at YOTEL Boston
"I like to give creative, New England-influenced gifts to my out-of-town family and friends. This year, I'm going to put my photography skills to the test by taking photos of the Okuda sculptures on display in the Seaport and framing them in beautiful Simon Pearce frames. I'm excited to share the view of these sculptures that I enjoy every day with my friends and relatives." (Simon Pearce frames, $125-$165, simonpearce.com)
Michael Scelfo, owner of Alden & Harlow, Waypoint, and the upcoming Longfellow Bar
"I am kind of a snack fiend, so we're obsessed with this place in Concord called Gräem — it's a nut roastery, but beyond anything you've imagined. They have really cool procured nuts from all over, like pistachios from Italy, almonds from Spain, peanuts from Virginia. I like the Concord Mix, which has coconut flakes added to it. They also have a Greek almond that's very flat and large and dry salted. It's very unique and has a distinct flavor. I love crushing little bags of those." (Concord Mix, $15.95, graemroasters.com)
Chad Flahive, group fitness manager at Equinox and owner of Public Body
"We all have too much stuff. In a goal to live more simply, I like to provide more experiences versus tangible gifts. My plan this year is to buy a cooking class for my family at Sur La Table. Often times, it's so hard to find time to be together, so I like to buy an experience that requires us to all be together." (surlatable.com)
Christina Lodde, master instructor at Flywheel Sports and instructor at Barry's Bootcamp
"This year I would love to support some great local businesses owned by badass women! I am going to give the gift of beauty to the newly opened Medical Aesthetics on Tremont in the South End. I also can't forget my puppy's first Christmas and stuff his stocking with a bandana from The Proper Pup!" (Medical Aesthetics, medicalaestheticsontremont.com; The Proper Pup bandanas, $8-$16 plus $3 to monogram, facebook.com/theproperpups)
Brendan Burke, chef at Bastille Kitchen
"As a chef, I've seen how coffee tastes have become more sophisticated. There are so many home options now to get that perfect coffee, no matter how you like it. My girlfriend, Blake, is a connoisseur, and this Christmas I'm going to get her a [Espro] cold brew coffee machine. She loves her cold brew but currently makes it hot in a traditional coffee maker and then puts it in the fridge. A cold brew machine will not only cut down her kitchen time making her coffee, it will also give her a much more authentic and delicious result." (Espro Cold Brew, $89.95, williams-sonoma.com/products/espro-cold-brew)
Dave Wedge, co-author of "12: The Inside Story of Tom Brady's Fight For Redemption"
"For our 19-year-old daughter, she's getting some concert tickets and clothes, but I also want to expose her to a new sport, so we got her a gift card to Brooklyn Boulders in Somerville. I'm also getting her a game package at MindTrek, so she and her friends from college can try out the virtual reality arena in Woburn. Our son is 5, and we have to keep him busy during school vacations, so we are going to also let him try the kids' program at Brooklyn Boulders." (Brooklyn Boulders gift card, starts at $85, brooklynboulders.com/somerville; MindTrek gift card, $49, mindtrekvr.com)
Naomi Levy, head bartender at Better Sorts Social Club
"The holidays are a great time to give back. This year I will be doing the same gift giving that I did last year: Buying Thinx for homeless women and encouraging others to do the same. Not many people realize that many women each month have to decide between buying a tampon or a meal. Thinx really works and can make a world of difference for women in need." (Thinx period-proof underwear, prices vary, shethinx.com)
Kathy Sidell, restaurateur and founder of The Metropolitan Restaurant Group
"What I do is pick three of my favorite [seafood] tins [from Saltie Girl]. It really makes an awesome gift. I'll do a tuna, a sardine, and a mackerel. For the more adventurous, we have an amazing stuffed squid in squid ink. Mussels are great either way, mussels in picante sauce. They're addictive once you start eating them, and they're really healthy for you." (Seafood tins, prices vary, saltiegirl.com)
Jenny Johnson, co-host of NESN's Dining Playbook
"During the holidays, we tend to think more about what we are putting into our body and less about what we are putting on our body. So this year I'm buying my friends Rose Body Butter, the dewy creation between two Bostonians: Tara Foley, founder of Follain, and Gianna Doherty of Organic Bath Co." (Follain Organic Rose Body Butter, $38, follain.com)

Chris Himmel, owner of Grill 23 & Bar, Post 390, Harvest, Bistro du Midi
"My close friend, Eric Brandt of Brandt Beef, who raises and supplies our restaurant Grill 23 & Bar with some of the world's finest beef, has been telling me all about his new obsession with open-water spearfishing, so this holiday season I am going to get him a Mahogany Wood Spearfishing Gun to use while free diving for gamefish. Now if only I could muster the courage to join him out there — perhaps he'd let me try it out!" (AB Biller Wood Mahogany Special Speargun, $369, amazon.com)
Responses have been edited for clarity and grammar.