Lifestyle
The Boston area's first ax-throwing bar is officially opening
Can you handle this?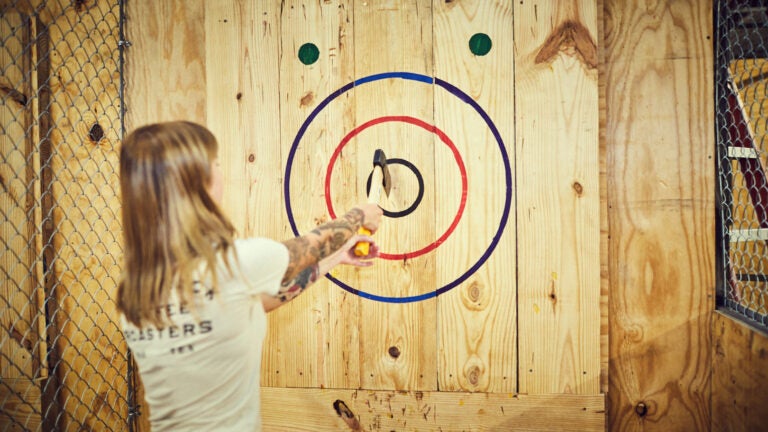 Get ax-cited, Boston — the wait is over.
Nearly a year after news that a pair of ax-throwing bars was coming to the Boston area, Urban Axes will open its doors in Somerville on Friday, Dec. 7.
Part of a larger chain based in Philadelphia, the 7,500-square-foot Massachusetts facility has four arenas, with four targets in each arena and a capacity of around 100-120 ax throwers in total.
Courtney Osgood, a representative for the company, said customers will be able to order sandwiches and charcuterie to munch on, and will eventually be able to order from an alcohol menu of beer, wine, cider, and pre-mixed cocktails once the bar opens, hopefully within the next couple of weeks.
The words "alcohol" and "ax-throwing" together in one article — and one venue — may cause some concern, but Osgood insisted that the process is safe. She said each ax-throwing session is preceded by a rigorous safety and instructional tutorial from the company's "Axeperts" and that the arenas themselves are designed with safety in mind.
"Before you can throw an ax, you're going to get a lot of training," Osgood said. "The arenas are very walled-off, and there are rules and regulations, including not being able to step over a certain line when throwing, needing the clearance of a coach before you can walk down to retrieve your ax, and other rules. There will always be a coach there to make sure all the rules are being followed."
A two-and-a-half hour booking costs $45 per person, with recommended group sizes no smaller than six people during the week and eight people on weekends. Interested parties can reserve sessions now on Urban Axes' website, with a $90 refundable deposit needed for a reservation for groups of six to 12 people and a $135 refundable deposit needed for groups of 13 to 25 people. Urban Axes also will be open for walk-ins ($25 for a one-hour throwing session) Tuesdays through Thursdays from 6 p.m. to 9 p.m., Fridays from 2 p.m. to 9 p.m., Saturdays from 11 a.m. to 9 p.m., and Sundays from 11 a.m. to 7 p.m.
While this will be the Boston-area's first ax-throwing bar, Half-Axe, an ax-throwing venue in Marlborough, opened in February 2018. The other ax-throwing bar planning to open, Revolution Axe in Everett, does not yet have a slated opening date. In an email last week, Revolution Axe co-founder Greg DiLullo said that the company was "back on track" after overcoming "a few big setbacks," and that it had recently been approved for a liquor license and was looking to hire coaches in the near future.
Urban Axes; 2 Union Square, Somerville; Tuesdays–Sundays from 11 a.m.–11 p.m.; urbanaxes.com/boston