Lifestyle
How to host an epic board game night
Time to put your game face on.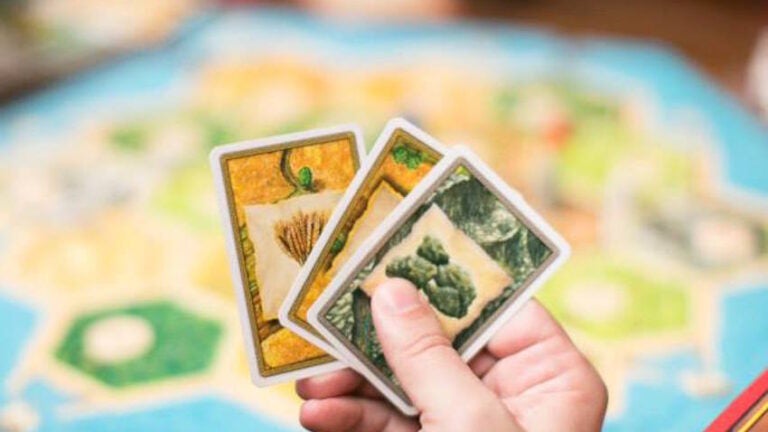 For an essential guide to the city, sign up for How to Boston, Boston.com's weekly culture and lifestyle newsletter.
The holidays mean spending lots of time with family and friends, and board games are a great way to pass that time, said Devon Trevelyan, owner of board game café Knight Moves.
Trevelyan opened Knight Moves — which now offers more than 2,000 games, family game nights, live music, and murder mystery theme nights — five years ago in Brookline. He followed that with a Somerville location in 2016.
Trevelyan said anyone can host a game night.
"You don't need to be an expert, because the whole point of it is people coming together," he said. "It's about more face-to-face interaction with the people you care about."
Here are Trevelyan's four tips for hosting an awesome home game night this holiday season.
Know your audience
Trevelyan said to plan for game night the same way you would prepare for a dinner party: by considering the likes and dislikes of those you're going to entertain. You wouldn't serve spicy food to people who don't like it, Trevelyan said. Similarly, you don't want to serve up, say, a word game to folks who are more into drawing or numbers.
Keep in mind that some people are wary of attending a game night when they have no idea what type of game they'll have to play, Trevelyan said, so it's a good idea to communicate your game choice to guests ahead of the gathering.
"That way, people can investigate beforehand," he said.
Consider cooperative games
Cooperative games are usually a safe bet, Trevelyan said, because "people aren't playing against each other, but they're working toward a common goal."
With that in mind, he recommended board game designer Matt Leacock's Pandemic, Forbidden Island, Forbidden Desert, and Forbidden Sky. In Pandemic, your team of specialists has to find cures for four diseases before humanity is wiped out. The others are adventure games in which you have to work with others to survive challenges on an island (capturing sacred treasures before the island sinks), a desert (finding a buried flying machine in scorching elements), and in the sky (weathering a storm while exploring a mysterious floating platform), respectively.
"Another really good game that I think everyone can relate to, that's semi-cooperative, that's team-based, is called Codenames," Trevelyan said. "It's a game that isn't hard."
The game about spies, agents, and revealing secret identities has a website with video instructions for how to play. It's a great choice for something fun and easy over the holidays, according to Trevelyan.
He also suggested checking out the website BoardGameGeek, an online board gaming resource and community that provides live discussion forums as well as reviews and ratings for more than 80,000 games. Or, he said, you can always call his café for suggestions.
Go phone-less
Once your guests arrive, collect their smartphones and put them in a basket, Trevelyan said.
"Be like, 'Listen we're going to enjoy each other's company, not look at our phones every minute, checking Facebook," he said.
Trevelyan said board games provide an excellent way to unplug from all of the screens in our lives today, which is part of the reason why he thinks games are so popular right now.
"I have families who come into the café and say, 'We love it here because we actually get to talk to our children. We get to put our phones in a pile and not touch them and we get to interact,'" Trevelyan said.
Pick a smart menu
When it comes to hosting a game night, "good food doesn't hurt," Trevelyan said with a laugh.
But you want to consider a few things when mixing games and food. If you're serving dinner, Trevelyan recommended waiting until after you eat to pull out your game.
"You want to have a dedicated space," he said. "You don't want to be eating dinner and playing a game."
Essentially, let your guests stay focused on the tasks of the game — and avoid messy finger foods, because people need their hands to play.
"You don't want things that are too greasy and will get all over the [game] pieces," Trevelyan said.