Lifestyle
Women-focused co-working space The Wing is coming to Boston
The members-only association will open in the Back Bay in spring 2019.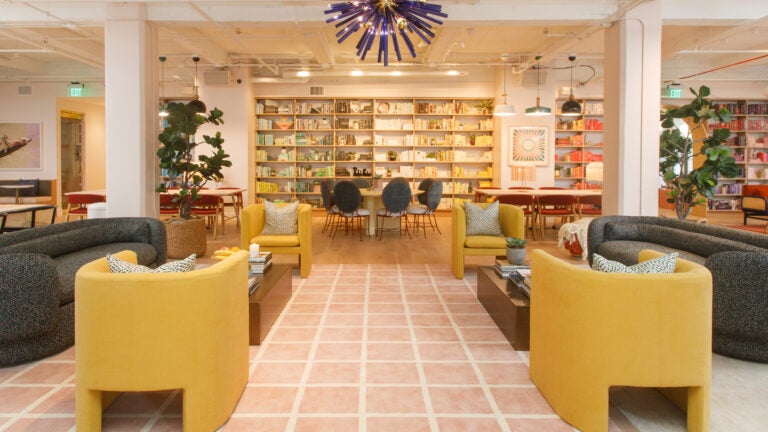 Between 8 a.m. and 4 p.m. at any given location of women-focused co-working space The Wing, you might find women conceiving their own businesses or completing thesis papers, or a mentor and mentee talking over cups of coffee. In the evenings and on weekends, those same women may gather for a Latinx potpourri party, a discussion with Alexandria Ocasio-Cortez, or support circles for first-time mothers or women in recovery.
The members-only association, which was started in October 2016 by Audrey Gelman and Lauren Kassan, aims to advance women economically, socially, and civically, said Wing spokeswoman Zara Rahim. 
"The Wing is a place that you go, and when the doors open, there are women working on roundtables and collaborating and asking each other what they do and talking about the projects that they're working on and really having a community-based experience," Rahim said of what makes the company different from other co-working spaces.
This week alone, she said, The Wing is hosting events with Jennifer Lopez, Maya Rudolph, and Kerry Washington.
Also this week, The Wing announced that it's fluttering into Boston. Following locations in New York, Washington, D.C., and San Francisco, a new location will open in Boston's Back Bay in the spring of 2019, the company said Wednesday.
Also Wednesday, The Wing announced a scavenger hunt for "Golden Bookmarks" at bookstores in the Boston area that would give six lucky winners prizes including a free one-year membership at the future Back Bay space. The six bookmarks were found in a matter of hours, according to Rahim.
Calling all future Winglets of Boston! We've hidden 6 ✨Golden Bookmarks✨ in bookstores around town for a chance to win fun Wing things INCLUDING a free 1-year membership! Check out the clues below to find out where they're hidden! Happy hunting! pic.twitter.com/4ciHtJEvgS

— The Wing (@the_wing) December 5, 2018
"We want as many people to apply as possible," she said, emphasizing that the company is "women-focused," not "women only."
"We are inclusive of gender non-conforming and non-binary individuals and folks who are across the gender spectrum," she said. "That's something that's really important to us."  
The new space in Boston will be located at 699 Boylston St., occupying two penthouse floors and a total of 10,500 square feet.
Rahim said the space is "incredibly gorgeous."
"It's going to have incredibly expansive views — 360 [degree] views actually — of Back Bay and Beacon Hill and the Charles River," she said. "And we're going to have all the classic Wing amenities: We're going to have a seasonal terrace, showers, lockers, beauty room, conference rooms — the whole gamut."
That includes food and beverage options, with a restaurant called "The Perch," and a mother's room.
"Our space is really going to draw on the influences of the women who really shaped Boston," Rahim said. "Our interior design is going to reflect that. We're going to have a library inside that we're going to work with some local bookstores to make sure that they're reflective of the the literary influences of Boston, which is obviously such a huge part of our country's history. We're very excited to come to the city and work with organizations  and meet the people there and make it home."
Would-be The Wing members can apply online for either membership at a single location ($215 per month) or access to all current and future spaces ($250 per month). Applicants will be asked what they do for work, how they would use the space, why they want to join, and how they might help advance the mission of The Wing.