Lifestyle
An expert's 6 tips for starting your own podcast
Are you ready for the world to hear you?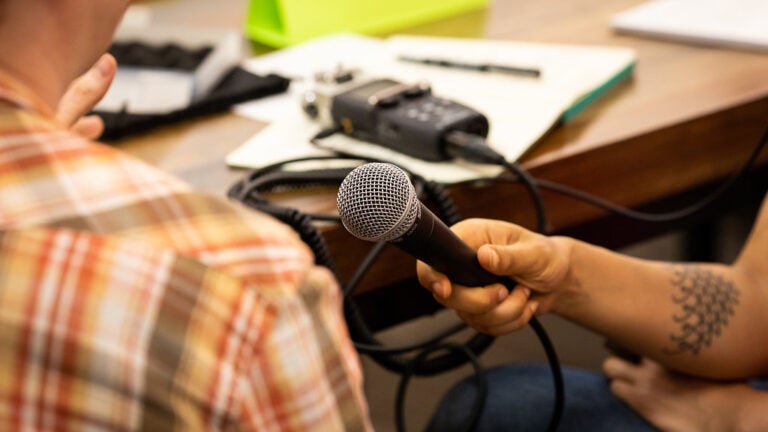 No matter your background, you can start your own audio show with the right equipment and some ingenuity. According to Alex Birch, senior manager at PRX Podcast Garage, a community recording studio in Allston that hosts talks, workshops, and classes dedicated to audio storytelling, more and more people are creating their own podcasts.
"Podcasting is growing and growing in popularity," Birch said. "There's a lot of people who listen to them and want to learn how to make them. It's such an exciting and open platform, so we're really glad we can offer these resources on a local level in Boston."
She'll teach a workshop on March 14 called "Is This Thing On? An Orientation to Podcasting at Pao Arts Center."
"Audio, I think, has this special ability to make people feel very connected to the story that's being told," Birch said. "It's very intimate and it's very emotional.  You feel very connected to the hosts and the shows and the people making them."
Birch offered the following six tips for starting your own podcast.
Do your research by listening — a lot
Birch said the three most common podcast styles are a roundtable, or informal conversation among a group of people on a certain topic; an interview format where the focus is on one person; and a narrative podcast, which tells a story.
"Listen to a lot [of podcasts] and figure out what you like," Birch said. "Because there are a lot of different genres and topics of podcasts. There's a lot of different styles. You're going to have much stronger sense of what you want your show to be."
Birch recommended checking out popular podcasts Still Processing, Forever35, Strong Black Legends, On Being, Ear Hustle, and 99% Invisible.
"All of us, if we're going to make a podcast, we want it to be something we'd listen to," Birch said. "What could you do that's unique that's not really out there yet, that you can do better, or that you have a unique perspective on, so that you're adding something new to that conversation?"
Get your gear and software ready
You'll obviously need the right tools to make your show. If you don't want to buy the tools right away, you can rent them, Birch said. For example, PRX Podcast Garage has audio kits for rent and experts who will show people how to use them.
"The key elements of an audio kit are a recorder [PRX Podcast Garage offers a Zoom H5], at least one microphone, and then a really good pair of headphones to monitor your recordings," she said.
You'll also want to find an editing software that you like. PRX Podcast Garage provides classes in Hindenburg and Reaper, and other well-known programs are Adobe Audition CC and Pro Tools. Most programs have online tutorials, Birch said.
Once you have all of your equipment, you'll need to figure out where you want to record, Birch said. If you choose your home, you don't need a soundproof room, but do pick a space that's quiet.
"Make sure the person's voice you're recording is in the foreground and any other noise is in the background," Birch said. "All you have in podcasting is audio, so you want to make sure it's intelligible and as high-quality as possible."
Another option is renting a studio. For example, at PRX Podcast Garage, you can rent a studio from 15 minutes to two hours for between $15 and $120.
Map out every episode
Outline each episode of your podcast down to every last detail.
"Who will your guest be? What is the story or arc of the show? Do you need to set up interviews? Do you need to book space? What is the main idea of this episode? Who's involved and what's the general flow going to be?" Birch said. "There's sort of logistical and creative questions."
Think of it the way filmmakers plan a shot list, going from moment to moment, so that you don't risk getting distracted.
"If you just start recording [without a plan], oftentimes you can lose focus of sort of what your main idea and who your main audience is easily," Birch said.
Brush up on your interviewing skills
Most podcasts involve interviews of some kind, so Birch recommended putting some thought into your interviewing technique.
"Approach [interviews] just like you are having a conversation," she said. "The more rigid and structured and scripted you are in your approach, the more your interview will sound that way."
Ask simple and open-ended questions, Birch said. Also be willing to go where the conversation leads you.
"One important thing in audio is don't be afraid of silence," she said. "If the person stops talking, you need to count to seven before you say anything. Then you can edit more easily if you need to cut in that place at the end of the thought. But also, you are giving the person time to think and feel whatever they are feeling, which will make what they say next usually very meaningful."
Above all, be as natural as you can, Birch said.
"Audio is sort of this really intimate form, and you want the person you are speaking with to sound natural," she said. "So you need to model that for your interviewee by being natural yourself."
Get your podcast on iTunes
iTunes has hundreds of thousands of free podcasts, and you want yours to be one of those offerings. First you need to create an RSS feed.
"There are a lot of services out there that will help you make that feed and host your audio for you," Birch said.
Two popular services are Libsyn and Simplecast, she said. Simply follow the instructions the service you pick provides for creating the feed. Then submit it to iTunes by going to the Apple podcast website.
Know who your listener is, and then spread the word
"I think every show needs to know who its core audience is," Birch said. "Who are you making it for? Who is listening?"
Once you figure that out, you'll want to give that audience a heads-up about your podcast.
"Your audience may be a community you're already a part of," Birch said. "If not, you're probably going to want to reach out to organizations or other groups that reflect that audience."
For example, if you're making show for librarians, you'll want to get information about your podcast into newsletters, websites, and blogs that librarians use, Birch said. Of course, you'll also want to visit libraries yourself.
"Going into physical spaces and actually talking to people is really powerful," she said.