Lifestyle
If you want to see this art exhibit on the Greenway, you'll need to bring your phone
The augmented reality experience is one of the largest ever deployed in North America.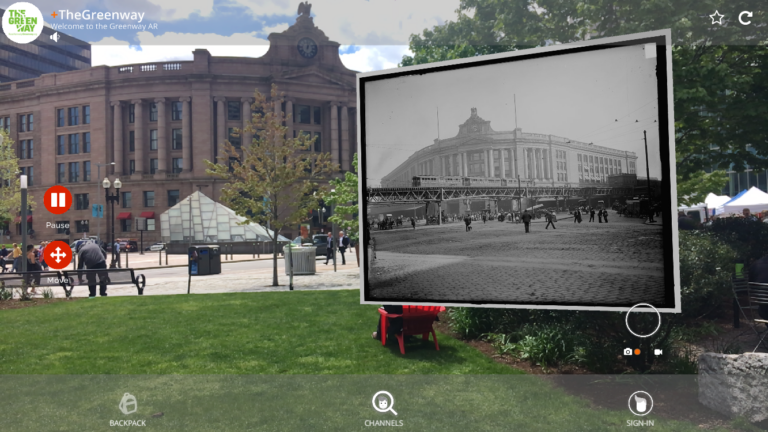 The Rose Kennedy Greenway is experiencing a new type of reality.
On Thursday, the Greenway Conservancy announced the launch of a new, entirely augmented reality (AR) art exhibit. It digs into the past, present, and future of the automobile and transportation by superimposing historical imagery and contemporary art onto views of the Greenway, once a major transportation corridor in Boston, according to a press release. The installation displays more than a century of growth in the area, including "changing economic prospects, its accommodations for new modes of transportation, and its embrace of city planning and modern engineering to address successive eras of challenges."
The Conservancy partnered with the nonprofit Boston Cyberarts and AR platform Hoverlay, as well as commissioning AR artists Nancy Baker Cahill, John Craig Freeman, Will Pappenheimer, and a local historian to develop the project.
Anyone can view the exhibit by tuning into "TheGreenway Augmented Reality" channel in the Hoverly app or camera browser in one of the 16 spots stationed in the park. Covering more than 1.5 miles, it is one of the largest AR art installations ever installed in North America.
"Augmented Reality is a formidable new medium for public spaces to tell stories, offer new perspectives, and educate the public," Hoverlay's CEO and co-founder Nicolas Robbe said in the release. "We're thrilled to partner with the Greenway Conservancy and Cyberarts in bringing such an experience to Boston."
The experience is part of The Auto Show, the Conservancy's 2019 public art exhibition.