Lifestyle
The 31 best things to do around Boston this July
This curated events guide will keep you busy every day of the week.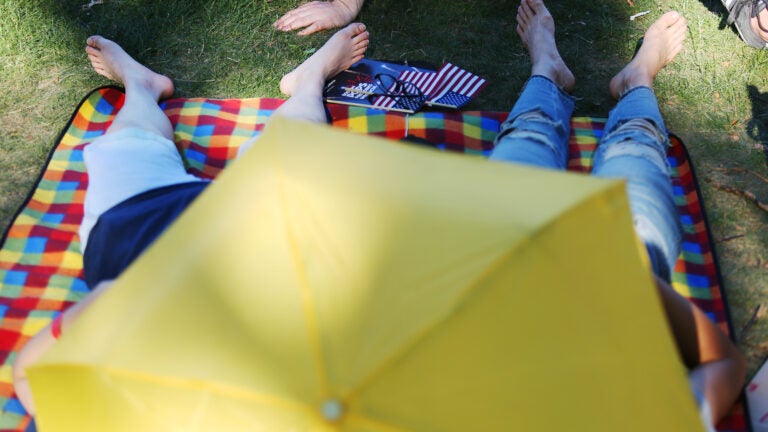 July is the first month of the year fully steeped in summer, meaning more outdoor concerts, movies, and workouts, as well as opportunities to beat the heat.
Read on for a curated look at the best things to do around the city every day of the month, whether soaking up the sun or finding refuge in the AC.
Monday, July 1
Salsa in the Park Mondays at Blackstone Community Center. Shake and shimmy through this outdoor wellness party, which includes free salsa classes, performances, a music corner, and social dancing. (6 p.m. – 9 p.m.; Blackstone Community Center, South End; free; all ages)
Tuesday, July 2
Harborfest Fireworks & Lighted Boat Parade Cruise. Step onto a boat decked out in lights for a cruise around Boston Harbor, then marvel at a fireworks display on the waterfront. (8:15 p.m. – 11 p.m.; departs from 60 Rowes Wharf, Boston; $100 for children, $130 for adults; all ages)
Wednesday, July 3
MFA Concerts in the Courtyard: ÌFÉ. Pack a picnic and soak in the sounds of ÌFÉ, the musical brainchild of Puerto Rico-based drummer, producer, and singer Otura Mun, on the Museum of Fine Arts's Calderwood Courtyard. (7:30 p.m. – 9:30 p.m.; Museum of Fine Arts, Boston; $24 – $34; all ages)
Thursday, July 4
Boston Pops Fireworks Spectacular. Keith Lockhart and the Boston Pops will be joined by headliner Queen Latifah at this year's edition of the annual Independence Day blowout. (8 p.m.; Charles River Esplanade, Boston; free; all ages)
Friday, July 5
Boston JerkFest. This two-day Caribbean food festival begins with an evening featuring 21+ beverage tasting and a cocktail throwdown, followed by a day of more than 25 vendors selling food, hot sauce, and specialty products. (July 5 from 6:30 – 9:30 p.m. and July 6 from 11 a.m. – 3 p.m. and 4 p.m. – 8 p.m.; Haley House; Roxbury; $15 – $75; 21+ on Friday, all ages on Saturday)
Saturday, July 6
The Lawn on D's Summer Block Party. From bubble soccer and rock climbing to salsa dancing and the Blue Man Group's drum-off, this event brings many ways to enjoy Lawn on D besides those 'grammable swings. (July 6 from noon – 11 p.m., July 7 from noon – 10 p.m.; The Lawn on D, Seaport District; free; all ages)
Sunday, July 7
Dumpling Making Class at Mei Mei. Become a dumpling pro at this two-hour class, where you can learn how to fold the doughy, filled bites into triangles, pleats, and roses. (9:30 a.m. – 11:30 a.m.; Mei Mei, Boston; $88; all ages)
Monday, July 8
Harmonica Lessons at Faneuil Hall. All ages and experience levels are welcome at this weekly learning and jam session, led by UMass Lowell professor John Shirley and musician Jason Novak. (5:30 p.m.; Outside the south entrance of Cheers at Faneuil Hall Marketplace, Boston; harmonicas available for $2 – $20, free for children 12 and under; all ages)
Tuesday, July 9
Sunset Concerts at Symphony Park: Vivi. Catch musicians from Berklee at this park nestled between the music college and Symphony Hall. (5:30 p.m.; Symphony Park, Boston; free; all ages)
Wednesday, July 10
"Dear Evan Hansen" Opening Night at the Opera House. Witness this Tony and Grammy Award-winning musical about a socially anxious teenager navigating high school while it's in town. (7:30 p.m – 10 p.m..; Boston Opera House, Theatre District; $49.50 – $325; recommended for 12+)
Thursday, July 11
Harvard Stadium Stampede. Break a sweat on the steps or field of Harvard Stadium to raise money for the nonprofit Positive Coaching Alliance. (6:30 p.m.; Harvard Stadium, Lower Allston; $20 for under 25, $25 for 25+; all ages)
Friday, July 12
Free Fun Friday on the Charles River. Be it canoeing on the Charles River or listening to story time with free Ben & Jerry's, there's something for everyone in the family during this day-long event. (10 a.m. – 4 p.m.; Christian Herter Park, Lower Allston; free; all ages)
Saturday, July 13
Boston Got Sole Sneaker Convention. Buy, sell, or trade kicks at this convention, which also features giveaways, performances, and raffles. (Noon – 6 p.m.; Gillette Stadium, Foxborough; $25 – $32; all ages)
Sunday, July 14
Boston Pizza Festival. Gluten-free, Neapolitan, New York-style, Sicilian, vegan, and more pizza varieties will be sliced and served on City Hall Plaza on July 13 and 14. (11 a.m. – 8 p.m.; City Hall Plaza, Boston; $15 – $50, free for children 5 and under; all ages)
Monday, July 15
Country Night at Fenway Park. Pull on some cowboy boots and mosey over to Fenway Park, where the Timmy Brown Band will perform on Jersey Street before the Red Sox take on the Toronto Blue Jays. (7:10 p.m.; Fenway Park, Boston; $30 – $104; all ages)
Tuesday, July 16
Coolidge on the Greenway: "Bullitt." Vanity Fair has called one particular scene in this 1968 flick "arguably cinema's greatest chase." (7 p.m.; Wharf District Park between Milk Street and India Street, Boston; free; movie rated PG)
Wednesday, July 17
Commonwealth Shakespeare Company's "Cymbeline." Shakespeare on the Common returns with a drama-comedy hybrid that "chronicles the fates of King Cymbeline and his family through a journey of deception, intrigue and separation." (8 p.m.; Parkman Bandstand on the Boston Common, Boston; free; all ages)
Thursday, July 18
Third Thursday Potluck and Workday at the Boston Nature Center. Get your hands dirty with an afternoon of planting and pruning at the Boston Nature Center's food forest, followed by a potluck dinner. (3 p.m. – 8 p.m.; meet at the gazebo at the Boston Nature Center, Mattapan; free; all ages)
Friday, July 19
Fenway Victory Gardens Movie Night. Kick back, relax, and enjoy a kid-friendly film under the summer sky at this annual event hosted by the Emerald Necklace Conservancy. (7:30 p.m. – 9:30 p.m.; Fenway Victory Gardens, Boston; free; all ages)
Saturday, July 20
JP Flea Summer Market. Support local and Latin American artists, vintage and antique dealers, zine makers, and more at the summer edition of this community market. (Saturday, July 20 and Sunday, July 21 from 10 a.m. to 4 p.m.; Eliot School Yard, Jamaica Plain; free; all ages)
Sunday, July 21
Greetings from Spectacle Island. Drink in views of Boston Harbor and sounds of live jazz while you create a postcard for this calligraphy class on Spectacle Island. (2 p.m. – 5 p.m.; ferries to Spectacle Island depart from Long Wharf, Boston; free; all ages)
Monday, July 22
Sugar Rush. Pastry chefs from local spots such as Alden & Harlow and Tiger Mama will each concoct a dessert for this five-course tasting event, which benefits Bakes for Breast Cancer. (Monday, July 22 and Tuesday, July 23 from 7:30 p.m. – 9:30 p.m.; Oak + Rowan, Boston; $56 – $80; all ages)
Tuesday, July 23
Sip & Spell at Sam Adams. If you nab first or second place at this 21+ spelling bee, you'll be invited back to compete for the grand prize at the end-of-year competition. (6 p.m. – 8 p.m.; Samuel Adams Boston Brewery, Jamaica Plain; free entry; 21+)
Wednesday, July 24
Summer Mixology Party. At this mixology class, you'll leave knowing how to concoct three boozy beverages using local spirits. (7 p.m. – 9 p.m.; Bully Boy Distillers, Roxbury; $69; 21+)
Thursday, July 25
Greenway Augmented Reality Tour. Download the Hoverlay app and allow a park ambassador to guide you in seeing art on the Greenway like you've never been able to before. (Noon – 1 p.m.; Dewey Square on the Greenway, Boston; free; all ages)
Friday, July 26
Puerto Rican Festival of Massachusetts. This three-day celebration is filled with Latin food, music, and more than a dozen carnival rides. (Friday, July 26 from 5 p.m. – 11 p.m., Saturday, July 27 and Sunday, July 28 from noon – 11 p.m.; City Hall Plaza, Boston; free; all ages)
Saturday, July 27
Water Lantern Festival. Decorate a lantern, light it up, and send it sailing into the Charles River with the glow of many others. (5:30 p.m. – 10:30 p.m.; Hatch Memorial Shell, Boston; $12 – $40, free for children ages 7 and under; all ages)
Sunday, July 28
Sweat Crawl on the Greenway. Dance, jump, and kickbox your way through three 30-minute workouts under the sun. (10 a.m.; Atlantic Avenue from High Street to State Street, Boston; $40 – $50; all ages)
Monday, July 29
Boston Harbor Islands Cruise. Coast around the Boston Harbor Islands on this narrated cruise with the UMass Boston Division of Marine Operations. (Noon – 1:15 p.m.; cruise departs from Fox Point Dock, Dorchester; $10, $5 for UMass Boston faculty and staff, free for students with valid UMass Boston I.D.; all ages)
Tuesday, July 30
Free BollyX Class at Faneuil Hall. Bollywood meets cardio at this sweat session, which alternates between high- and low-intensity dance sequences. (6 p.m. – 7 p.m.; Faneuil Hall Marketplace, Boston; free; all ages)
Wednesday, July 31
Summer Concerts at the Boston Public Library. Take a reading break in the Copley Square library courtyard on Wednesday evenings with performers from Berklee musicians. The July 31 performance is by Noah y Maurizio (Noah Harrington Music). (6 p.m. – 7 p.m.; Boston Public Library, Boston; free; all ages)