Lifestyle
7 Boston-area sports bars to watch the Patriots
Looking for bars to watch the Patriots? This list has you covered.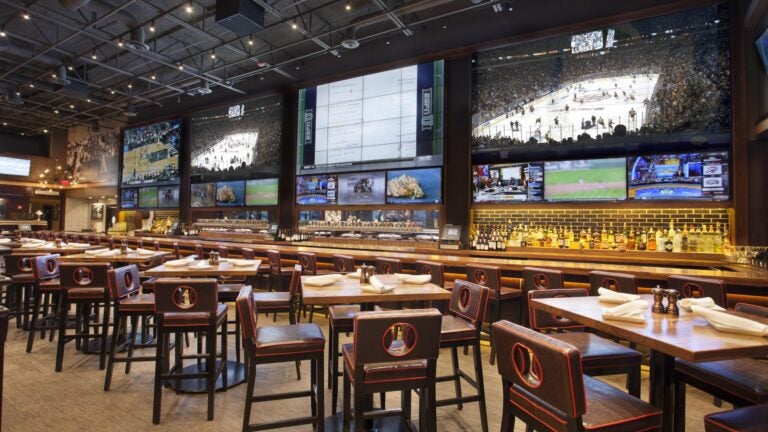 If you're looking for a bar or restaurant to watch the Patriots play on any given Sunday (or Monday, or Thursday), there's a lot to consider: Which bar has the best food? How many TV screens are there, and how big are they? Will there be just enough rowdy Pats fans to create a festive atmosphere, but not so many that a fight breaks out during the fourth quarter?
Any given Pats fan will have different answers to these subjective questions, and we wouldn't dare try to turn anyone away from their favorite local watering hole. But for those looking for a new gameday spot to watch Brady, Belichick, and co., these seven sports bars will do the trick.
Champions has more than 40 flat-screen TVs, along with one gigantic 36-piece, 23-foot television array that is often devoted to the Patriots. A manager said that game days are always packed, so getting there early is advised. (110 Huntington Ave., Boston; 617-927-5304)
The restaurant chain formerly known as Jerry Remy's is now the namesake of Tony Conigliaro, another Red Sox great. While the name has changed, the sheer number and size of the TVs at all five of its locations remains impressive. The Seaport location boasts more than 40 TVs and a 32-foot HD video wall, and the Burlington location has four 16-foot screens, 46 TVs, and higher ceilings than its waterfront brethren. (Seaport: 250 Northern Ave., Boston, 617-856-7369; Fenway: 1265 Boylston St., Boston, 617-236-7369; Somerville: Assembly Row, 699 Assembly Row, Somerville, 617-666-8282; Burlington: 17 Third Ave., Burlington, 617-238-8282; Peabody: 210 Andover St., Peabody, 978-326-9500)
The Cask 'n Flagon may be known as a Sox bar, but the Fenway watering hole will still be rocking during Patriots games. During Red Sox games, the roar of the crowd tells you everything you need to know about the game, but there are still more than 40 TVs so you can see all the gridiron action. And if you're looking to avoid some of the insane downtown crowds, a manager for their Marshfield location mentioned that the restaurant has 122 TVs, and doesn't fill up quite as fast as the Boston location. (Fenway: 62 Brookline Ave., Boston, 617-536-4840; Marshfield:804 Plain St., Marshfield, 781-834-2275)
Just a short drive from the I-93/I-95 interchange in Woburn, Scoreboard always throws a party for big playoff games, and has a great atmosphere even during the regular season. No matter what week you're headed there, you're bound to find a good view of at least one of their 50 TVs or 10-foot mega TVs. (Crowne Plaza Boston-Woburn, 15 Middlesex Canal Park Dr., Woburn; 781-897-4000)
It's a bit of a journey down to Gillette Stadium, but with more than 143 high-definition TVs and three stories of diehard Patriots fans, CBS Sporting Club will always be a happening spot on gameday. (Patriot Place, 200 Patriot Pl., Foxborough; 617-410-9742)
If you're looking to catch a game with hundreds of screaming Patriots fans, look elsewhere. A visit to this Inman Square spot with a dozen TVs and 20-plus beers to choose from is like watching a game in your living room — if your living room were packed to the gills with 40 wisecracking friends. Get there early if you want a seat. (3 Beacon St., Somerville, 617-576-0231)
McGreevy's, which bills itself as "America's first sports bar," brings plenty to the table for gamedays, with 20+ TVs, 30+ beers, and confetti cannons. (911 Boylston St., Boston, 617-262-0911)