Lifestyle
4 ways to update your fall wardrobe, according to a Boston clothing store owner
Accessories provide an inexpensive way to change up your look.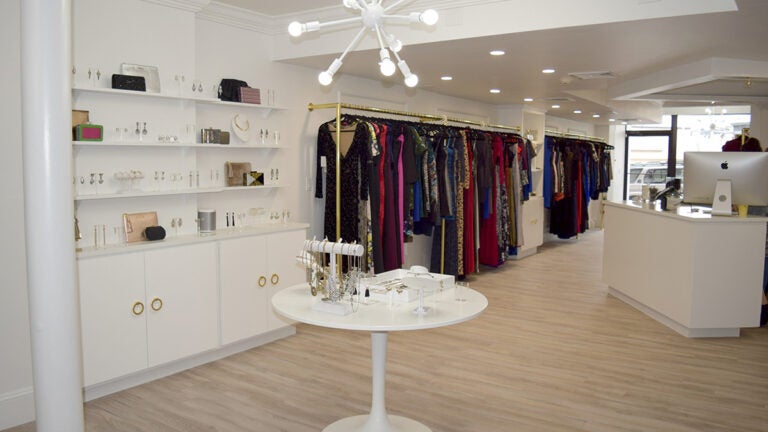 Fall is a great time to update your wardrobe, says Nikoleta Lirantonakis, who co-owns Best Dressed, a designer dress rental shop in South Boston.
At her shop, which she co-owns with her sister, Vicky Lirantonakis, women of all ages can rent designer dresses that retail for between $150 and $1,000 for between $40 and $130, she said. Her shop also sells costume jewelry for under $36.
Fall is a time when "you want to just start over again and really take the time to evaluate where you are and put things into place that will help you grow and move forward," Lirantonakis said. "And I think your wardrobe has a lot to do with that."
She offered four tips for updating your wardrobe this fall.
Mix and match wardrobe staples in new ways
Think about your wardrobe staples, Lirantonakis said, and then think about how you can wear them in new ways.
For example, pair a blazer you'd normally wear with trousers with jeans and a graphic T-shirt instead, she said, "which are all things you probably have in your wardrobe already."
Pair a solid-colored sweatshirt with a flip skirt for a new look, she said. Need a dinner outfit? You can wear a leather jacket over a dress that you've previously worn to a wedding or a fancy party, she said.
"The leather jacket gives it a little bit more of an edge, so it makes it feel a bit more functional rather than dressy," Lirantonakis said.
Belt your jackets
Do you have a leather belt? Then begin belting your coats with it, Lirantonakis said. Whether it's a wool coat or a work blazer, adding a belt immediately refreshes the look, she said.
"You feel like you have a new piece, but it really isn't new," she said. "You're just updating it with an accessory."
If you are changing sizes, a belt is a great way to make coats feel less boxy or big, she said. And there's another bonus to wearing belts.
"Adding something to your waist is always really flattering," she said. "So I love belts for that."
Shop statement jewelry and hair accessories
Don't underestimate how much inexpensive costume jewelry can freshen your look, Lirantonakis said.
"I'm obsessed with jewelry," she said. "It's my favorite thing ever and it's the easiest way to change up my look."
In style this fall are gold, chunky necklaces and oversize gold earrings, she said, as well as layering and stacking really delicate rings on your fingers.
When you wear a chunky link necklace over a sweater, it gives your outfit "a whole new vibe," Lirantonakis said. And earrings can instantly polish your look, she said.
"I love statement earrings, especially for the days I haven't done my hair and it's up in a pony tail," she said. "You just throw on big gold earrings and it looks like you're put together."
Hair accessories in style this fall are pearl, rhinestone, and tortoise shell clips, as well as velvet headbands, she said.
"Similar to the statement jewelry, updating your hair with accessories is a really fun way to make yourself feel like you are doing something new and different without having to really adjust your wardrobe around it," she said.
Consider wearing clothes that aren't new
Remember that there are other options besides buying new, Lirantonakis said.
"If you shop stores that offer rental clothes and consignment clothes, you don't have to pay full price," she said. "It's a great way to add things to your wardrobe without spending a ton of money."
At consignment shops, customers buy gently worn clothing for discounted prices. While her company focuses only on dresses, companies like Rent the Runway carry rental clothes for all occasions, Lirantonakis said.