Lifestyle
Spending Halloween in Salem? Here's what to know before you go.
Make sure your eerie evening goes off without a hitch.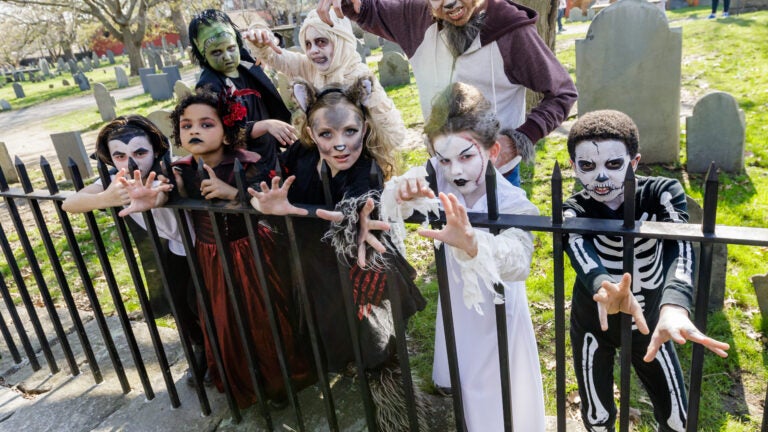 Known for its witchy history, Salem has been named by the likes of Conde Nast Traveler and Country Living as one of the best spots in the country to spend Halloween. The city takes in thousands of visitors each October, and the final day of the month is its crowning jewel.
If you're planning on heading to the Witch City for the spookiest day of the year, here are some tips on what to keep in mind before you ship off.
How to get there
There are several ways to travel to the historic North Shore city. Keep in mind that Salem strongly encourages visitors to use public transportation on Halloween.
By Commuter Rail
Taking the MBTA's Newburyport/Rockport Commuter Rail Line, Salem is a 30-minute ride from Boston's North Station. A standard one-way ticket costs $8. 
By Ferry
If you'd prefer a more scenic route, ferries through Boston Harbor Cruises depart from Long Wharf and take less than an hour to dock in Salem. An adult ticket costs $25 for one-way, or $45 for round-trip.
By car
If you do decide to travel by car, expect plenty of traffic and keep in mind that downtown streets will close by 4 p.m. at the latest. 
Haunted Happenings provides a list of potential parking options, such as the Museum Place Garage located near the Salem Regional Visitor Center and Peabody Essex Museum, or the South Harbor Garage located near restaurants and shops. Salem's commuter rail station also offers parking, but keep in mind that the garage will close between 8 p.m. and 1 a.m.
Road closures
Per the City of Salem, Oct. 31 will include multiple road closures and heavy traffic through the day and night. Roadways that will be closed by 4 p.m. include:
Essex Street at Crombie Street and Barton Square to Union Street

Washington Street from New Derby Street to Bridge Street

Federal Street from St. Peter's Street to North Street

Washington Square North and West from Essex Street to Brown Street

Hawthorne Boulevard

Derby Street

Route 1A

Congress Street near Pickering Wharf

Charter Street

Central Street

Front Street

Lafayette Street from New Derby Street to Front Street
Bridge Street at Sgt. James Ayube Memorial Drive between westerly overpass ramps and Sgt. James Ayube Memorial Drive will close between 9:30 p.m. and 11:30 p.m. for fireworks. 
Trick-or-treating times
If you're looking to snag some candy in Salem neighborhoods, head out during the city's 5 to 8 p.m. trick-or-treating window.
Additional Halloween events
Besides nabbing a collection of sweets, there are plenty of bewitching festivities to take part in throughout the evening, including these suggestions. 
The Salem Psychic Fair & Witches' Market. Visit a medium, see what tarot cards have in store for you, and browse magical items such as crystals and voodoo dolls at this daylong market. (10 a.m. – 10 p.m.; Witch City Mall; free; all ages.)
Halloween Night with the Glitter Boys and Notch Beer Garden. Get down to 70's and 80's records while sipping on suds in a Notch Brewing beer garden.  (6 p.m. – 10 p.m.; Charlotte Forten Park; free; all ages, must be 21+ to drink)
American Vinyl All-Star Band Concert. Made up of musicians that hail from bands including Steely Dan and the James Brown Band, this dynamic group will hit the stage on Salem Common for a free concert (or you can snag a $100 VIP ticket to ensure good seats). (7:30 p.m. – 9:30 p.m.; Salem Common; free – $100; all ages). 
Weather
Although All Hallow's Eve will be on the warmer side, you may still want to cover up your costume for weather purposes. Expect breezy and rainy conditions paired with temperatures in the 60's. Prepare for more intense weather if you're staying out past the witching hour (also known as midnight), when the National Weather Service predicts possible heavy rain and winds blowing up to 50 miles per hour.
https://twitter.com/NWSBoston/status/1189638137225441280