Lifestyle
A 'Friends' pop-up is coming to Boston
It will be there for you starting in November.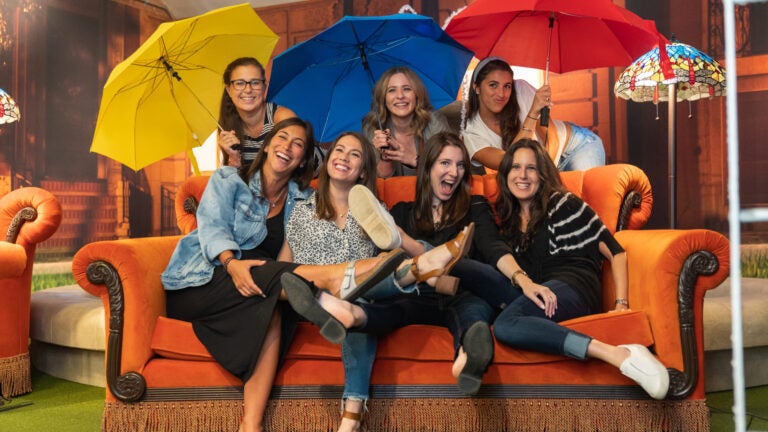 Could this *be* any more exciting for "Friends" fans?
In honor of the beloved sitcom's 25th anniversary this fall, a "Friends" pop-up is headed to Boston, complete with Instagram-worthy photo ops, more than 50 original props from the show, and precise re-creations of the set, including the familiar coffee shop hangout Central Perk.
"The One with the Pop-Up" will be located in Boston's Fenway neighborhood at 401 Park Drive. Tickets go on sale Friday, Nov. 1, at noon on the pop-up's website.
Fans will be able to place themselves in some of the show's most indelible moments at the pop-up, which debuts Nov. 21 and will be open daily from 9:30 a.m. to 10 p.m. through Jan. 5. Stick a turkey on your head, peek through Rachel and Monica's purple door, play a round of foosball, get comfy on Chandler and Joey's recliners, or help Ross get his sofa up the stairs (don't forget to pivot).
The pop-up, which debuted in New York City in September, is a joint venture between Warner Bros. Entertainment and Superfly, a NYC-based events company.
"Just like the show, the pop-up is a fun and joyful experience that brings people together," Superfly co-founder Jonathan Mayers said in a press release. "We received an overwhelmingly enthusiastic response from fans in New York who visited the pop-up, so we're really looking forward to continuing the celebration and bringing this unique experience to Bostonians."
Entry to the pop-up will cost $29.50. College students with a valid student ID will receive a 10% discount on food, beverages, and merchandise available at the "Friends" retail store.
The pop-up will also host a special $55 "Friendsgiving" event on Thanksgiving (Nov. 28), with the pop-up slightly redesigned for the holiday and guests receiving a special "Friends"-themed food item at the end of their visit. The pop-up will also stay open until 12:10 a.m. on New Years Eve, letting you ring in the new year surrounded by "Friends."
Check out more photos of the pop-up below.