Lifestyle
The 30 best things to do around Boston this November
Never have a dull day.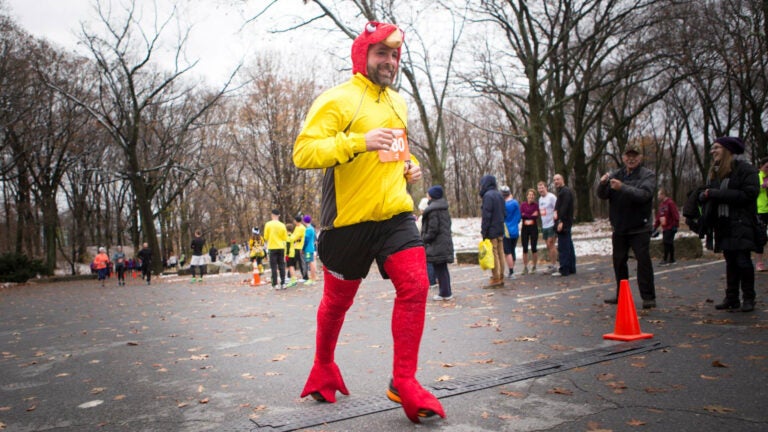 November is well into fall, meaning the air is getting colder and the holidays are getting bigger. The month starts on Halloween's heels and soon enough Thanksgiving has arrived, side dishes in hand. The time is often used as a reminder to practice gratitude, and between Boston's many offerings, there's a lot to be thankful for.
On this list and across the city, you'll find food festivals, fan meet-ups, and opportunities to get in the holiday spirit even before Black Friday.
Friday, Nov. 1
Restaurant Fest at Eataly. For the first half of the month, enjoy a two-course meal in one of Eataly's restaurants at a discounted rate. (Friday, Nov. 1 – Sunday, Nov. 17; Eataly, Back Bay; starting at $18; all ages)
Saturday, Nov. 2
Massachusetts Cheese Festival. Whether cheddar, gouda, or parmesan is your poison, there's sure to be a cheese and pairing option for you here. (11 a.m. – 3 p.m.; Arts at the Armory, Somerville; $10 – $40; all ages)
Sunday, Nov. 3
Cozy Yoga & Coat Drive. Flow in front of a fireplace and relax with hot cocoa in this yoga session perfect for the chilly season. (6 p.m. – 8 p.m.; Mount Hood Golf Club, Melrose; $35; all ages)
Monday, Nov. 4
Cider Tasting at the Lansdowne Pub. Between the cider flights, apple cider doughnuts, and pumpkin ring toss, this brewery event screams "fall." (6 p.m. – 8 p.m.; The Lansdowne Pub, Fenway-Kenmore; free; 21+)
Tuesday, Nov. 5
"Come From Away." This musical tells the true story of a Canadian town that took in 7,000 passengers whose flights unexpectedly landed there in the wake of 9/11. (Tuesday, Nov. 5 – Sunday, Nov. 17  at various times; Boston Opera House, Downtown; $20 – $225; all ages)
Wednesday, Nov. 6
Harvard Stadium Workout with the November Project. Lace up your sneakers and start your day sweating on the steps of this concrete behemoth. (5:30 a.m. and 6:30 a.m.; Harvard Stadium, Allston; free; all ages)
Thursday, Nov. 7
Arlington International Film Festival. This three-day film fest aims to highlight young and multicultural voices. (Thursday, Nov. 7 – Sunday, Nov. 10 at various times; Capitol Theatre, Arlington; $9 – $85; all ages) 
Friday, Nov. 8
Boston Christmas Festival. Make your way to this arts and crafts fest to get a major head start on your holiday shopping. (Friday, Nov. 8 – Sunday, Nov. 10 at various times; Seaport World Trade Center, Seaport District; $14, free for children under 14; all ages)
Saturday, Nov. 9
Boston Wicked Wine Fest – Fall Edition. Clink glasses with friends as you work your way through fall wine samples and get in on a silent auction full of sports memorabilia to benefit Project Smile. (Noon – 8 p.m.; Revere Hotel Boston Common, Downtown; $49 – $125; 21+)
Sunday, Nov. 10
Harpoon Friendsgiving. Enjoy a Thanksgiving dinner, live music, and of course Harpoon beer, all while giving back to the Greater Boston Food Bank. (6 p.m. – 8:30 p.m.; Harpoon Brewery & Beer Hall, Seaport District; $70; 21+)
Monday, Nov. 11
Board Game Bonanza. Jazz up the start to your week with a gaming session. You can bring your own or choose from the brewery's collection. (6 p.m. – 11 p.m.; Aeronaut Brewing Company, Somerville; free; 21+, parent-accompanied minors are welcome)
Tuesday, Nov. 12
Follain in Love with Florals. By the time you're done with this floral arranging class, your Thanksgiving table will likely make guests green with envy. (6:30 p.m.; Follain, Beacon Hill; $65; all ages)
Wednesday, Nov. 13
Country Music Awards Viewing Party at Loretta's. If you opt for the VIP experience at this CMA viewing party, you'll get a champagne toast and your own red carpet experience. (5:30 p.m. – 11 p.m.; Loretta's Last Call, Fenway-Kenmore; free, $30 for VIP tickets; all ages)
Thursday, Nov. 14
Jonas Brothers Live Band Karaoke Contest. Belt your heart out and you may have the chance to see this boy band do the same. (9 p.m. – 11:30 p.m.; The Lansdowne Pub, Fenway-Kenmore; free; 21+)
Friday, Nov. 15
Boston Beer & BBQ Fest. Unlimited craft beer and cider samples to go with barbecue from seven local joints await. (Friday, Nov. 15 – Saturday, Nov. 16 at various times; Cyclorama, South End; $60; 21+)
Saturday, Nov. 16
Super Megafest Comic Con. Carmen Electra and Tony Danza will be among the stars meeting fans at this celebration of comics, movies, rock and roll, sci-fi, TV, and wrestling. (Saturday, Nov. 16 from 10:30 a.m. to 6 p.m. and Sunday, Nov. 17 from 10:30 a.m. to 5 p.m.; Sheraton Framingham Hotel, Framingham; $6 – $50, children under 6 get in free; all ages)
Sunday, Nov. 17
Beer Mug Painting at Turtle Swamp Brewing. Customize your drinkware, then fill it with Turtle Swamp suds. (4 p.m. – 7 p.m.; Turtle Swamp Brewing, Jamaica Plain; $20; 21+) 
Monday, Nov. 18
WWE Monday Night Raw. Witness your favorite WWE superstars go head-to-head live at TD Garden. (7:30 p.m.; TD Garden, West End; $25.50 – $430.50; all ages)
Tuesday, Nov. 19
Let's Talk about Food: Thanksgiving Edition. Authors, chefs, and more will gather to share food-related spiels at this event that resembles The Moth. (6:30 p.m.; WBUR CitySpace, Allston; $15; all ages)
Wednesday, Nov. 20
Pastry Love: An Evening with Joanne Chang. Donate $10 or more at this pay-what-you-can event, and you'll get to sink your teeth into the Flour Bakery owner's treats. (6 p.m. – 7 p.m.; More than Words Bookstore, South End; donation of $1 or more; all ages)
Thursday, Nov. 21
"The One with the Pop-Up." Slide onto a couch in Central Perk or help Ross maneuver that couch up the stairs in this immersive celebration of the "Friends" 25th anniversary. (Thursday, Nov. 21 – Sunday, Jan. 5; 401 Park, Fenway-Kenmore; $29.50; all ages)
Friday, Nov. 22
Zoo Lights at Stone Zoo. Catch glimpses of black bears, reindeer, and more animals as you stroll down tree-lined paths wrapped in lights.  (Friday, Nov. 22 – Saturday, Jan. 4 from 5 p.m. – 9 p.m.; Stone Zoo, Stoneham; $7.95 – $14.95, children under 2 free; all ages)
Saturday, Nov. 23
America's Hometown Thanksgiving Celebration. Commemorate Thanksgiving in the Massachusetts town where it all began with a parade, reenactment village, and more. (Friday, Nov. 22 – Sunday, Nov. 24 at various times; various locations, Plymouth; free – $30; all ages)
Sunday, Nov. 24
Turkey Time! Spend some time in Mass Audubon's Nature Center learning all about Thanksgiving's mascot. You may even catch a glimpse of a flock. (10:30 a.m. – noon; Boston Nature Center & Wildlife Sanctuary, Mattapan; $6 – $9 for children, adults free; all ages)
Monday, Nov. 25
Christopher Columbus Park Trellis Lighting Ceremony. Get a jolt of holiday cheer at one of the first lighting ceremonies of the season. (5 p.m.; Christopher Columbus Park, North End; free; all ages)
Tuesday, Nov. 26
Farmers' Market at Harvard. This is your last chance to stop by this outdoor market until next year. (Noon – 6 p.m.; Harvard Science Center Plaza, Cambridge; free; all ages)
Wednesday, Nov. 27
Gimme Gimme Disco: A 70's Disco Dance Party Inspired by ABBA. You'll be the dancing queen for a night when you lay all your love on the Brighton Music Hall floor. (9 p.m.; Brighton Music Hall, Allston; $10; 18+)
Thursday, Nov. 28
Franklin Park Turkey Trot 5K. Start your holiday with a cardio session along the Emerald Necklace. (Race starts at 9 a.m.; Franklin Park Golf Clubhouse, Dorchester; $15 – $30; all ages)
Friday, Nov. 29
MIT's Friday after Thanksgiving Chain Reaction. As part of a tradition that goes back more than 20 years, students, families, and other adults spend the weeks ahead of Thanksgiving building chain reaction contraptions to knock down to the public's delight. (1 p.m. – 4 p.m.; Rockwell Cage Gymnasium at MIT, Cambridge; $5 – $16, children under 5 are free; all ages)
Saturday, Nov. 30
Jenny Slate Little Weirds Tour. The Milton native will share her new book "Little Weirds" with a Boston audience at the end of the month. Her fiance Ben Shattuck will also be on hand to moderate. (7 p.m.; The Wilbur, Downtown; $31 – $41; all ages)