Lifestyle
An outdoor ice-skating rink is coming to the Fenway
The Rink at 401 Park will open in early December.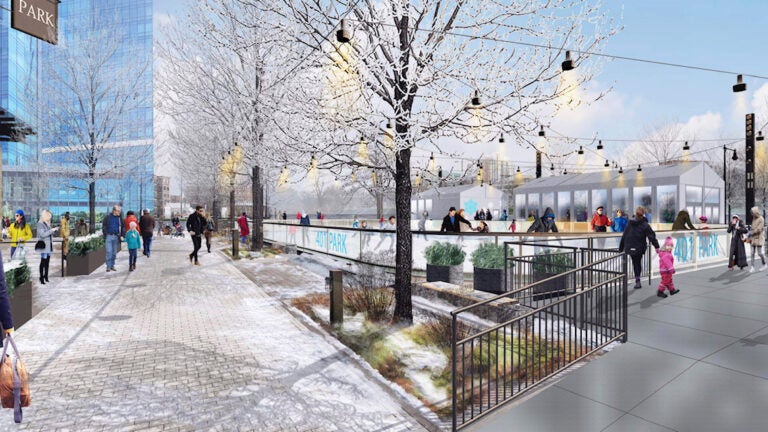 For now, it's a pristine, one-acre lawn on the corner of Brookline Avenue and Park Drive. Come December, it'll be home to the Fenway neighborhood's first outdoor skating rink.
Starting next month, the approximately 6,000-square-foot Rink at 401 Park in the Fenway will open to the public, just outside Time Out Market and next to the newly opened Trillium Brewery Fenway taproom.
The rink is part of a large revamp of the area by Samuels & Associates, which is in the process of redeveloping the historic building at 401 Park Drive formerly known as the Landmark Center that once served as a Sears, Roebuck, and Co. warehouse and distribution center. Along with Time Out Market and Trillium, 401 Park features office and retail space, plus available spots for temporary tenants like the incoming Friends Pop-Up experience opening in November.
During the warmer months, the park billed as "The Green" has hosted frequent activities, including live music and fitness classes.
"When we said we envisioned 401 Park as an all-seasons hub, we meant it," Samuels & Associates founder and chairman Steve Samuels said in a press release. "That means providing an innovative space that engages with and brings together all generations no matter the weather. What better way to celebrate the season than with one of the most quintessential wintertime activities."
As the rink nears its opening date sometime in early December, organizers plan to announce special programming including theme nights, live DJs, skating lessons, and sporting events. Admission rates have not been announced, but there will be discounted tickets available for students, seniors, and skaters ages 18 and younger.