Lifestyle
Is your old prom dress gathering dust? You can give it a second life.
Aahkeilah Rogers found her "beautiful Cinderella dress" at Belle of the Ball.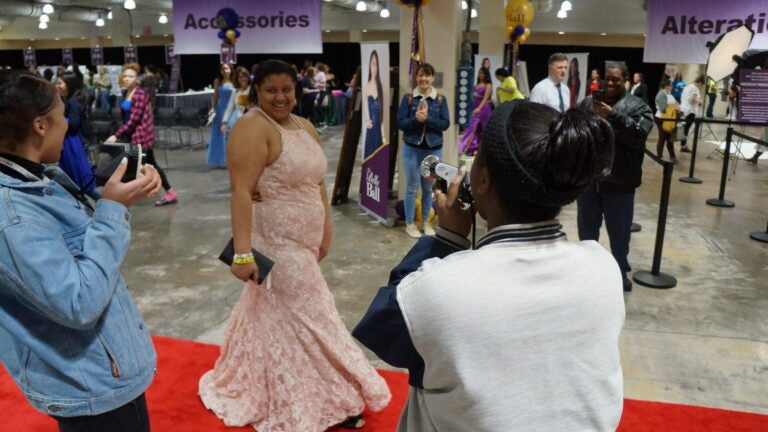 During her junior year of high school, Aahkeilah Rogers was invited to prom by her best friend. There was just one problem — she didn't have a dress.
"I honestly don't think I would have gone," said Rogers. "I had no idea about how to find a dress."
Enter Belle of the Ball. The event is a yearly prom dress drive run by Caring Partners which collects, cleans, and redistributes prom dresses, shoes, and accessories to high school juniors and seniors in need. For her junior prom in 2015, Rogers attended the event and was outfitted with a "beautiful Cinderella dress."
Today, she volunteers with the program as a personal shopper. "It's about a dress, but it's also more about the connection you get with someone," she said. "Whether it's your personal shopper, someone helping you pick out shoes, getting your dress or jewelry, someone altering your dress, all of that is an experience." 
Belle of the Ball will hold its 16th annual event, known as Boutique Day, at the Hynes Convention Center on April 4. Before the big day, organizers are seeking gently worn prom dresses that can be donated to any Anton's Cleaners, Enterprise Bank, and Jordan's Furniture location through March 30. This year, up to 1,200 students will participate in the referral-only event.
Whether or not you can go to prom can a breaking point, according to Lawrence High School senior advisor Julia O'Donnell. "To have an opportunity like this…'Oh, I can go to the prom now. I can pay for my prom ticket, and I don't have to worry about the dress,'" she said. "The stories of some of the kids is amazing." O'Donnell coordinates buses to shuttle her students to and from Boutique Day. 
Upon arrival, each student will be paired with a volunteer personal shopper. The goal is to find a dress, shoes, jewelry, and a handbag, and walk a red carpet before taking the outfit home.
Laticia Tolentino and her twin sister have volunteered for the past 14 years, and often work with students who might need a custom fit or face a language barrier.
"These young women, you know, struggle through trying to find just the right gown that fits them, that works for them, that makes them happy, and then [they] walk out with it and you're feeling like 'oh my god, this is the best day,'" Tolentino said. "I walk away every year knowing I've cried at least a few tears."
Did you go to your prom? Send us your prom photo and your name at [email protected] and we may feature it in an upcoming Boston.com story.