Lifestyle
6 tips for working from home for a prolonged period
Make your work-from-home setup work for the long haul.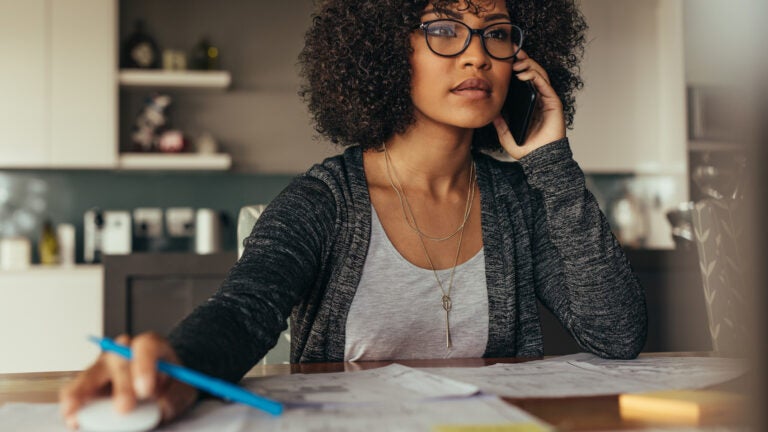 According to a 2018 study of telecommuting trends, around 5 million Americans (3.6 percent of the country's workforce) were working remotely at least half of the time for their jobs. Thanks to the novel coronavirus, that number has skyrocketed, at least temporarily. Here in Massachusetts, only those employees deemed essential by the government can continue to head to the office, leaving many to adjust to a new work-from-home reality.
While working from home for a few days isn't a foreign concept to most — remember the winter of 2015? — telecommuting for weeks and weeks with no specific end date is a different story.
To help those looking to optimize their work-from-home experience, we asked more than a dozen people who have worked remotely for years prior to the COVID-19 pandemic to share their helpful tips.
(Did we miss anything? When you're done reading, let us know your own work-from-home tips in the comments, or by emailing [email protected].)
Have a morning routine, and stick to it.
One thing that most people moving from office to at-home work should be able to maintain is their morning routine — minus the commute, of course. Or, if you prefer, you can create a new morning routine that you've always aspired to have.
Author John Finkel is a big proponent of the early wake-up, saying his move to getting up at 5 a.m. every day to work out "life changing."
"If you can force yourself to commit to the 5 a.m. thing, it'll really change things," Finkel said. "It's like stealing an hour or so from the day. And you have more time to chill after work."
Even if you're not an early bird, the majority of respondents listed having a morning routine as a key to work-from-home normalcy.
"I get up and get ready like I'm going into the office," said Ryan Fitzgerald, a content strategist at Transamerica who has worked remotely for three years. "And then I plan out my day by the hour."
Have a dedicated workspace.
The most popular response, bar none, was to have a dedicated workspace at home.
"The big one is to have a dedicated workspace to keep yourself organized," Fitzgerald said. "It's really easy to feel unmoored and lose focus when your whole house turns into a workspace."
For some, that's easier said than done, as a home full of newly self-distancing individuals doesn't always leave much space.
Stephanie Lindholm, who has worked remotely for four years as a page designer for Gannett newspapers, has a full home office setup these days. But even when she lived in a one-bedroom apartment, she created a dedicated workspace.
"I have an office now, but I used to work out of my living room, and after I'd clock out, it felt like I lived at work," Lindholm said. "When I was in a one-bedroom apartment, I put a desk up against a corner wall and created a little nook, with art on the wall and a funky little colored light to offset the blue light from the screen."
Surround yourself with the right technology.
Securing productivity-boosting tools for your home office at the moment might be easier said than done, with Amazon facing shipping delays and shopping trips limited to the essentials. But if you can upgrade your experience, the benefits are tangible. 
The most popular suggestion was a monitor upgrade, whether it was buying a larger one or using a dual-monitor setup.
Wendy Goldstein Pierce, who runs her own PR/marketing/branding firm and has worked from home for the last three years, said she uses her second monitor to simulate an office environment, and also always keeps lots of chargers for her computer, phone, and headphones nearby.
"My favorite thing is that I have a really big monitor in addition to my laptop, and on that I usually watch news or other TV to keep me company," Pierce said. "I actually work better with noise like I'm in a full office, even when I have to write."
On the topic of noise, Shaun Davis, a software engineer at IBM, went in the opposite direction with his recommendation.
"Get a solid pair of noise canceling headphones," Davis said. "This is especially important if you have kids."
If it helps, dress for the office.
One recommendation on which people were split was the appropriate work-from-home attire. Some relished the chance to break away from restrictive office dress code norms, while others adhered to them in order to create structure.
Ben Raphel, a healthcare data analyst who has been working 100 percent from home since starting a new job last year, is a proponent of dressing up for the job.
"I know others who don't care about that as much, but 'Dress like you're still going into an office' is a big one for me," Raphel said.
Others didn't think office clothes are necessary. Pierce said she stays in gym clothes in the morning in order to take a walk with her dog and get a bit of a break. Andrew Snyder, a senior digital strategist for Veracity Media, rocks sweats for his workday.
"If putting on "work clothes" does it for you, sure," Snyder said. "But I relish the opportunity to work in sweats or shorts whenever I damn well please."
Use video chat for meetings when possible.
With face-to-face interactions limited at the moment, taking a phone meeting and turning it into a video meeting with a service like Zoom is a great way to stay connected. But even under normal circumstances — where encountering humans isn't a rarity — work-from-home veterans said they preferred video meetings.
"Use webcams for meetings when possible," said Sara Carlson, a senior project manager for the American Cancer Society. "It's helpful to see people's facial expressions to see if they're confused, are they enthusiastic, etc. Also, it forces me to shower every day."
Fitzgerald said he likes to have daily morning check-ins with coworkers, usually via video.
"I also prefer video chats over anything else for meetings," Fitzgerald said. "It's super easy to misinterpret tone when you can't see the person you're talking to."
Have a definitive end to your workday.
Working from home means that your work is only feet away at any given time. Just like having a dedicated workspace can help you physically distance yourself from your job, creating an end-of-workday routine can help prevent an "always-on" work style that often leads to burnout. Pierce said that unless she has a call or event scheduled, she ends her day at 6 p.m. by making dinner.
Ashley Waters, a senior account supervisor at Boston-based marketing/PR agency PAN Communications who now works remotely full-time, said walking her dogs at the end of the day is her official signal that work time is over.
"Have an end-of-day ritual to signify the shift from work time to personal time," Waters said. "I walk my dogs, but it can be anything — take a walk, pour a glass of wine, listen to a podcast, shower, whatever. Doing something consistently that marks a clear shift helps mentally in a major way."
<hr>
<h2>Your 60-second guide to social distancing during the coronavirus outbreak</h2>
---
Get Boston.com's e-mail alerts:
Sign up and receive coronavirus news and breaking updates, from our newsroom to your inbox.