Lifestyle
Their destination wedding was cancelled due to the coronavirus. They got hitched in the Boston Public Garden instead.
"Life can change so fast tomorrow, that you shouldn't let the fear of tomorrow rob you of the joy you have today."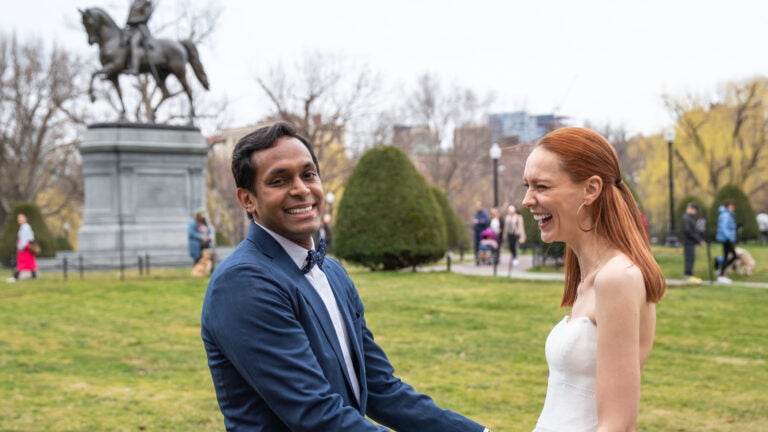 When Alyssa Gerany and Ray Singh chose their wedding date last year, they could never have imagined it would fall during a global health crisis.
But as the big day approached and the coronavirus pandemic grew worse, the South End couple realized their Saturday, March 28, 2020, wedding wouldn't happen as planned. They had invited 60 U.S. and international guests to a destination wedding in Savannah, Georgia. After Gov. Charlie Baker announced on March 15 that Massachusetts schools and restaurants would close and groups of more than 25 people should not gather, Alyssa said their choice became clear. They called it off.
"I think we were bummed, for sure," Alyssa said. "But it wasn't devastating to us. We are both Christians, and I think that things end up going the way they're supposed to go. We really had no control over it."
Then a new idea took root. The couple decided to marry that day anyway — in the Boston Public Garden.
"We kind of talked about how maybe we should just get legally married anyway, that the day will still be special then," said Alyssa, 36, a cardiovascular and thoracic operating room nurse at Beth Israel Deaconess Medical Center in Boston. "You never know what will happen in life."
Like many couples, Alyssa and Ray, 45, a financial analyst, have had to adjust to a new normal. Ray has been working from home. For Alyssa, a health care worker used to donning PPE (personal protective equipment), work became more chaotic.
"I've had patients that were suspected [of having COVID-19] and whether they were ruled out or not, I don't know," she said. "In the OR, we see people for such a small amount of time, you don't always get the same kind of follow up or knowledge because you weren't with that patient — like a floor nurse would be — for 12 hours. You just kind of assume everybody is positive."
The couple, who met online in 2018, applied for a marriage license at City Hall, hoping they'd get it by Friday so they could still marry on March 28.
"It is a very scary time for people," Alyssa said. "But both Ray and I are focused on just how incredibly lucky we are and how very blessed we are. Life can change so fast tomorrow, that you shouldn't let the fear of tomorrow rob you of the joy you have today."
They weren't sure they'd get the license in time to marry on Saturday. But, just in case, they asked their good friend Andrew Schiappa if he'd officiate. He agreed and applied for a one-day license. Alyssa went to City Hall again on Friday in a last-ditch effort to secure the license. She was thrilled when she left the office at 4 p.m. with it in hand.
The wedding was on.
On Saturday, Alyssa wore a backup wedding dress she'd bought from Anthropologie in January when she discovered the China-made dress she found in Nashville might not make it on time. She wore it with a necklace she had engraved with her wedding date. A friend connected her with a photographer, Abigail Egan, who met them at the garden with a long lens — perfect for social distancing while she worked. Schiappa married them near the George Washington Statue at 1 p.m. with only his wife, Ginny, and Egan in attendance.
"We were both excited to be able to have the opportunity to be married in a beautiful space with good friends," Alyssa said. "It took all the pressure off because it really felt like we were in our own world."
Some scattered onlookers applauded, and one even took video of the ceremony and shared it with them.
They celebrated back at their condo with champagne and take-out from Tatte Bakery and Cafe. They had tied the knot, as planned, six months after Ray proposed at Breakers Palm Beach in Florida during a September vacation. Ray, who was born in London and grew up in Florida, managed to secretly fly to Alyssa's native Idaho before that trip.
"He wanted to make sure that he met my family before he asked, which is really sweet," Alyssa said.
They chose Savannah for their wedding celebration because of its charm and great weather, she said. Alyssa loves all things vintage, so she booked the 1899 Gingerbread House for their rehearsal dinner, Whitefield Chapel on the campus of Bethesda Academy — which was completed in 1925 and has hosted ceremonies for celebrities such as Mandy Moore and Paula Deen — for their vows, and Garibaldi Cafe inside an 1871 Germanian Fire House for their reception (which is closed due to the pandemic).
The couple was able to rebook every aspect of their wedding day in Savannah except for the photographer, she said. Now, they will do it exactly as planned on Sept. 6.
"Everything just worked out the way it was supposed to," she said. "Why let yourself be devastated over something? It's just a day. We're super lucky, we still have each other, we both have jobs, we can still pay our bills, and our family is healthy."