Lifestyle
I've photographed nearly 300 families since March. Here's what the pandemic has not changed.
Erinn Powers shares what it's like to photograph families in Beverly as part of the Front Steps Project.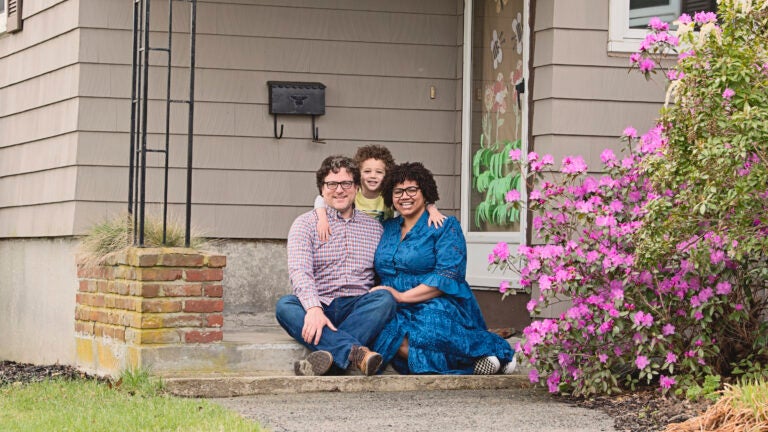 Coronavirus is affecting everyday life — even for those who have not been infected. We are sharing stories of its impact on local people. To share your own, please submit this form or email us at [email protected]. 
This story was told by Erinn Powers, and has been transcribed and edited from a conversation with Madelaine Millar.
My name is Erinn Powers, I'm the owner of Erinn Kiley Photography, and since the beginning of the coronavirus pandemic, I've been shooting pictures as part of the Front Steps Project. I've taken pictures of over 280 families and raised $25,083 from their donations, and if you count the $5,000 donated by Live with Kelly and Ryan, I am officially over $30,000.
The Front Steps Project is a service that I'm donating where I go to a family's home and spend about five minutes with them while they stand on their front step, and I take a variety of photographs of them. Within a few days I send them a link to look at all the pictures, and they can choose one high-resolution image to keep. In exchange, I ask that they donate to a charity of their choice. I think I have over 60 different charities that people have chosen. I'm not charging a fee and completely donating my services for this. 
It's a lot of work and dedication, but I'm happy to do it because it's bringing smiles to Beverly and all around. Besides, I'm getting as much out of it as the families I'm shooting. I work full-time as an administrative assistant at St. John's Prep, and since I've been working from home since the second week of March, it was kind of tough on my mental state. Somebody had posted online like 'Is anybody doing front porch pictures?' I Googled it and saw that photographers across the country are doing this and I was like, 'I'll just put it out to people in Beverly and see if anybody's interested. It might be nice to see people and interact with people, and along the way raise some money.' I put it out there on March 31, and immediately I had a flood of names come in. I've had people reach out to me from as far away as Texas! 
I've done a lot of birthdays. I had one birthday where the mom brought out a cake and the daughter was blowing out her candles on the front steps — it was super cute, they had balloons and streamers, and I think that just really captured the reality that we're living in. It wasn't just your standard family sit and smile. It was in the moment. I had another couple do a gender reveal, and that was really cute to be a part of. They ordered cookies with the gender and they opened up the package while on their front steps and I was able to capture their reaction. I've done quite a few photos of women who are expecting, which is always really nice. I photographed the Beverly fire department; I did a doctor's office that signed up in two shifts that were isolated from each other; I did a vet clinic. There are a really wide variety of people who want to be involved. 
Being a photographer is definitely different during a pandemic. I am six feet or more away, sometimes even across the street, which can be tough because you're shouting over traffic, telling people how to pose. You can't go over and help them, so you kind of mime the pose from across the street. So sometimes it's a little bit of a challenge, but mainly the project is just about capturing the connections with families, and that hasn't changed at all. Whether I'm across the street or I'm two feet in front of you, I'm still able to capture that togetherness and their happiness and the love that they have.