Lifestyle
Massachusetts wedding planners say 2021 dates are filling up. Fast.
"Very soon there's going to be no availability," one planner said. "It will push people to 2022 because they won't have another option."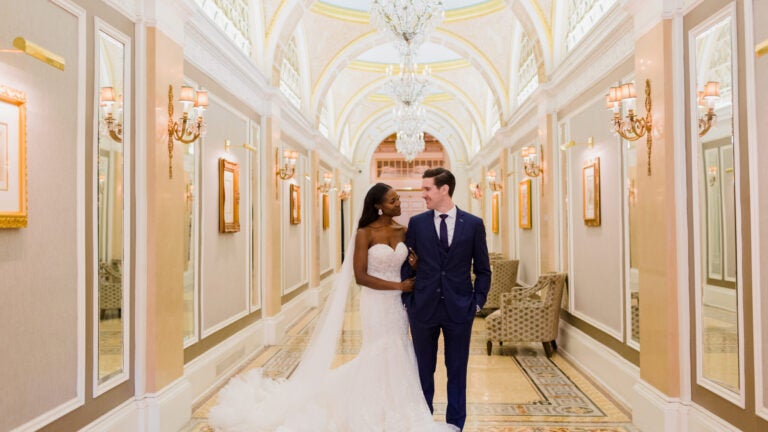 Engaged couples postponing their 2020 wedding because of the coronavirus pandemic are facing stiff competition for ceremony dates and venues next year, local wedding planners and industry experts say.
"We've seen, probably about 85 percent, maybe even 90 percent of our events moved from 2020 to 2021," said Jamie Bohlin, owner of Cape Cod Celebrations in Yarmouth Port, who typically plans 65 weddings annually on the Cape and the islands. "And on top of that, we still have people who are booking us for 2021. So it's going to be an interesting year."
Dates are filling up fast near the city as well.
"We had probably 60 or 65 percent of our weddings in 2020 moved to 2021," said Ted Daniels, catering sales manager at Boston Harbor Hotel, which typically hosts 75 to 80 weddings annually. "We have more weddings on the books for 2021 because of the pandemic."
"On a daily basis, people are asking, 'What dates do you have for 2021?'" said Alice Fay, senior catering manager and wedding specialist for the Fairmont Copley Plaza in Boston, which typically hosts around 70 weddings a year.
"Pretty much everyone has postponed to next year," said Tammy McKenna, facility manager at the Commander's Mansion in Watertown, which hosts up to 60 events per year, the majority of which are weddings.
"The uptick in inquiries every day for weddings is kind of insane," said Rebecca Millette, events and marketing manager for Puritan & Company and The Herb Lyceum, a Groton farm that hosts up to eight weddings per year and is aiming for 20 next year. "There's probably 10 new brides every day that we hear from."
But that doesn't mean couples aren't still looking to get married in 2020.
Earlier this month when Massachusetts moved into Phase 3 of its reopening plan, which eased restrictions on indoor and outdoor gatherings, engaged couples sprang into action, the experts said. The state now allows 25 people at indoor events and 100 at outdoor events, including vendors.
"When the state said you can have up to 100 people outside — part of Phase 3 — it was like fireworks," said McKenna, who offers both indoor and outdoor space at the mansion. "The phones were ringing, the e-mails were coming in. It was like wildfire."
Many wedding venues responded by offering scaled-back celebrations to meet the demand.
"You can have the 'micro ceremony' now and then do the big party next year," said Gina Nolan, assistant facility manager at the Commander's Mansion, which offers the option. "I mean, if we're allowed to do the big party next year."
"I'm getting a lot of calls for the 'micro wedding' — 22 people or so," said Daniels, at the Boston Harbor Hotel. "We've booked a handful of those already and they keep calling."
The Fairmont Copley Plaza announced in May that it would host intimate weddings this summer, and hundreds of inquiries flooded in, Fay said. The interest was so strong that the hotel extended the availability of the "minimonies" from September to December, she said. The hotel, which opens Aug. 7, has booked about 60 of the events so far, Fay said.
"I've never been busier in my entire life," said Fay, an industry veteran for 23 years.
Engaged couples eyeing a date in 2021 should act soon, the experts said.
"Very soon there's going to be no availability," Bohlin said. "It will push people to 2022 because they won't have another option."
Of course, all couples with postponed weddings still face the uncertainty of an ongoing pandemic.
"If guidelines do not permit us to host a wedding, then we would work with the bride and groom to pick another date," Daniels said.
"We're just saying [to couples] that we're hopeful," Bohlin said. "There's not much more that we can really say. Everybody is in the same boat right now. There's nothing you can do about it except for keep going, change your date, and make some adjustments."