Lifestyle
'I am trying, I really am': We asked readers if and how they are taking care of themselves during the pandemic
More than half said they're not.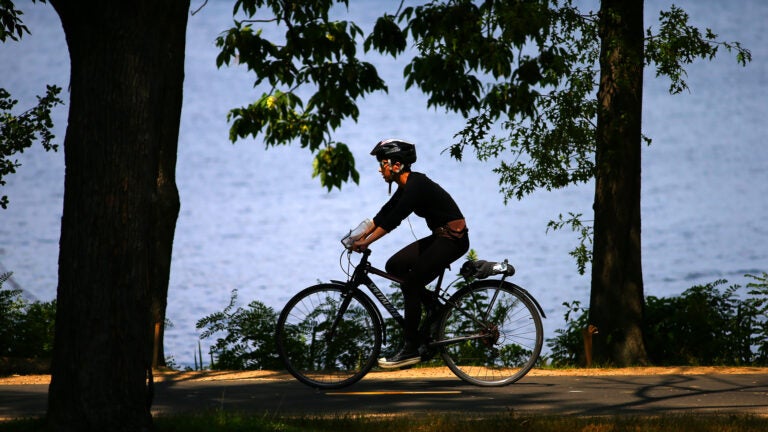 Within the past six months of the coronavirus pandemic households across the country felt radical change to their daily routines. Whether it was coping with sudden unemployment, adjusting to working full time from home, at-home child care and schooling, or feeling isolated away from family members — these adjustments presented a new challenge: How do you take care of yourself during all of this?
Last week we asked Boston.com readers if and how they were coping. Here's how more than 100 readers responded.
The takeaway? Just over half of you (52%) are justifiably overwhelmed right now. One reader wrote, "None of my previous self care activities are doing the trick now. My outlets have always involved travel and socialization. I don't have the tools to cope with this new reality, I feel like a campfire trying to burn through a tropical storm these days." Some added they haven't been eating or sleeping as well due to the stress: "I haven't been my old self with this new unorganized routine." Illya on the North Shore wrote, "Working remote is demanding more of everything and making time for young and elderly family leaves no time for myself." Others have chimed in to say they are drinking more, too. A reader named Olivia wrote, "I drink way more than I did before."
A reader who is a working parent wrote: "I am trying, I really am. But I work FT at a college, which means 2 days a week on campus, which is really stressful. Because of my possible exposures through a college setting, we decided to keep our middle-school-aged sons home, so I am remote schooling 2 kids in 2 different districts — one whose school day is 7:15 a.m.-2 p.m. and the other whose day is 8:30 a.m.-3:30 p.m. By the time I am finished with schooling them, dinner etc. and finishing my work for the day at 7 or 8 at night, there's nothing left in the tank. I am usually in bed by 9, and then toss and turn for the night, stressed about how I am going to get through the next day. It's all terrible."
A 76-year-old reader wrote, "A fall, a fractured hand. [A] hip fracture. Loss of mobility and pain. At 76, and with COVID, my skills as an editor and translator were not in demand. What little I had has gone to sheer survival. Resilience and adaptability seem no longer adequate [due] to circumstances. Many questions."
Another reader even decided to quit their job: "I have been trying to but it has been so hard. Work only got more stressful until it reached the point where I had to quit. Crazy during these times I know but I had no other choice for my mental health."
Of the 48% who said "Yes" they were taking care of themselves, readers responded with self-care routines that mostly included exercising, followed by a change in diet, and, interestingly, drinking alcohol. Alcohol was mentioned as both a positive and a negative from readers. One reader wrote they were not taking care of themselves and "drinking myself to sleep," while another wrote that they'd been drinking alcohol as self-care. 
Other self-care activities mentioned were gardening, smoking marijuana, limiting TV time, getting food delivered, and prioritizing mental health such as meditating.
Here's a sampling of the "Yes" responses:
A reader named Sharon wrote, "I exercise daily with weights and then I shower and start my work, which is writing. When it's time to make lunch, I take pleasure in knowing the meals I prepare to make them and my husband happy. And it's wonderful to kiss them and enjoy their company as we all enjoy a meal together. After their Zooms, I always sit with them, chat and hug. I know we're lucky to not be essential workers and can work from home and my husband used to travel at least half the year so I take advantage of the time to be loving and together with them."
Another claimed working from home had an unexpected perk for them. "Not having to see my co-workers has improved my mental health and made me significantly healthier than before the pandemic began."
Stacy, from Reading, wrote about a love of gardening. "I love the outdoors and gardening. To keep myself sane I devoted far more time to the backyard this year and was rewarded with plenty of tomatoes, peppers, cucumbers, and strawberries. The winter months are always a bluesy time for me, so I've brought more than a few plants inside to extend the growing season, purchasing grow lights as needed. So, while the weather outside is frightful, it will be great to see signs of life indoors!"
"Walking 2-4 miles daily both on my own and with 1 or 2 friends. More quality time with my partner. Playing guitar/music. Making some of my own music videos to post on Facebook. Hiking in New Hampshire when possible. Reading a lot more. Doing a few home improvement projects. Taking more time to self-reflect and focus on gratitude. Treating myself to take out meals once every couple of weeks," Gary Dolinsky wrote.
Amy Wyeth wrote, "Exercising way more and going out to at least one body of water every summer weekend. During the fall weekends, I just sent out emails to a bunch of friends to arrange outdoor get togethers. Thinking of organizing a walking club. Volunteering. Seeing people while being in nature!"
While some had trouble sleeping, others said they've been catching up on sleep or working to fix their sleep schedules.
"The best things I have done in terms of self-care is make sure I exercise daily and go to bed early enough so that I sleep for 8 hours. I have been a big fan of running, as my body feels better and my mind is clearer afterwards. And while I previously struggled to sleep for 8 hours, now that I no longer have a long work commute I can more easily find the time to get a full night's rest."
With exercise mentioned in most self-care routines, we broke down what kind of activities were most helpful according to readers.
Walking was the most popular at 54%, followed by biking (several people mentioned Peloton) and lifting weights in home gyms. John Doyle in Somersworth, N.H. wrote, "I've walked 11,000 steps a day every day of the pandemic — 190 straight days as of 9/19!" A reader named Rich C. praised the Blue Hills in the South Shore and New Hampshire's White Mountains for turning him into a hiker. "The day after the lockdown started I began hiking at Blue Hills, basically on any day where it didn't rain. It cleared my head. I was never a hiker till then and needed a fitness routine since gyms were closed. Since I have continued and hike 4x a week and have consistently pursued tougher hikes. Just climbed 2 of the Presidential Range the other day and a 4800 footer in the White Mountains. I've lost 20 lbs and feel great," he wrote.
For one reader, the return of live sports has helped: "Walking and working out daily. Also, lots of watching live sports (finally!)" Another reader added regularly trying new things to their list, "1. Eating healthy. 2. Going for walks. 3. Cutting down on the alcohol/drinking more water. 4. Reading more – interesting books, journal websites, etc. 5. Duolingo – starting to learn another language. 6. Indulging in 1 new activity every month, just to see if I like it."
Did we miss any of your self-care routines? Let us know in the comments below. 
Get Boston.com's browser alerts:
Enable breaking news notifications straight to your internet browser.