Lifestyle
How to be happy, according to an expert who asked more than 500 people in all 50 states
Michelle Wax's trip resulted in a documentary called "American Happiness," which premieres this week.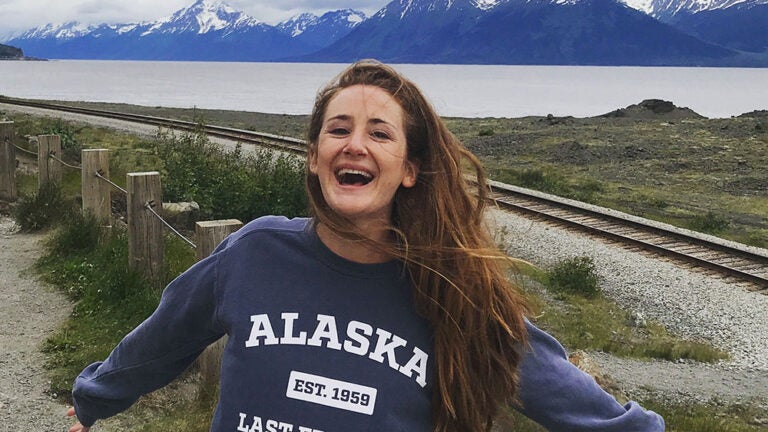 Michelle Wax was living her dream — or so she thought.
The Boston resident and Dover native dreamed of being an entrepreneur, so she earned a bachelor's degree in business management from the University of Connecticut and then in 2014 launched Kitchen Millie, a cookie company named after her grandmother. In 2016, she launched The Local Fare, a specialty food store and collaborative kitchen space.
"I had kind of built up these two food startups to the point where I was living my dream that I had wanted since I was a kid," Wax said. "I had reached a point where people were coming to me and saying, 'Wow, this must be amazing, you must be so happy.' But I internally wasn't feeling the happiness I thought I should be feeling. And that was really a turning point."
Wax began studying the science of happiness by reading books and scientific journals and listening to podcasts. She had a love for travel and for hearing other peoples' stories, which she collected when she interviewed entrepreneurs for her 2017 book, "The Attainable Dream."
After plenty of soul searching, she sold her companies and embarked on a literal pursuit of happiness during a three-month road trip across America in 2019. She interviewed more than 500 self-described "happy" people in all 50 states and chronicled her journey in the independent documentary film "American Happiness," premiering virtually on Thursday.
"It was pretty wild because there were people saying the exact same phrases and they were living on opposite sides of the country, [with] completely different backgrounds, completely different circumstances," Wax said. "And they were saying the same types of phrases and, really, ways of creating their own happiness. It was powerful."
After her trip, Wax founded the American Happiness Project, which offers virtual workshops and programs for companies and schools nationwide that focus on strengthening mental wellness.
"I wake up every day, and I'm energized and engaged," Wax said. "I feel as though this is the purpose of my life."
Ahead, Wax shares four tips for achieving happiness.
1. Be more self aware.
The happy people Wax interviewed for her documentary all talked about the importance of self awareness, she said. Wax recommends achieving self awareness by taking a "happiness audit" of your life every few months.
For the audit, you'll want to make two lists, she said. The first is a list of what's energizing you and bringing you happiness, Wax said. The second is a list of what's draining it.
"Just becoming aware of that is really the first step in any type of change or improvement," Wax said.
For example, after completing the exercise, Wax discovered that meditating and taking scenic drives brought her happiness, so she worked those more into her life, while the video-sharing social networking app TikTok drained her happiness because she was spending too many hours on it, so she deleted it. If it's a person who is draining your happiness, consider restricting the amount of time you spend with that person, Wax said.
You'll hold yourself more accountable if you physically, rather than mentally, make this list, she said.
"I've seen the shifts that are made when you begin with that simple start of just making the list," Wax said. "It seems straight forward and it seems simple, but so many people don't actually enact it and it's so powerful for how simple it is to do."
2. Start your day with a positive mindset.
Happy people all over America strive for a positive mindset, Wax said.
A good way to do this is by asking yourself the following three "morning questions" when you wake up, Wax said: What can I look forward to today? What has potential to stress me out or worry me today, and how will I respond to it? How do I want to feel at the end of today, and what do I need to do to make that a reality?
Whether you write the answers down or just think about them, you are starting the day on your own terms and beginning with a positive mindset, Wax said. She recommended answering the questions before checking email or scrolling through social media. If you find that hard to do, just put your phone on airplane mode, she said.
Finding something to look forward to daily is more important than ever during a pandemic, she said.
"It could be really small, like you are going to go for a walk for five minutes in the sunshine, even if it's freezing outside," Wax said. "If you can't think of anything, start to bring something into your life that you can look forward to."
When it comes to potential stressors — like an unwanted email from your boss — decide your plan that morning for how you will respond, she said, so you can "take back control" during the event.
"Are you going to choose to respond in a calm way or take a breath when that situation does come up?" she said.
At night, take stock of what you did — or didn't do — through the course of the day to create the feeling you desire at the end of the day, she said, and then tweak it as the week goes on. You'll see benefits if you are consistent with this exercise over time, she said.
3. Surround yourself with positive people.
No matter which U.S. state she visited, Wax said the happy people tended to seek positive people and those looking to grow, change, and improve.
"The content and people you surround yourself with are extremely, extremely powerful, much more than a lot of people tend to realize," Wax said.
The quest for positive influences was so common on her journey that it inspired her to create a group program through the American Happiness Project called Connection, which is currently virtual because of COVID-19 and connects positive-minded people across the country.
"This is something that I found throughout the country: That people really want to be around more positive people, but they don't know where to meet them," she said.
Positive people help to lift you up, she said.
Wax said consuming positive content — books, websites, podcasts — is also important because it helps to "rewire your mind," so you look for opportunities instead of what could go wrong.
4. Remember that happiness comes from within.
No matter what you're dealing with in life, you can find happiness, Wax said.
"I talked with people who had their houses blown away by tornadoes or had stage 3 cancer, and it wasn't about what was happening in their lives," she said. "Obviously those are awful circumstances. But [their happiness derived from] how they were interpreting it each and every day."
Wax suggested keeping track of your own thoughts every couple of hours so you can understand what you are thinking about and how it's making you feel.
So often people think the right person, promotion, or amount of money in the bank will bring happiness, Wax said. Research shows that your mindset and the way your brain is wired affects your happiness level longterm a lot more than the external factors, she said.
For example, some people who are financially well off and considered successful are actually "miserable and burned out all the time," she said, and "are not feeling it internally," while others who have gone through really difficult things "are the happiest and most generous people you know."
"Many times, what we're craving or what we really want in life is not necessarily the external object, person, or job title," she said. "It's the feeling that we believe we are going to have once we have that external thing. And so you can create that feeling in different ways. It's just becoming self aware of what exactly is that, what do I want to be feeling? How can I bring more of that into my every day life before I even have that external thing?"
You can control your happiness, she said.
"A common theme I found is happiness is a choice, and you need to choose it each and every day," she said. "It's not just going to arrive in your life. You need to choose it."
Get Boston.com's browser alerts:
Enable breaking news notifications straight to your internet browser.