Lifestyle
A Cambridge woman on what it was like to get married, have a baby during the pandemic
"I slept, went into labor in my mask, and simply did not take it off at all for four days."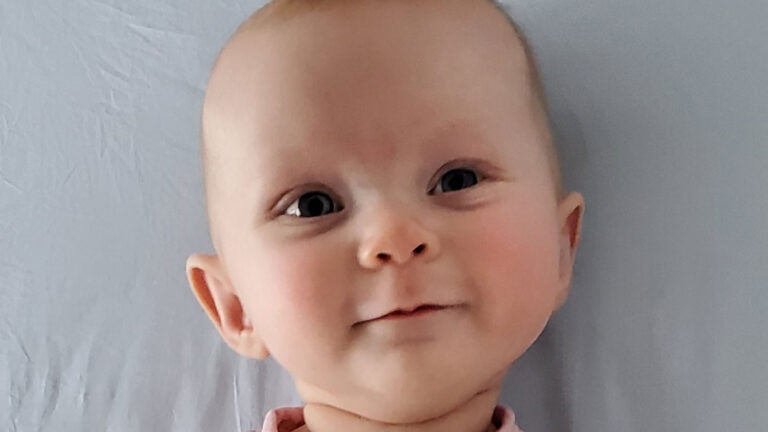 Boston.com first spoke with Eli Fels-McDowell of Cambridge in April when she was 11 weeks pregnant at the beginning of the coronavirus pandemic. Fels-McDowell has since gotten married and given birth to a daughter and describes what it was like to go through those life-changing events during a pandemic. This interview has been transcribed and edited from a conversation with Kristi Palma. 
Mary Beth Fels-McDowell was born on Election Day, Nov. 3, exactly on her due date. We are on cloud nine. We're so grateful we had a healthy birth and we appreciate all of the nurses and doctors at Mount Auburn. Mary Beth, she fills our hearts with joy. She loves Britney Spears, 90s house, and disco. She enjoys when we play music and dance around her bassinet and she stamps her little feet when the beat drops and makes gurgles and coos.
We were incredibly grateful to the nurses and doctors at Mount Auburn for giving us a safe and healthy birth. We spent four days in the hospital. Everyone would wear masks. I slept, went into labor in my mask, and simply did not take it off at all for four days. I'm not sure why people complain about wearing a mask to go inside Target. The care that we received at Mount Auburn was impeccable and we felt extremely safe and well protected throughout the birth process and the postpartum time. We were grateful that [Matt, my husband] could physically attend. We were lucky that the baby was born at a time of relatively low community transmission in Massachusetts. After Thanksgiving, there was a spike in cases and Mount Auburn changed their protocol. So when I had my final postpartum appointment in December, Matt could not attend that.
We spent the summer and fall taking walks around Fresh Pond. At the very beginning of the pandemic we didn't know how virulent the virus was [so did not go outside much]. Because a baby can't wear masks, we're actually a little bit back where we started where I don't want to take her into an elevator or a crowded hallway often. But now that it's getting warmer and more people are getting vaccinated, we want to try to take her outside. But, so far, she has spent the winter in our apartment. We haven't done any family visits, but we've done a lot of Skype. Our family is on the west coast and without a vaccine, we didn't feel like it was safe to ask them to fly. So not being able to have family around for her birth and first months was hard but we just want to make sure everyone we love are staying safe.
Matt is in the same position [as a contractor working for Harvard University Recreation]. In January, Massachusetts introduced a new program for the purposes of bonding with a child. It's 12 weeks partially paid and Matt is doing that right now. And we're just incredibly grateful that he has the ability to spend 12 more weeks helping with the baby.
Obviously we couldn't have any family visiting to help out in the days after the birth but we got through it together and it brought us closer together as a couple. During Christmas, Matt bought a little spruce tree from an outdoor nursery and when he brought it inside, he walked around the apartment looking to see what little objects he could use to decorate it since we weren't going holiday shopping. He wanted the baby to have a Christmas tree for her first Christmas. We had some partially broken shells from Cape Cod that we found from a trip to the beach previously. Matt put strings through the shells and hung them on the tree to be decorations. And he wrapped one of my cheap, sparkly bracelets around the tree. And he made a paper crane to be the star on top. That was our Christmas tree. She really liked it. Her face would light up when we held the Christmas tree in front of her.
Obviously, with the pandemic, we canceled our wedding plans. Having a large gathering for a wedding was simply out of the question for us for public health reasons. So when I was eight months pregnant we got married in Danehy Park on the baseball field. And the only people who came were my cousin and her partner and our friends Megan and Alkes Price. Megan married us. She got that one-day certification. She gave us a bouquet and played "Pachelbel's Canon" on her flute. It was so sweet. We got a cake from a local caterer and had cake on a blanket in the middle of the baseball field. I had a $35 maternity sundress from Amazon with flowers on it and a sunhat. Matt wore his formal suit. And it was wonderful. Hopefully, when it's safe to gather again, we'll have a party, we'll call a celebration of love with our family and friends.
Matt had actually, on his very last shopping trip [before the lockdown], he bought my engagement ring which was a rubber ring from REI. I love that. It was very in keeping with how things were. And it's a sign of our love during the hard times of the pandemic.
We live in Cambridge and in order to get a marriage license you had to go inside city hall. We asked if it was something we could do just outside the door and we were told no. I didn't feel comfortable so close to giving birth going into a public lobby. We called Pat Jehlen, who is a senator who represents Somerville, and asked for help. Pat called the Somerville mayor, Joe Curtatone, and asked if we could get a Somerville marriage license in the parking lot of the Somerville city hall and Mayor Curtatone said absolutely and set that up, and that's how we got our marriage license just outside the city hall door. We're very grateful to Pat Jehlen and Mayor Curatone for letting us have a socially distanced marriage license.
I am still unemployed. My main workplace closed permanently because of the pandemic. I have applied for online jobs with titles like customer service representative. I haven't gotten one yet. So I'm just sending job applications out and what will be will be.
I feel like I will be a different mother because I had the baby in the middle of a once-in-a-century global pandemic. I feel like I'm going to be more fearful of her safety moving forward. I could completely picture homeschooling her if it's needed in the future, where before I never would have considered homeschooling a child. When the baby was born, I initially had nightmares that she had disappeared and would wake up calling out for Matt and he would carry the baby over so I could see her and tell me she's safe and well. Even though we're trying to be as positive as possible, it's definitely a big source of fear keeping an incredibly vulnerable, precious baby alive during a global pandemic. I feel like this is an experience that I will never forget but it will hopefully make me more alert and compassionate rather than excessively afraid as the years go by.
Get Boston.com's browser alerts:
Enable breaking news notifications straight to your internet browser.