Lifestyle
How to start gardening, even if you live in the middle of the city
Consider joining a community garden, check your soil, and more tips for your green thumb.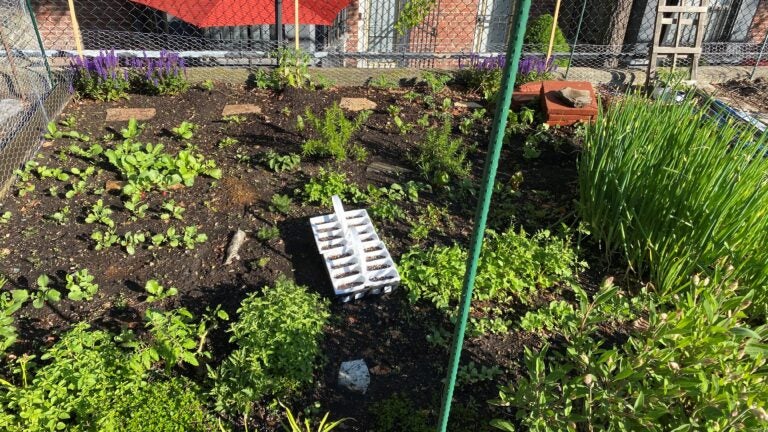 When Boston residents Hayden and Jillian Bloom were asked to take over a community garden in their South End neighborhood 10 years ago, they were thrilled.
The couple, who live beside the garden with their toddler, oversee the 16 plots at Blackwood/Claremont Garden in the Southwest Corridor Park. They say gardening has enriched their lives in many ways.
When you grow your own vegetables, they "taste like heaven," Jillian said, but gardening provides much more than that.
"It's so very rewarding, going out there and sitting down on your knees and putting your hands in the dirt," Hayden said. "It's just a wonderful thing, I think, to do for your mental health — especially in times like these."
Ahead, the Blooms share five tips for how city dwellers can begin gardening this season.
1. Consider space, soil, and sun when planning your garden.
Aspiring urban gardeners must consider three things: space, soil, and sun, Hayden said.
Ask yourself: Where in your urban space will a garden thrive?
"Obviously, if you are living in the city, it's difficult to find sometimes," Hayden said. "But you can utilize your space, whether it's a roof deck, a fire escape, or just a window. Then a step forward from that is seeing if there's a community garden in your area that you can sign up for."
When starting a garden plot, it's a good idea to test a soil's acidity and possible nutrient deficiencies by sending out a sample for analysis, Jillian said, and one of the places where you can get soil tested is UMass Amherst.
"Then, you'll get a recommendation (based on what you want to grow) for fertilizer as well as whether to add lime or sulfur to adjust the PH," according to Jillian.
You'll also need to figure out how much sunlight your garden gets in a day, Hayden said.
"You can't grow anything without at least 6 hours [of sun]," Hayden said. "So really accepting and figuring out where the sunlight is going to come from and how much you have will determine what you can grow."
The Blooms' plot in their community garden, located under the dining room window of their apartment, doesn't get as much sun as the neighboring plots, Hayden said.
"We can't grow some of the tomatoes that some of the other people in our garden do," Hayden said. "So we grow kale and chard instead."
2. Get your seeds.
It's a good idea to get your seeds as soon as possible, Hayden said.
"The seeds did sell out quickly last year," said Hayden, due to the coronavirus pandemic. "But most years it is not a problem."
You can ask your local gardening shop for seeds, turn to seed catalogs, or order them online, he said. Timing is everything when it comes to planting seeds, he said.
"If you've got something that you want to grow for the summer, putting it in in the spring and even — it's kind of crazy — but right now [is advised]," Hayden said. "As soon as the ground thaws, you can put in seeds."
If you are growing things like tomatoes and peppers in your plot, you have to start very early because they need 90 to 120 days to get to full size, he noted. On the other hand, greens like lettuce and kale will come up in about a month, he said.
Talk to a local gardener and make a plan, he said.
"You'll be surprised how friendly people are at garden centers," he said. "Just go there and say, 'Hey, this is what I want to plant. Tell me about it.'"
3. Be prepared to tend to your garden.
Make sure you have time in your schedule for a garden, Hayden said.
"If the plant dries out or the seed dries out, the game is over," he said. "You certainly have to make it a priority. It has to be something that you want to do in the height of summer on a daily basis, especially in terms of the watering."
Keep in mind that your community garden may only provide a water source during certain times of the year, Hayden said. For example, their garden has a watering system, but the water is turned on only from May to August, Hayden said. So during the other months, he fills 10-gallon drums in his bathtub and carries them outside to the plot.
Hayden does not recommend using pesticides.
"I would definitely say to stick with the non-pesticides and the organic fertilizers," Hayden said. "Anything you can do to kind of keep our urban environment healthier is really beneficial."
"There's certain things you can do for bugs, but to be perfectly honest, I don't do anything," Hayden said. "If they destroy the plant, I just pull the plant out. In our garden, specifically, we don't allow any pesticides or any non-organic fertilizers."
Also, you'll need to weed your garden regularly, Jillian said, and knee pads come in handy because they help you kneel more comfortably.
4. How to find and join a community garden.
"Google is your best friend," Hayden said. "If you plug in your area and community gardens, I imagine a number of hits will come up."
Also, look out for gardeners and signage for gardens when you are out and about in the city, Hayden said. Once you find one you'd like to join, you may need some patience because many community gardens — including his — have a waiting list, he said.
According to the Southwest Corridor Park Conservancy, all 11 of its community gardens in the South End, Jamaica Plain, and Fenway/Roxbury area currently have waiting lists. Interested gardeners are asked to fill out a form and pick their top three choices of gardens. Folks looking to get involved with the park while waiting for a plot to open up can also volunteer with beautification projects — something the Blooms did.
"People just sort of move in and out," Hayden said, so it's hard to say when a plot will become available.
Once you secure a plot, you'll be responsible for an annual fee, Hayden said, as well as all of your own materials.
"It's a great sense of community," Hayden said. "We know 12 different people in our neighborhood that otherwise we just would not communicate with at all."
5. Have fun with it.
The couple views their garden like a summer art project, Hayden said, and doesn't get too disappointed if something they plant doesn't work out.
"We kind of play around from year to year and kind of see what grows and what looks good when we go to the gardening center in the springtime," Hayden said.
They mostly grow greens, he said, such as kale, chard, and arugula, as well as herbs such as sage, thyme, and rosemary.
"One year we did carrots and potatoes," Jillian said. "We know what works and then we try to do other things as well."
"You've got to look at it as a good time," Hayden said.
Get Boston.com's browser alerts:
Enable breaking news notifications straight to your internet browser.