Lifestyle
You can learn to curl with these Massachusetts curling clubs
They're only a stone's throw away.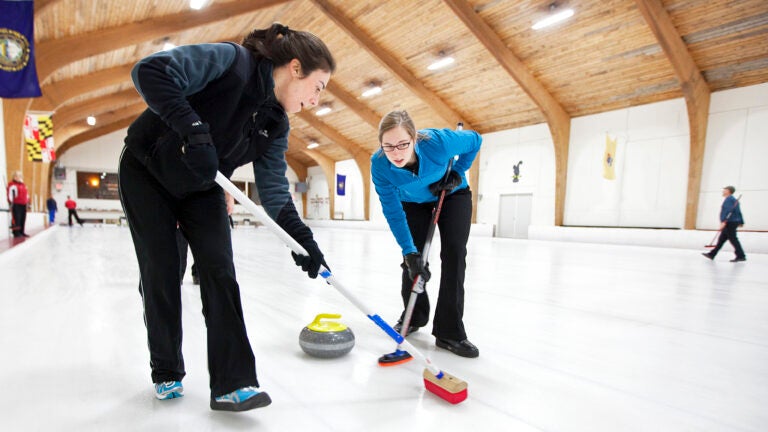 The world will once again be watching. Olympic curling, that is.
Friday brings the Opening Ceremony for the 2022 Beijing Winter Olympics, which includes the sport of curling, nicknamed "chess on ice."
The 2018 Olympics caused "a flurry of activity" for the sport, said Russ Lemcke, past president of the Cape Cod Curling Club, who added: "But the popularity of curling has been growing for some time now."
"For many of our members curling is much more than a sport," said
Nancy Jennett, president of Broomstones Curling Club in Wayland, in a statement. "While we enjoy the exercise and competition, our club is also a tight-knit social community where many life-long friendships are made."
After watching Team USA compete, you can throw your own stones at these six Massachusetts spots currently offering beginner classes and other curling events.
You can try your hand at curling at The Yard, the private patio of Beacon Hill's Liberty Hotel, through March 31. Participants play on a synthetic rink with synthetic stones, which are smaller and lighter than the sport's traditional granite stones, while enjoying cocktails and food. The hotel's Curling Package includes play for up to six people for 45 minutes, a scoring card with playing instructions, hot chocolate, beef sliders, and chocolate chip cookies. The cost is $110. Face masks are not required outdoors, but they are required inside the hotel. You can book it here. (215 Charles St., Boston)
Curl on Friday nights in the fall and spring at this club by signing up for a 10-session league for $175. Those interested can get on the waiting list here. Or check out a Post-Olympic Open House for adults and children as young as 8 on April 3 from noon to 5:30 p.m., where guests will tour the facility, learn the rules, and spend time on the ice throwing and sweeping curling stones. The cost is $20 for ages 13 and up and $10 for kids age 8-12. Proof of COVID-19 vaccination is required for entry and masks are required. You can register here. (1 Curling Lane, Wayland)
Check out two Open Houses this month at this Cape Cod club, scheduled on Feb. 20 and Feb. 27 from 10 a.m. to 2 p.m. for those 18 years and older. The program will include time on the ice throwing stones and sweeping, as well as information about the sport and club. The cost is $20 in advance and $25 at the door. Participants must be fully vaccinated and masks are optional. You can register here. (37 Highfield Drive, Falmouth)
Formerly known as the Marlborough Curling Club, this association now curls at two locations: Worcester Ice Center in Worcester and Boston Sports Institute in Wellesley. There are several two-hour Learn to Curl classes offered on Sunday nights this month in Worcester. Participants learn the basics of the sport and play a short game. The cost is $45. Proof of vaccination is required and masks are not mandatory but recommended. You can register here. (112 Harding St., Worcester)
In honor of the 2022 Winter Olympics, the club is offering three Olympic Open House events throughout the month: on Feb. 5, Feb. 12, and Feb. 26. The two-hour event will teach attendees the basics of curling and ice safety, as well as how to throw a stone and sweep. The cost is $10 and masks are required. You can register here. (250 Main St., Petersham)
This club is offering Learn to Curl classes on Feb. 27 and March 13 at Bridgewater Ice Arena in Bridgewater, where participants will learn curling positions, rules, strategy, scoring, the sweeping technique, and how to throw a stone during the nearly two-hour class. The cost is $45. Curlers must be age 16 and up, vaccinated, and wear masks. You can register here. (20 Bedford Park, Bridgewater)
Newsletter Signup
Stay up to date on all the latest news from Boston.com