Thumb's up: A Westport resident has gone viral on TikTok – for the length of his thumb
"I like it, I embrace it, it's not a thing that I'm ashamed of."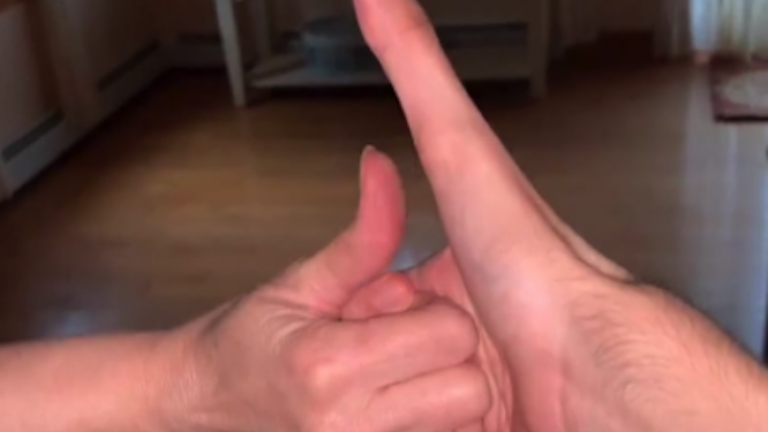 Anything can go viral on the social media platform TikTok, but for Jacob Pina from Westport, Mass., it's his thumb that's brought him instant fame.
The 20-year-old has garnered over 900,000 followers on the app, with 20.5 million likes since first going viral last year. He was recently featured on NBC Boston Channel 10 news, where he assured reporter Jackie Bruno that his thumb is in fact six inches long.
"Yes it's real, but the thing is I have to dislocate and extend it for it to look long," Pina said. "No it's not painful, it's normal. I've been doing it for years."
His thumb is the star of his TikTok feed, where Pina has filmed a handful of videos showing it off, comparing it to different objects, and doing comedic skits. He told The Boston Globe last September that he first noticed his thumb was different than other people's when he was a freshman in high school, after friends had joked about its length.
"It's weird on my hand," he said. "It's out of place. All my fingers are long, so when I stretch out my hand it kind of looks normal. But when I stick it up, it looks crazy."
He uploaded one of his first videos last August, where he reassured users that his thumb was in fact real and that he's "never lost a thumb-battle." Aided by some popular hashtags — #foru, #meme, #long, and #weird, among them — his video gained 20,000 likes within the hour. It currently has 2.5 million views.
When he showed his mom, Karen Pragana, the 30-second clip, even she was amused. She said that he has always had "piano fingers," but that he never had any issues using his hands growing up.
"He never had trouble using his hands or anything like that," she told the Globe. "He's very lanky, and I have always said, you have piano fingers — or surgeon's fingers. But no, it was never a concern. I always joked with him that it got that way from gaming. He's a big-time avid gamer."
A year into his account, Pina's engagement has remained consistent. His most recent video of him repeatedly dipping his thumb into a bucket of water has over 6 million views and 5,663 comments.
It's a physical feature he's proud of and one that is earning him money from brand deals, specifically news sites that pay him for the ad revenue. For those looking to become viral on the platform, Pina said the easiest thing to do is to simply be yourself.
"You are yourself and [if] you do original comedy and just are having a great time with TikTok, you will blow up eventually," he told Channel 10.