Local
Route 1 Miniature Golf (and its giant orange dinosaur) will remain open for one more season
The venue was supposed to close for good in November 2015, but will be back in business in April.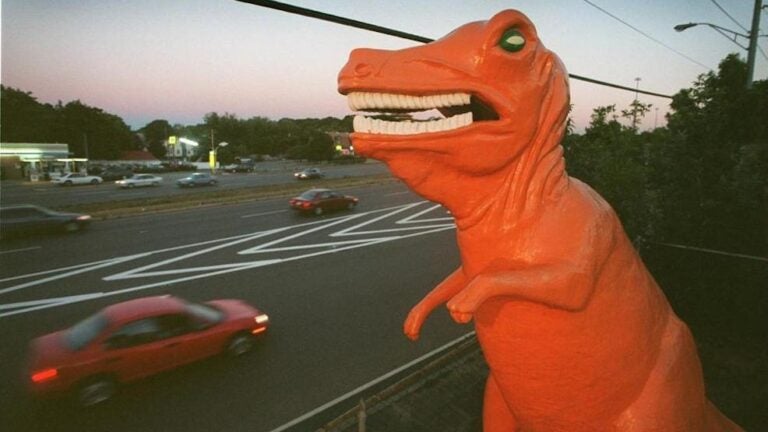 The iconic orange dinosaur that watches over Route 1 in Saugus hasn't gone extinct quite yet.
The owners of Route 1 Miniature Golf & Batting Cages announced Thursday that the venue will be open for one more season before it closes for good in the fall. The fun-filled venue had previously announced that November 15, 2015 would be their last day in operation.
"There were so many people who weren't able to make it last year before we closed," co-owner Diana Fay said. "Having one more season is really exciting."
According to Fay, she and her husband Richard are moving quickly to reopen their business as soon as possible, and should be ready to go by April 15, if not earlier.
"We're going to be open by school vacation week at the latest," Fay said. "If we move fast, we might be able to open by April 8 or 9. My husband and I are older now, but we have a lot of employees coming back to help."
Local fans of the 12-foot-tall orange dino, which has sat on the property for over 50 years, started a Facebook page called "SAVE Our Dinosaur" to help ensure its safety after developer Michael Touchette announced plans to build hotels, apartment buildings, and retail space on the property.
According to The Boston Globe, Touchette has previously said that he would be open to keeping the dinosaur at the redeveloped site, even including a miniature putting green.