Local News
A new site provides insight into the "treasure" of Allston Christmas
With Boston Curb Alert, finding discarded furniture just got a lot easier.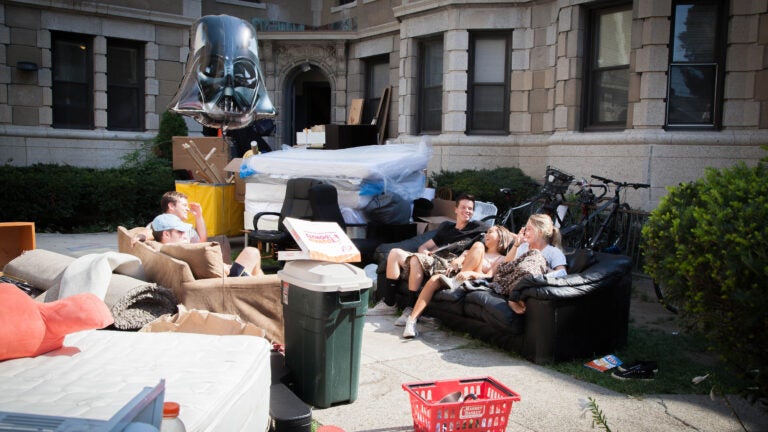 With over 250,000 college students flooding Boston each school year, the September-to-September lease cycle all but dominates the city's rental market.
In response, September 1 has become something of a holiday (if you use the word "holiday" very loosely). It has come to be known as "Allston Christmas," the day in which new and old renters alike are incapable of properly disposing of their jettisoned furniture.
Merry #AllstonChristmas pic.twitter.com/HhqzwYYGug

— BostonTweet (@BostonTweet) September 1, 2016
Although the name suggests an Allston-exclusive bed bug block party, neighborhoods like Brighton, Mission Hill, Cambridge, Brookline, and many more student-rich communities take part in the festivities. With all this trash (or treasure, depending on who you ask), it can be difficult to navigate.
That's where Boston Curb Alert comes in.
The website, which launched on August 26, splits the city into 11 neighborhoods. It then collects user submissions, like hashtagged tweets, that broadcast the presence of unwanted household items on the streets of Boston in order to help scavengers get organized.
"On a more practical level, the purpose is also to reduce waste, extend the life of many household items and keep our streets clean," said Jack DeManche, the website's creator. "If Boston Curb Alert can help people discover useful items for their homes and it stops them from ending up in a landfill, that seems like a win-win to me."
DeManche said he is constantly surprised at the number of discarded items on the streets during peak moving season.
And so it begins. Don't forget to check @BostonCurbAlert throughout the day. I have some things up my sleeve. #MoveInDay #AllstonChristmas

— Jack DeManche (@GenuineJack) September 1, 2016
"[The website] combines technology and the community, which are two things I'm very passionate about. I like working on projects like this because I can create something of value for people," DeManche said.
With neighborhoods like Somerville, Jamaica Plain, and Charlestown included, DeManche said he believes this project can be useful for any member of the community. However, he also noted its resonance with students and young professionals: 70 percent of the website's social following consists of 18 to 24-year-olds.
DeManche hopes to continue expanding the reach of the website and adding more areas of coverage. Five new areas were added in the last two days alone.
"Boston has a unique subset of its population which is typically very transient. It feels like there's a constant ebb and flow of people moving, not just into, but also within the city, all the time," DeManche said. "So while Boston Curb Alert obviously has a lot of utility for the chaos of September 1, I think given the population here, there's a lot of opportunity for longevity."