Local News
St. Paul assault survivor Chessy Prout to write memoir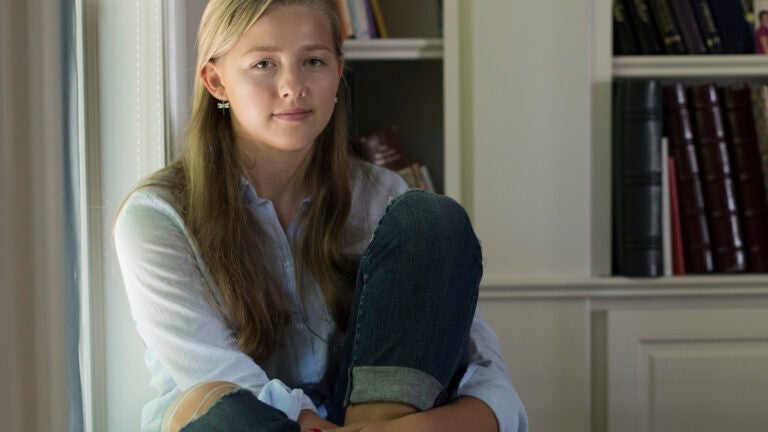 The former St. Paul's School student who was sexually assaulted by a classmate and later told her story on national television is writing a memoir.
Chessy Prout, who was a 15-year-old freshman at the elite New Hampshire boarding school when a senior boy assaulted her as part of a sexual conquest game called "Senior Salute,'' is writing the book with Boston Globe reporter Jenn Abelson, a member of the newspaper's Spotlight team.
Titled "I Have the Right To: A High School Survivor's Story of Sexual Assault, Justice, and Hope,'' the book, published by an imprint of Simon & Schuster, will be out in March 2018.
"If my story helps even one survivor of sexual assault realize they are not alone, or better, prevents a crime from happening in the first place, then writing this book will have been worth it,'' Prout said in a statement. "The perpetrators in crimes like these are not just the attackers but also the institutions that allow these horrific crimes to happen under their nose. When an institution puts more value in its reputation than it does the lives of their students, rape culture thrives.''
Today, Prout is an 18-year-old high school grad — she graduated from the Community School of Naples in Naples, Fla. — who's become an advocate of sexual assault survivors. She has spoken to lawmakers on Capitol Hill and is an ambassador for the group Promoting Awareness, Victim Empowerment (PAVE), with whom she started the social media initiative #IHaveTheRightTo.
According to the publisher, Prout's book will not only chronicle her experience at St. Paul's — and the trial that followed — but also put "a magnifying glass to the institutions that turn a blind eye to such behavior and a society that blames victims rather than attackers.''
Owen Labrie, of Tunbridge, Vt., was acquitted in 2015 of raping Prout, but the former St. Paul's student was convicted of misdemeanor sexual assault and child endangerment and was sentenced to a year in jail. A conviction on a felony computer charge required him to register as a sex offender for life. He has appealed his convictions and petitioned the court for a new trial.