Local News
JFK's grandson on Harvard Law School: 'I don't have a life, but that's what I signed up for.'
Jack Schlossberg discusses life as a Harvard Law student and 'the greatest challenge facing the world.'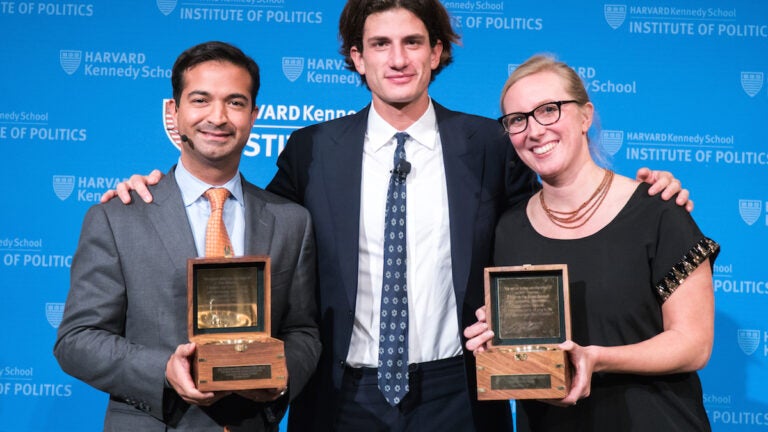 Jack Schlossberg, the only grandson of the late President John F. Kennedy, spoke out on climate change and joked about life on Harvard's campus during an appearance at the university's Institute of Politics Thursday.
Schlossberg, the son of Caroline Kennedy and Edwin Schlossberg, was on hand to help present the John F. Kennedy New Frontier Awards, which were created by the John F. Kennedy Library Foundation and the Institute of Politics to honor "Americans under the age of 40 who are changing their communities and the country with their commitment to public service." This year's honorees, U.S. Congressman Carlos Curbelo (FL-26, R) and 350.org founder May Boeve, are both closely tied to the issue of climate change, which Schlossberg called "the greatest challenge facing the world" in his opening remarks.
"With climate change, the younger you are, the more urgent the problem seems, the greater the stakes are, and the more frustrating inaction is," Schlossberg said. "You don't need to be young to know what the cause is: greenhouse gas emissions. Or that we already have the solution: energy policy."
After a panel discussion with Curbelo and Boeve, moderated by veteran journalist Steve Curwood of Public Radio International's Living on Earth, Schlossberg spoke with Boston.com about everything from whether he sees politics in his future to whether he's bumped into former first daughter Malia Obama around Harvard's campus.
This interview has been lightly edited for clarity.
Boston.com: How are things at Harvard going?
Schlossberg: Harvard Law School is great. I'm lucky to be here. It's a really difficult, intense experience. But I know so much more than I did the day before I got to law school, so that's a cool feeling.
And you've been studying nonstop?
I don't have a life, but that's what I signed up for. It's cool, you just get to learn all day. Sometimes it's tough, but it's been a fun experience.
You're part of the New Frontier Awards Committee and had a chance to help choose the honorees tonight. You've been very interested in climate change. Were you a major force in helping decide this year's honorees?
Everyone on the committee has one vote, and it's a lively discussion, so I would never take credit for what they decided. But I was certainly excited by having not only a climate change activist, but also an elected official who has taken a stand on the issue, so I was really really happy that the committee chose as they did. I certainly supported these two honorees in the deliberations. This award is about young people, and what issue is more important to young people than climate?
You mentioned in your opening remarks that climate change should be a bipartisan issue and that we know the solution: energy policy. Onstage, May Boeve mentioned Harvard's decision not to divest from fossil fuel investments. Do you have an opinion on that?
I think it's tricky. Harvard has a responsibility to not only protect its endowment and its resources, but also to try to be on the right side of every issue. I think it's hard. These are long-term investments they have to make. I wouldn't be too critical of Harvard, because they do a lot to support good causes on all sorts of issues. Sure, divestment might be great, but I don't know the intricate details of how difficult it would be. It might not be as easy, as black and white, as it seems.
Is it surreal for you to walk around a campus with buildings that bear your grandfather's name?
My favorite restaurants are on JFK Street, so I definitely notice it. It's humbling, but overall it's nice that it's just out in the open. There's no pretending that it's not here when I'm at Harvard. The first few days it felt a little weird, but now I don't think about it so much.
Do you feel like you blend in pretty well?
Yeah, people have been very cool to me. And once you start law school, people are too busy studying to care who you are. Overall, I've had an amazing experience here.
Have you run into Malia Obama at all?
I haven't. But I hope she's doing well. I've got no issue [with blending in] compared to her, so I hope she's doing well.
Some people go to law school to be lawyers, while others use it as a stepping stone to other career paths like politics. Is that something you see in your future?
I don't know what I'm going to do with my law degree. Hopefully I'll get the law degree — that's the first step. I'm in the joint JD-MBA program, so I'm kind of hedging my bets. I'm not sure what I want to do — business, law, something else. I came into law school thinking I really wanted to practice environmental law, and so far my favorite class is in property, which is something I never would have expected. Come three years from now, my interests could be completely different. I'll always be interested in climate issues, but my idea of what I want to do will probably change.
What is your favorite restaurant on JFK Street?
I do love a good salad, so Sweetgreen has been great. But my favorite Cambridge restaurant overall is Darwin's — that's the greatest restaurant of all time. I have a turkey sandwich from there at least six days a week.