Local
Gloria Steinem calls Trump the 'sexual harasser in chief' at the Massachusetts Conference for Women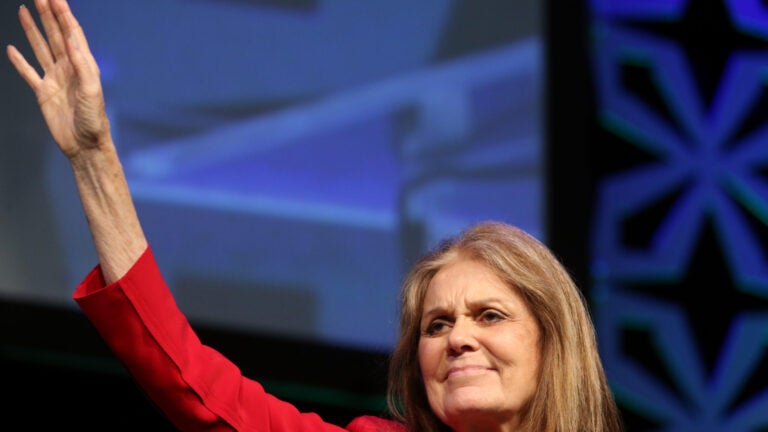 Gloria Steinem, the outspoken author and feminist who has been an advocate for gender equality for nearly 50 years, lamented the Trump administration, but expressed hope for future generations of women Wednesday in a discussion on the opening night of the Massachusetts Conference for Women.
"I'm also glad to be in a state whose governor keeps us from seeing the Republican Party taken over by the invasion of the body-snatchers,'' Steinem said of Governor Charlie Baker, drawing loud applause from hundreds that filled the Boston Convention & Exhibition Center.
She referred to President Trump as the "sexual harasser in chief,'' and called for the release of tapes and footage of Trump by MGM, the owner of the reality television show "The Apprentice.''
Now in its 13th year, the Conference for Women is an annual event that aims "to promote, communicate and amplify the influence of women in the workplace and beyond'' by taking on issues like the pay gap and gender discrimination, according to its website.
Steinem was interviewed by Phoebe Robinson, an author, comedienne, and co-host of WYNC's podcast "2 Dope Queens.''
Citing the recent wave of accusations of sexual harassment and assault against several prominent American men, Robinson asked if the public should hold men they admire or view as a father figure to a higher standard.
"America doesn't need a dad,'' answered Steinem, 83, to uproarious applause.
Steinem, who was in Boston in September to accept a leadership award from the Victim Rights Law Center, emphasized to the crowd to remember empathy — "almost everybody can be changed and transformed,'' she said.
"Somebody who apologizes and changes is not the same as somebody who tries to destroy the person who brought the charges,'' Steinem said.
If women were to replace the men removed from powerful positions due to harassment allegations, the country might be better off, she said.
"That [would] help us to have a government that looks more like the country — imagine that.''
Steinem and Robinson also discussed the importance of diversity in feminism.
A poll conducted in the early 1970s for Ms. Magazine, which she co-founded, found that about 60 percent of black women supported the women's movement compared to only 30 percent of white women, she said.
"The problem I have with the attitude that the women's movement, or feminism, is somehow a white thing, is it renders invisible the people who have always been there,'' she said.
She urged women in positions of influence to use their power wisely.
"How we keep our spirits up is being together and listening to each other's stories, obeying simple rules of democracy,'' Steinem said. " Like, if you have more power than most, remember to listen as much as you talk, and if you have less power, then talk as much as you listen.''
Steinem was the final speaker on an opening night that also featured Bethenny Frankel, the "Real Housewives of New York City'' star and creator of the SkinnyGirl cocktail and food company, poet Sarah Kay, Boston chef and James Beard Foundation Award-winner Barbara Lynch, and Reebok's Diana Bitzas.
Steinem will also speak in conversation with actress Meryl Streep on Thursday.
Other conference speakers include actress Viola Davis, Governor Baker, WCVB TV anchor Maria Stephanos, author and professor Adam Grant, and fashion designer and author Diane von Furstenberg.