Local
Back in business: Newbury Street's Trident Booksellers and Cafe reopens after fire
Manager Courtney Flynn talked to Boston.com about the store's reopening, its new digs, and the heavy weight of 25,000 books.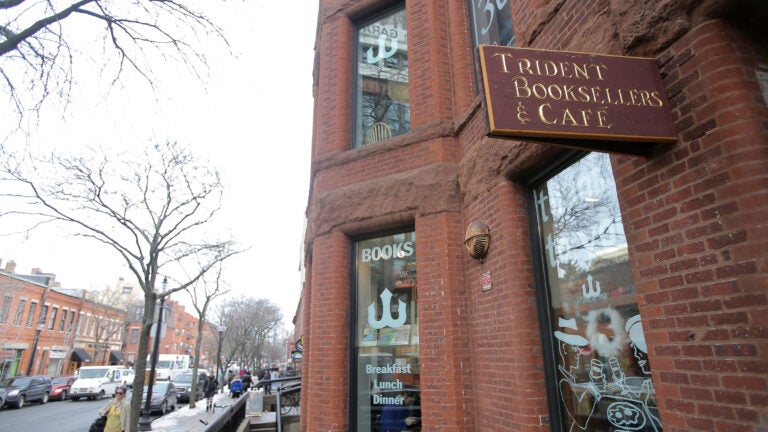 Shortly before midnight on Feb. 28, a small fire broke out on the second floor of a well-loved Boston bookshop and a Newbury Street staple.
Firefighters were able to quickly stomp out the blaze at Trident Booksellers and Cafe, but the effort flooded the store and its inventory and prompted owners to shutter its doors for six months — even longer than manager Courtney Flynn first imagined.
"We've been open for so long, we've had so many things happen," Flynn, whose parents, Bernard and Gail Flynn, opened the shop in 1984, recently told Boston.com. "We've had power outages, we've had when the (Boston) Marathon bombing happened — all these crazy incidents that we've always kind of dealt with and moved on quickly from, so the night (the fire) happened I still thought we'd be able to … get reopened, you know, in a couple of weeks."
The bookshop and cafe reopened last week with a newly designed children's book section and first-floor restaurant seating area, among other tweaks, that gives the store extra space for theme parties, paint nights, and trivia competitions, according to Flynn, who said a full week of celebratory events and contests starts Sept. 17.
Boston.com spoke with Flynn during the store's first week back in business about what's changed, the shop's devoted customers, and how its staff got Trident back on its feet after the fire, whose cause, she said, remains a mystery.
(Note: This interview has been edited for length and clarity.)
Boston.com: I wanted to start by asking what your immediate concerns were after the fire and what did you guys identify as what needed to happen?
Flynn: That night we started dealing with the insurance and the mitigation company, so it started getting a little bit more complicated even the night of the fire and from there it got even more complicated. But the first concern was just figuring out what happened, making sure absolutely everyone was OK. It was a huge relief that everyone was OK. That was just the number one thing because that would have been so much worse if something had happened to someone.
It was confusing in the beginning and as time went on it just got more and more complicated to get reopened just because of the insurance and the building and having the construction we had to do, so that is why it took so long. Immediately, (the concern) was everybody's OK, that's great; how can we get reopen as quickly as possible? And then it kind of escalated from there.
Boston.com: What have the last few months been like for you?

Flynn: Like I keep saying, it's been a cartoon of like calendar pages flipping by. It was just so baffling that weeks were going by, months were going by, and there was always something we were waiting on or trying to get past. There was always some hurdle that was kind of looming … a week there, a week here — because of some delay or another — just really added up and all of a sudden we were six months later and here we are opening but …
As a family it's been really hard because … we've been trying to keep everything afloat and positive and the energy needs to be there in order to run a business, but it gets hard when its been so long without answers.
Boston.com: Right, and you're in business with the people that are closest to you and it's just everywhere in your life.
Flynn: [Laughs] Exactly. There's no escape.
Boston.com: Had you heard anything from customers during that interim time? Any words of encouragement?
Flynn: Oh yeah. That was so much the lifeline for everybody, for us. Customers were so wonderful throughout. We've received so many wonderful emails and Facebook posts and all social media stuff, physical letters that people have dropped off, just giving good will, missing us. We've been open for 35 years so — and it's a unique place — we've touched a lot of people, and they have just been so wonderful and supportive … and just the flood of people coming in, missing us, I mean, it's just amazing. It's really the real thing that you kind of do it for.
Boston.com: Thirty-five years has been a long time like you said, and certainly there's been other times I'm sure your community has huddled around you. Was there any point in time where you felt like you really realized kind of what the store has meant as an institution to people?
Flynn: Yeah I think that has sort of solidified a bit more now. We've never been very self promoting. We've kind of chugged along as a quirky independent, family-owned place without necessarily thinking about our impact on the city.
But I think this has sort of awakened us to the idea that, just knowing how many people's lives we've been a part of and just based on the longevity of the store, … it's just a place people feel at home and (where they feel) that they're themselves and all these things. Just having that kind of third place, I guess people call it, yeah, it makes us realize this store is an important piece of Boston, in this city.
Boston.com: With the reopening this past week, has anything changed? Any new — excuse the pun –editions or additions?
Flynn: We've actually changed our layout a bit. We have rearranged the first floor so that … the back cafe, which used to be a bunch of booths and stuff, we've actually moved that to the very back of the store that used to be our fiction section. … Now we've opened that area up so people could look out those windows. It's a nice room to be in, it's quieter, and we'll have some events down there. So now we'll hold events both upstairs, in our upstairs dining room, and downstairs, in our back cafe. 
… And because of that switch a lot of our book sections have been shuffled. Most notably, we've put our children's section on the second floor in a really nice kind of separate nook, … it's going to be a really nice separate little oasis for children.
Boston.com: Is there anything folks can expect to see the same? The menu maybe?
Flynn: Yeah, the menu is the same. We still have our bar downstairs, our front cafe, and just our vibe is the same. We can't change our stripes at all no matter how hard we try. We're definitely still funky and quirky and all that stuff.
Boston.com: I read you needed to reorder 25,000 titles for the shelves. How many books are at Trident?
Flynn: Oh God I wish I could tell you. That's a question I don't know the answer to, but we received probably 500 boxes of books and we're still sorting them and stickering them and putting them on shelves.
The physicality of books is so real. I mean, my body is sore from just unpacking books … we're still very much doing all of that and sorting them. Every single piece of inventory had to be replaced: every card, every gift, every book. The process of ordering that was very long and now the process of receiving it and putting it away has been pretty taxing. … We're getting there. We're not 100 percent in the bookstore yet, but we're very close.
Boston.com: Do you feel in any way that this has been somewhat of a rebirth in some ways or do you feel, I don't know, how are you feeling?
Flynn: I definitely think it has been (a rebirth). We really were trying to approach it like that just to make it less painful, but I think, like your question earlier, I think we really kind of awakened to the fact that we're an institution in Boston and we want to be here. And we had to want to be here so much to deal with all of this, to reopen, and it was sort of a reminder of how much we want to be in Boston and we want to be open.
I feel like … the only thing we can do is kind of approach it as a phoenix rising from the ashes and just trying to be better and try to take what happens and use it to reinvent ourselves, and continue giving our customers what we've always tried to give them, which is a place where they can be themselves. And we're just trying to meet that challenge head on now.