Local
Quincy just opened a $32 million park downtown
Here's what you need to know about the Hancock Adams Common.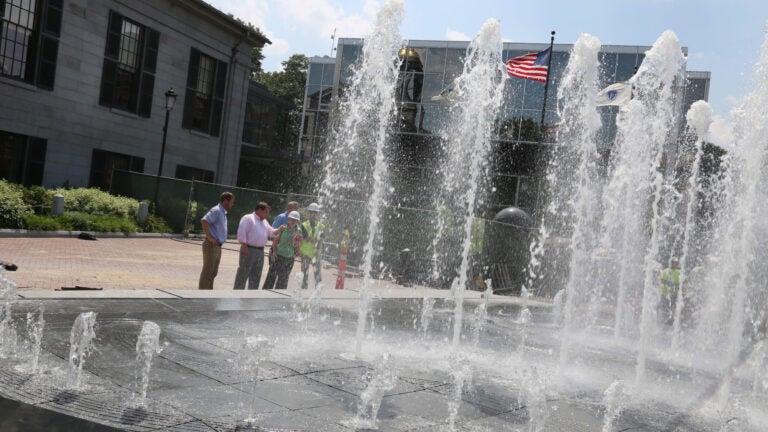 Quincy is known as the "City of Presidents," and according to Lisa Aimola, director of communications in the mayor's office, that heritage is well-represented in the new, $32 million Hancock Adams Common. 
The open-space park, which debuted Sept. 8, is named for two of its most notable sons: John Hancock and John Adams. It acts as a hub between historic sites like Quincy City Hall, Hancock Cemetery, and United First Parish Church, which houses the crypts of Adams, his wife Abigail Smith Adams, their son John Quincy Adams, and his wife, Louisa Catherine Johnson Adams.
Transportation and infrastructure expenses took around $12 million of the project's budget—about one-third of the total cost—because officials had to reroute a multi-lane road that previously ran through the area.
"It wasn't long ago that this was a four-lane roadway; people were just zipping through here," Quincy Mayor Thomas P. Koch said in a video posted on the City of Quincy's Facebook page. "You're trying to cross the street to get to the church. You never really stopped and appreciated these incredible architectural gems. And now people will be able to do that."
Aimola said that free Wi-Fi is offered throughout the Hancock Adams Common, which may make it a hot spot for nearby students.
"I certainly can see in the future a lot of Quincy College kids coming over here enjoying the space, but also perhaps doing some reading, or getting on the Internet and doing some things for school," Koch said.
Additionally, the park has two water features: a fountain outside of City Hall and "a more reflective water element that is toward the Hancock Cemetery," Aimola said.  
"[It] provides open space for the community to appreciate, a park space, and hopefully a venue space for certain events that the city will host," she added.
On Saturday, Sept. 29, the approximately four-acre park will hold a food truck festival. Locals can also anticipate the city's tree-lighting ceremony after Thanksgiving — the tree will be placed in the center of the common between the statues of John Adams and John Hancock, which were created by Russian sculptor Sergey Eylanbekov.
As the nation's moral debates about statues continue, Koch said in the video that the statue of the country's second president is one to be particularly proud of because the Founding Father did not own slaves. Koch added, "from my perspective, his statue should be going up dramatically just based on that, nevermind all the contributions he made both to the Commonwealth of Massachusetts and certainly to this great nation."  
Aimola said that the Hancock Adams Common is open to everyone, and many people are already taking advantage of it.
"We're already seeing many people sitting, enjoying a cup of coffee, a lunch, and that's just in the first few days," she said.
Correction 9/17/18: An earlier version of this story featured an out-of-date photograph of the common. Boston.com regrets the error.