Local
You can get lost in this Tom Brady-themed corn maze
Bolton's "GOAT maze" takes the autumn tradition to a different playing field.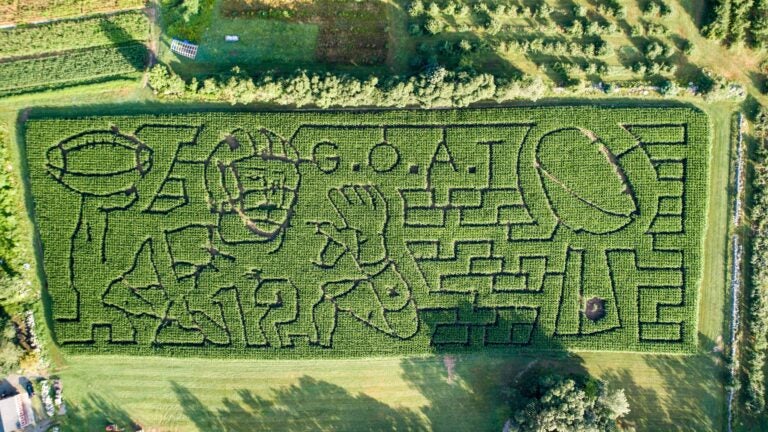 For its eighth annual corn maze, Schartner Farms in Bolton went with a goat theme — or, rather, a "GOAT" theme. The farm used Tom Brady as inspiration, said farm manager Eric Schartner.
Spanning five acres, "the GOAT maze" is designed to look like the Patriots quarterback is getting ready to throw a football next to the letters "G," "O," "A," and "T." The design also features a Super Bowl trophy.
Schartner said that "[Brady] should be featured every year," despite the Pats' loss to the Philadelphia Eagles in Super Bowl LII this past February.
This is the first time that the family-run farm (Schartner is fourth-generation) has debuted a Brady-themed maze. (In 2017, Sauchuk's Corn Maze and Pumpkin Patch in Plympton had a No. 12 maze.) Last year, Schartner Farms featured a maze with a duck, jellyfish, seashell, horse, the sun, and the Statue of Liberty; it was designed by local children after being raffled off to benefit The Bolton Conservation Trust, according to Schartner. Other past mazes have been representations of the farm, complete with a barn and an apple tree.
"This is the first time we've memorialized an actual person," Schartner said.
This year, the corn was planted in June, then cut into the design in July when it was about five inches tall, he said. It's now 10 to 12 feet tall. Schartner used The MAiZE, a company that specializes in designing and cutting corn mazes, to create the No. 12 experience, which opened on Sept. 8.
Schartner said the maze takes about 40 minutes to complete, provided you follow the map supplied by the farm. Though there are many different routes by which to complete the maze, there's only one entrance and one exit.
The maze will be open every weekend and on Columbus Day through Oct. 28 if the weather allows. Schartner noted that the farm also has the furry kind of goats in an animal-viewing area, plus apple picking and hayrides. On Oct. 27, Schartner Farms is partnering with Bolton's Nashoba Valley Winery for "Taste of the Maze," and there will be wine tasting inside of the maze.
Schartner Farms, 279 West Berlin Road, Bolton; admission to the maze is $10 for adults, $7 for those under 12, veterans, and seniors, and free for children 3 and under, apple-picking is $12 for one peck or $22 half-bushel, hayrides and animal-viewing are free; schartnerfarm.com