Local
Fundraiser aims to bring 100 Boston youth to see 'The Hate U Give' in theaters
"This is the story of so many black and brown children across the country."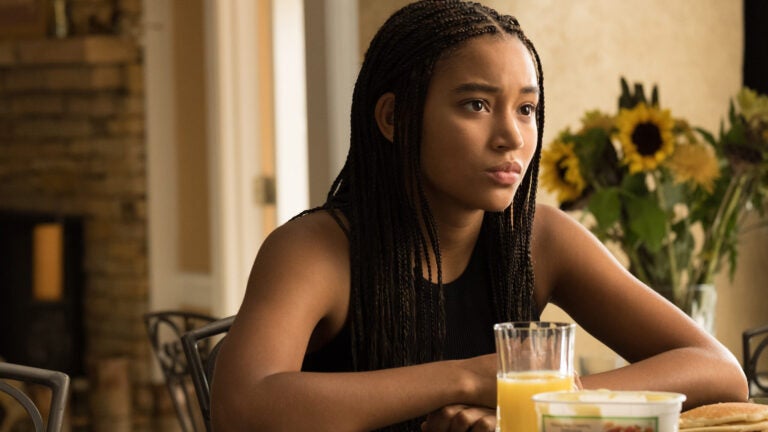 When the "The Hate U Give" opens in Boston this month, community activists hope that at least a hundred local students will get the opportunity to see the film for free and be handed a copy of the book upon which it is based.
Monica Cannon-Grant, founder of the nonprofit Violence in Boston, told Boston.com she and former Boston City Councilor Tito Jackson came up with the idea of making sure local youth, particularly from the neighborhoods of Dorchester, Roxbury, and Mattapan, get a chance to see the movie, which stars Amandla Stenberg, Regina Hall, Common, and Issa Rae.
"This is a lot of what our community experiences," Cannon-Grant said of the film, adding that she believes it is "crucial" for young people of color to see it.
The movie is based on the critically-acclaimed 2017 young adult novel of the same name by Angie Thomas. It tells the story of Starr Carter, a 16-year-old who is navigating between the predominantly white, suburban private school she attends and the largely poor, black neighborhood where she and her family lives when she witnesses a police officer fatally shoot her unarmed, childhood friend.
"This is the story of so many black and brown children across the country," Cannon-Grant said. "And I think it's important for them to see. Often times we're told we're making things race issues that are not. There are clear race issues in this country and more specifically in the City of Boston regardless of how many elected officials try to downplay it."
More than $600 had been donated to the GoFundMe page started to raise money for sponsoring young members of the Boston community to see the film. Cannon-Grant said the plan is to raise enough to get at least 100 kids in to see the movie on Oct. 20 at the AMC theater at South Bay Center in Dorchester.
"I get the feeling that we're going to get way more than that, but that is the goal," she said. "We're going to specifically target communities of color, including the kids who very rarely are able to go to the movies."
The kids who attend the screening will also be given a copy of the book, donated by Frugal Bookstore.
Cannon-Grant said those interested in donating, or young people who want to see the film, can reach out to Violence in Boston.
The goal is to bring in as many young people as possible, she said.
"If we're successful, maybe we'll find somebody who is willing to be like, 'Hey, let's keep bringing in people to the movie, we want to sponsor them.' That would be great, too," she said.