Local
How to find help and access resources if you're impacted by the coronavirus
This is a running list of community resources for those impacted by COVID-19.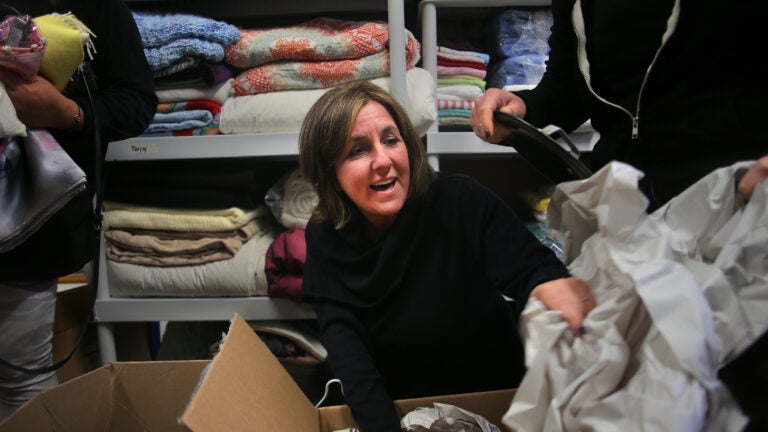 This is a running list of community resources for those impacted by the coronavirus. You can also support residents most affected by the coronavirus by shopping our Boston Helps product line of T-shirts, masks, hoodies, and more. Boston.com will donate all profits to the Boston Resiliency Fund.
If you'd like to add a resource to the below, please email us with the name and link at [email protected]. If you are feeling sick, call your healthcare provider for medical advice.
---
When (and when not) to call 911 during the pandemic—and what your other options are:
Boston Emergency Medical Services is reminding residents to call 9-1-1 only for life-threatening emergencies. For questions and concerns regarding COVID-19 symptoms and testing, Boston EMS suggests calling your primary care provider. If you don't have one, call Mayor Marty Walsh's health line at 617-534-5050. The Mayor's Health Line is a free, confidential, and multilingual information/referral service. Anyone who needs help or has questions about the coronavirus can also call the Mass. Department of Public Health at 2-1-1. This line is open 24/7 and offered in more than 150 languages.
Where to get a COVID-19 test:
State guidelines recommend that if you show symptoms or have been in contact with someone who has tested positive, you should be tested for COVID-19. For the nearest COVID-19 testing location in Boston, Mayor Walsh and the Boston Public Health Commission created a mapping tool that shows all of the facilities where COVID-19 testing is currently available. Testing is free for everyone, regardless of insurance or immigration status, according to the city. State officials also keep a regularly updated interactive map with hundreds of testing locations across Mass.
Where to access food if you need it:
For Mass. residents who need access to food: Any Massachusetts resident who needs access to food can call the toll-free confidential FoodSource Hotline at 1-800-645-8333. "This resource will remain up and running through closures to assist all Massachusetts residents needing food assistance during this period of crisis," according to Project Bread's website. The helpline is offered in 160 languages, referring people to community resources, screening callers for SNAP eligibility, and helping them complete their application. "We are able to provide information about resources in your community as well as assist with SNAP applications over the phone." Project Bread is also providing several resources for households seeking free meal pick-up locations, food pantries, and home delivery options. Project Bread is also seeking donations to support the rapidly growing hunger response to COVID-19.
Supplemental Nutrition Assistance Program (SNAP): For anyone who has been laid off or lost income may be eligible for food assistance through SNAP. Applicants may be eligible to receive benefits within seven days from submission date, according to MassLegalServices' website. Applications can be filed online, by mail, or by calling any Mass. SNAP outreach partner.
Pandemic Electronic Benefit Transfer (P-EBT) program: Under the Families First Coronavirus Response Act, this program provides financial support for families whose children qualified for free- or reduced-priced lunch during the 2019-2020 school year.
The City of Boston, in partnership with community organizations, provides a list of free meal resources for both adults and school-aged children at various times and locations.
See below for our statewide map of current food pick-up locations (view the full list here).
---
For Artists and Creators:
The Actors Fund: The Actors Fund is providing grants to those left unemployed by the coronavirus closures. Actors can check for eligibility and apply online for assistance.
The Passim Emergency Artist Relief (PEAR) Fund: Club Passim launched an emergency relief fund to support its musicians who have played at the Cambridge venue.
Theatre Community Benevolent Fund: This fund provides financial relief to theater practitioners and nonprofit theater organizations in Greater Boston and the surrounding areas.
Boston Singers Relief Fund: New England-based singers whose classical performances were canceled due to COVID-19 and who have not previously received a grant from the fund are eligible to apply.
Musicians Foundation Fund: If you live in the U.S. and have worked in the U.S. as a musician for at least five years, you can apply for aid.
Foundation for Contemporary Arts Emergency Grants COVID-19 Fund: U.S. based artists who have had performances or exhibitions canceled or postponed because of the coronavirus pandemic may apply.
PEN American Writer's Emergency Fund: Professional U.S. fiction and nonfiction authors, poets, playwrights, screenwriters, translators, and journalists who have not previously received a grant from the fund can apply.
Craft Emergency Relief Fund: Emergency assistance for U.S. artists working in a craft discipline.
Sweet Relief Musicians Fund: This fund provides financial assistance to career musicians and music industry workers struggling to make ends meet. To be eligible, at least 50 percent of your annual income must come from your work as a musician or in other music industry-related jobs.
For Essential Workers:
Behind You COVID-19 Emergency Fund: Behind You helps food service employees with financial assistance. "I'm getting requests at the rate of something like 20 or 30 per hour right now, and I expect that to ramp up. There's no way we're going to be able to help everybody, which is upsetting," board member Dan Donato said.
Restaurant Workers Community Foundation COVID-19 Emergency Relief Fund: RCWF is raising funds for the Southern Smoke, a nonprofit hosting the application process for individual workers and businesses who've been impacted by COVID-19. To apply, visit the Southern Smoke website. To donate, visit RCWF's website.
One Fair Wage Emergency Fund: One Fair Wage is raising money to give cash donations to service workers affected by COVID-19 who fill out a form on their website. 
Virtual Tip Jar for Boston: Boston service industry workers who are out of work because of the pandemic (restaurant workers, salon professionals, fitness instructors, etc.) can sign up to receive tips and the public can tip them using Venmo, PayPal, etc. The tips go directly to those who signed up.
Free fitness classes for health care workers: Asana Charlestown is offering free online yoga, meditation, and barre classes to health care workers. After providing their name, place of employment, and job title, they'll be issued a login for free access to the sessions, which are conducted via Zoom.
Free online course for health care professionals in mechanical ventilation use for COVID-19: Health care professionals who need training in ventilator use can take a free course created by edX and Harvard, which teaches initial ventilator setting and adjustments, troubleshooting the ventilator, ventilating patients in special circumstances, and more. Enroll at edX.org.
FrontlineMA.org: Attorney General Maura Healey's office launched a resource guide for Massachusetts health care workers and first responders. Health care workers can find request forms and statewide contacts to obtain PPE, details on the state's free priority testing sites, information about alternative housing and emergency childcare, where to find free or discounted food from local restaurants, and self-isolation guidance during quarantine. There is also information about how the public can support and thank frontline workers.
Hotels for Health: Health care workers who need a place to stay while working during the coronavirus pandemic can use this Trip Advisor program to connect with hotels offering rooms for that purpose.
For Local Businesses:
COVID-19 Response Fund at the Boston Foundation: In an effort to support nonprofits helping those affected by the outbreak, the fund will award one-time operating grants on a rolling basis.
Boston Resiliency Fund: Funds raised will go to local organizations and nonprofits that support food access, technology for at-home learning, and support for healthcare workers and first responders, including childcare.
The Restaurant Strong Winterization Grant: Boston restaurants can apply for a $10,000 grant through the Restaurant Strong Fund, launched by Woburn-based The Greg Hill Foundation and Sam Adams, in partnership with GrubHub.
City of Boston's open businesses listing: The Office of Economic Development created a tool for residents to explore what's open in their neighborhoods. The resource includes a timeline, listings of open local businesses and franchises, and a registration form for business owners. A separate page for open restaurants and resources for owners can be found here.
CommonWealth Kitchen Food Business Support Resource Guide: CommonWealth Kitchen offers an updating guide with information about alternative revenue solutions, loans, crisis management, and more.
COVID-19 Tools and Resources for Nonprofits: A toolkit full of tips, blogs and resources for struggling nonprofits, courtesy of the Nonprofit Finance Fund.
B Strong Fund: Donors can help ease the financial hardship of hospitality employees who work for Big Night Entertainment Group's restaurants and nightlife destinations across New England. Big Night's owners contributed the first $100,000 to the fund. You can donate here.
WorkShare program: This program is for employers facing workforce cuts. Employers can divide available work between employees rather than laying them off, and employees can work reduced hours while filing a claim to receive a portion of their unemployment insurance benefits.
COVID Relief Coalition: Massachusetts small businesses and nonprofits can get pro bono legal support, courtesy of a coalition of law firms, nonprofits, and government agencies led by Ropes & Gray and its pro bono partners Lawyers for Civil Rights and Lawyers Clearinghouse. The coalition will help eligible small businesses and nonprofits apply for emergency loans and other sources of relief and it will connect them with free legal support by coalition partners.
Cape Cod Wedding Vendor Fund: Help sustain the wedding industry on the Cape, which is reporting a more than 75 percent loss of income due to the coronavirus pandemic.
For Communities and Families:
ABCD (Action for Boston Community Development): The Boston area nonprofit is providing emergency services through their food pantries, rental assistance and guidance for those at risk of eviction, fuel assistance, and other programs for individuals and families facing hardship due to the pandemic.
Massachusetts 2-1-1: Massachusetts residents can connect with social service programs and organizations in their communities by contacting Mass 2-1-1, which has been designated by the Mass. Department of Public Health and the Emergency Management Association as the state's free, official 24/7 information and referral line for COVID-19 questions. Services are available in more than 140 languages and residents can access them online or by dialing 2-1-1 from any landline or cellphone.
Multilingual text service with COVID-19 updates: The texting service AlertBoston is available in 11 languages: Spanish, Haitian Creole, French, Cape Verdean Creole, Portuguese, Somali, Chinese, Arabic, Vietnamese, and Russian, as well as in English. Texts are sent multiple times a day with local COVID-19 updates that include Boston case numbers, preventative measures, city resources, and more. Residents can text BOSCOVID to 888-777 for alerts in English; BOSEspanol to 888-777 for Spanish; BOSKreyol to 888-777 for Haitan Creole; BOSFrancais to 888-777 for French; BOSKriolu to 888-777 for Cape Verdean Creole; BOSPortugues to 888-777 for Portuguese; BOSSoomali to 888-777 for Somali; BosChi to 888-777 for Chinese; BosbilAraby to 888-777 for Arabic; BosViet to 888-777 for Vietnamese; and BosRus to 888-777 for Russian. Residents who had previously subscribed under the city's former number will continue receiving alerts and need not re-subscribe. Those with questions can call 3-1-1 or the Mayor's Health Line at (617) 534-5050 to talk to a telephonic interpreter. Updates about COVID-19 in 10 different languages can also be found at boston.gov/coronavirus#multilingual-help.
Free telemedicine: Upswing Health, a sports medicine company in Massachusetts, is offering free telemedicine for those who need help with musculoskeletal problems. Users have access to an injury identification tool, can connect with a medical professional, and receive a personalized recovery plan.
Neighborhood Aid Network: The Neighborhood Aid Network provides shared resources for communities across the state to support its neighbors. Participating neighborhoods include: Arlington, Allston, Berkshires, Beverly, Brighton, Brookline, Cambridge, Concord/Carlisle, Dorchester, East Boston, Everett, Fall River, Framingham, Fenway, Jamaica Plain, Lincoln, Lowell, Lynn, Malden, Medfield, Medford, Natick, New Bedford, Newton, Roslindale, Roxbury, Salem, Somerville, South Boston, South Shore, Sudbury, Tufts University, Waltham, and Western Mass. A mutual aid network for Southeastern Massachusetts can be found here.
Good Neighbors: Nesterly and City of Boston created a free platform to match at-risk individuals with volunteers who provide support that includes door-step deliveries and check-ins.
Boston COVID-19 Community Care: The spreadsheet offers a round-up of community connections, providing contact information for people who are offering childcare, housing, healthcare resources, financial aid, educational resources, tips for free entertainment during quarantine/social distancing, and food.
United Way COVID-19 Family Support Fund: United Way established a COVID-19 Family Support Fund, offering one-time grants of up to $2,000 to help families impacted by the crisis meet their basic needs.
The Southcoast Emergency Response Fund: Established by the Community Foundation of Southeastern Massachusetts, alongside other regional partners, the fund will provide grants to organizations in the region that have been disproportionately impacted by the coronavirus.
COVID-19 Response Fund for the Pioneer Valley: The Community Foundation of Western Massachusetts will use all funds raised to support nonprofits in the the Pioneer Valley. Nonprofits can submit an application for grants on a rolling basis.
MetroWest Emergency Relief Fund and the Feed Framingham COVID-19 Fund: The Foundation for MetroWest is hosting two funds, asking for donations to nonprofits experiencing financial hardship during closures, and to send funding to organizations helping with hunger relief efforts in Framingham. Nonprofits can receive grant opportunities and apply here.
Greater Worcester Community Foundation COVID-19 Response Fund: GWCF is supporting organizations in Worcester county that are helping those disproportionally affected by the coronavirus, and providing grants  for nonprofits.
Greater Lowell Community Foundation: GLCF is asking for donations to its COVID-19 Emergency Response Fund to support vulnerable populations affected by the outbreak within the Lowell community.
How to talk to your kids and teens about the coronavirus outbreak: Somerville Public Schools has provided a list of resources for how to talk to your kids, from early childhood to teens, about the coronavirus and how to support them.
Suffolk County District Attorney's COVID-19 Resource Guide: This guide for Suffolk county residents, courtesy of the office of District Attorney Rachel Rollins, provides contact information for the police and fire departments, emergency service responders, hospitals, and more. It also provides information for food access, health insurance, remote learning, mental health support, finances, stress management, substance use disorders, domestic violence support, child abuse and neglect, homelessness, as well as COVID-19 fraud and protection resources.
Boston Public Library's Remote Resources: The library compiled a comprehensive list of free remote services such as e-books, video courses in cooking, technology, and creative skills, as well as online community events.
Mental Health Resources for COVD-19: Massachusetts General Hospital guide includes information for specific mental health conditions, coping strategies, the needs of children and their caregivers, resources for the mental health care needs of medical professionals, and tools that support mindfulness, relaxation, and movement. The Clay Center for Young Healthy Minds at MGH also provides help managing the emotional wellbeing of families, kids, teenagers, and young adults.
Coronavirus and Family Mental Health: This guide from The Clay Center for Young Healthy Minds at Massachusetts General Hospital provides help managing the emotional wellbeing of kids, teenagers, and young adults.
For Students:
Here's a list of educational sites to keep your children's minds sharp: As families across the state adjust to homeschooling their children during the coronavirus pandemic, education professionals are releasing lists of websites that can help, and celebrities are engaging children online with reading and drawing sessions.
You Visit offers virtual college tours for prospective students: From Harvard University to Penn State, this extensive database of virtual college campuses provides an opportunity for students interested in schools to visit and preview their prospective colleges through a virtual tour.
Outschool offers free classes for families affected by U.S. public school closures: Eligible families can register to access free classes for students ages three to 18. You can also apply for financial assistance and receive $300 per eligible family. 
Free textbooks through Cambridge University Press: The Cambridge University Press has provided free access to 700 higher education textbooks in HTML format during the coronavirus outbreak. Textbooks can be accessed through Cambridge Core or directly through college and university libraries. 
For Social Care:
Aunt Bertha Social Care Network: A large database offering resources for free or reduced cost services for services such as housing, food, health care, legal resources, and more. 
Caritas Communities: With the goal of preventing new instances of homelessness in Greater Boston, Caritas provides affordable permanent housing and support to low-income working individuals. You can check for eligibility and apply here. The nonprofit is also accepting donations.
Cradles to Crayons: This nonprofit, which provides homeless and low-income children ages 0-12 in Massachusetts with essential items such as diapers and and winter coats, launched an Emergency Essentials Fund to help better provide these items to vulnerable children and families during the pandemic.
Massachusetts Legal Assistance Corporation: For individuals seeking legal help in Massachusetts that include unemployment, domestic violence, and other civil legal aid support. The MLAC also provides practical information at MassLegalHelp about your legal rights for residents.
MassSupport Network, a service from Riverside Community Care, provides free and confidential support services and community outreach for residents including one-on-one consultation support and coping strategies.
The Relational Center's virtual support groups: The Relational Center is offering Zoom conference links to daily online video chat support groups that are free and open to the public.
Transition House in Cambridge, which provides domestic violence intervention and prevention, is still available to the community. According to Transition House, "Close quarters and a lack of resources causes stress, and the anxiety associated with COVID-19 can all be factors that increase domestic violence cases." The organization's 24/7 hotline and counseling services can be reached by calling 617-661-7203. To minimize the risk, survivors are receiving counseling services online or by phone. The organization's emergency shelter continues to operate, but is currently full. For updates on shelter openings across the state, contact SafeLink at 877-785-2020. Those with questions about services at Transition House can call 617-868-1650.
Union Capital Boston GoFundMe: Union Capital Boston asking for donations to support individuals in need by offering one-time $150 Visa gift cards.
For Veterans and Military Community:
The Massachusetts Veteran Benefit Calculator: This website, created by the Veterans Clinic at the Legal Services Center of Harvard Law School, helps low-income veterans determine if they are eligible for state financial benefits established under Chapter 115, a program that provides cash assistance based on need. The monthly financial assistance can be used for paying medical bills and utilities, emergency assistance, and preventing homelessness.
For Older Adults and High-Risk Adults:
Combined Jewish Philanthropies: CJP seeks donations to its coronavirus emergency fund to help those most vulnerable, especially seniors, by providing food, financial assistance, and assistive technology for those in isolation.
Ethos Community Cafe "Grab and Go" meals: Older adults are being offered "grab and go" meals at select locations throughout the Greater Boston area. Ethos is also asking for donations due to an increased need for meals within the senior community.
---