Local News
A Somerville photographer captures life during the pandemic from her backyard
"[I] felt compelled to tell the stories beyond the headlines in an attempt to bring people agency during this time," said photojournalist Katherine Taylor.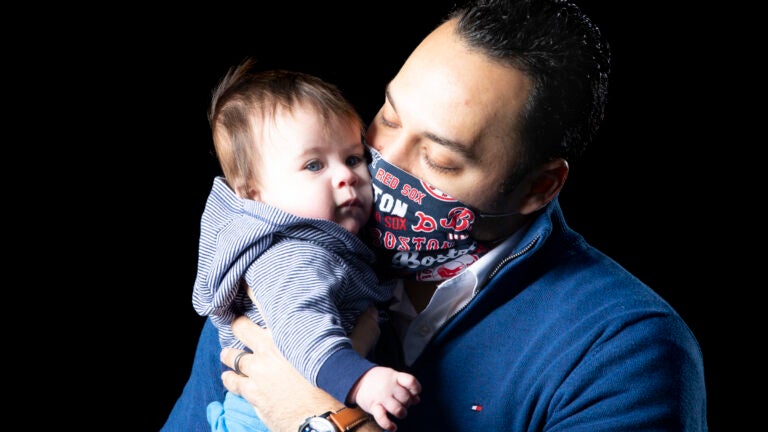 As a freelance photojournalist, Katherine Taylor has traveled the world in search of faces that tell a story.
Through her work for The New York Times, Time, and The Boston Globe, she has captured human rights violations in The Gambia, presidential candidates during the New Hampshire primaries, tornados ripping through Oklahoma, and the aftermath of the Boston Marathon bombings.
But sometimes you don't have to look farther than your own backyard to find a good story.
On April 19, Taylor snapped her first photo for "Who Do You Wear a Mask For?," her photo capsule of life during the coronavirus pandemic. The location was a pop-up studio outside of her Somerville apartment. The hope was to document people during this unprecedented time — unveil their concerns, their joys, and their reasons for wearing a mask.
"As a photojournalist who has covered many stories relating to COVID-19, I was acutely aware that the advent of this virus had enormous personal and professional long-term, serious implications," she said. "I was becoming so incredibly anxious following the news and felt compelled to tell the stories beyond the headlines in an attempt to bring people agency during this time."
Since then, Taylor has photographed more than 75 people – the oldest 82 years old, the youngest was just four months old.
Taylor asks her subjects to wear a mask, don their brightest outfit, and sit on a wooden stool — sanitized after each shoot — against a black backdrop that serves as a reminder that light always shines in darkness. Taylor provides the shoots free of charge and uses a long lens on her Canon 1DX camera to allow for appropriate social distancing.
Before every shoot, she asks about the challenges her subjects have faced, unexpected positives, and for whom they wear a mask. Their answers alongside the photos are published in Taylor's recently launched Masks of Boston website.
"There's often a bit of nervousness for the vulnerability that [answering the questions] requires," said Taylor. "In general, people have received them with openness and positivity, and have expressed appreciation for the time to sit down and reflect about the emotional complexity of this time."
Taylor hopes the series engenders a deeper empathy for one another. "We each experience it differently and when we can share that, I think it can foster care and connection," she said. "A mask can be a symbol of something much deeper than it reads on the surface and it perhaps is more revealing than concealing."
While she currently shoots only in her backyard, her goal is to partner with community organizations, churches, and city governments in neighborhoods around the Greater Boston area to safely bring her project to communities where people may not be able to reach her pop-up studio in Somerville.
"This is historic and every voice matters," she said. "Safety matters. Connection, in a responsible way, matters. There's a depth of emotion that individuals are experiencing during this time."
Protective measures to combat the virus may be restrictive even as the state begins to reopen, but Taylor believes sharing your personal experience can instill a positive sense of community connection. "This provides a unique opportunity for people to empathize more deeply with one another," she said, "especially since we are all in the same boat."