Local
How to support racial justice in Massachusetts
A running list of resources in Massachusetts to turn action into real change.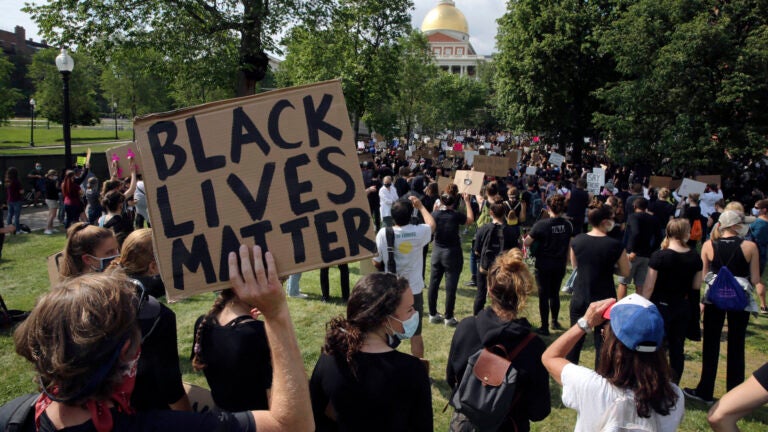 The killing of George Floyd while in Minneapolis police custody brought to the surface pain, anger, and frustration over an unjust justice system that took the life of another Black person. Demonstrations and protests have been sparked across the country, along with conversations about what is wrong, why unequal justice has continued, and how we can build a more just system. 
Thousands of people throughout Massachusetts have been joining local rallies and marches, and thousands more have been asking what to do and how they can help. The team at Boston.com has assembled this updating list of resources and organizations in Massachusetts as well as some national sites for those looking to take action to end racist policing and demand change in our local community.
This is an updating list of resources to help Bostonians get informed and take action against racial injustice. We encourage readers to explore beyond this list, think critically, and use your own judgment when deciding to get involved. Please let us know more organizations or resources to include.
Stay safe, and let's channel this action into change in Boston, Massachusetts, and beyond.
Support local and national activists
Local organizations:
American Civil Liberties Union (ACLU) of Massachusetts works to defend the civil liberties and civil rights for residents guaranteed by federal and state constitutions and laws.
Anti-Defamation League (ADL) New England, which was originally founded in 1913 to stop anti-Semitism, also works to fight against all forms of discrimination and bigotry while also promoting and protecting civil runs. Their anti-bias education program, A World of Difference, is run within over 120 schools in New England. 
Black Lives Matter — Boston Chapter aims to "build Black power in Boston" by supporting Black leaders, creating a "network" within communities that "empowers" people of color, and fighting against racist policing, police violence, mass incarceration and economic disparities. 
Black Boston is a community organization of activists whose website offers directories, networking, and resources of Black-owned businesses, a calendar of events, and more.
Coalition for Social Justice is a grassroots organization founded in 1994 that is committed to providing outreach and information to those affected by poverty. They aim to develop leadership within low-income communities, create a network of volunteers, build coalitions, provide information and hold elected officials accountable. 
Communities for Restorative Justice is focused on strengthening the community by engaging them in conversations about conflict. In partnership with 25 cities and towns, as the District Attorneys of Middlesex and Suffolk counties, they listen and support victims, hold offenders accountable and work directly with police departments on a restorative justice program.
Justice and Social Action Resources offers a number of different programs and resources to families struggling with disabilities, including addiction recovery, adult family care, autism, community justice, and behavioral health services to support those who are incarcerated, detained or under parole or probation. 
Mass Action Against Police Brutality is a campaign to prosecute law enforcement and end the harassment of victims and witnesses. They host a number of events, including an online teach in with police brutality activist Mel Reeves to discuss what is occurring in Minneapolis. 
The Massachusetts Bail Fund works to post bail of up to $2,000 for low-income individuals in Middleton House of Correction, Suffolk County House of Corrections and Nashua Street Jail. They will also cover any bail commissioner fees. Applications can be filled out here.
National Council for Incarcerated and Formerly Incarcerated Women and Girls is a Boston-based membership platform that works to end the imprisonment of women and girls by pushing for the repeal of laws like the Violent Crime Control and Law Enforcement Act of 1994, encouraging clemency at the state level, and addressing violence through a transformative justice framework.
National organizations:
American Civil Liberties Union (ACLU) is a nonprofit founded in 1920 to defend the individual rights guaranteed by the Constitution and the Bill of Rights through litigation and lobbying. They focus on racial justice, freedom of speech, and human rights, among other issues. 
The Bail Project combats mass incarceration by paying bail for those who can't afford to pay it themselves, so defendants don't have to sit in jail while waiting for their court date. If a defendant makes all required court appearances, their bail is refunded, so one donation can end up helping several people. 
Black Lives Matter was founded in 2013 as a response to the acquittal of George Zimmerman, the white man who fatally shot 17-year-old Trayvon Martin. The organization works to end state-sanctioned violence and white supremacy, as well as create space for Black imagination, innovation, and joy. 
Campaign Zero works to end violent policing by focusing on concrete policy solutions such as ending "broken windows" policing, preventing local police departments from purchasing or using military weapons, and fighting for police forces that reflect the demographics of the communities they serve. 
Color of Change is the largest online racial justice organization in the US with 1.7 million members. The organization commissions research on systems of inequality, designs strategies to more effectively combat injustice, and runs campaigns like these ones for Breonna Taylor and George Floyd. 
Equal Justice Initiative is a private, nonprofit organization that provides legal representation to people who have been illegally convicted, unfairly sentenced, or abused in state jails and prisons. It challenges the death penalty and excessive punishment and provides re-entry assistance to formerly incarcerated people.
NAACP Legal Defense and Education Fund's most well-known case was Brown v. Board of Education, the 1954 civil rights case that desegregated schools. They are still using the tools of litigation, advocacy, and public education today to fight for racial justice, particularly but not exclusively for African Americans. 
National Bail Fund Network is a regularly-updated directory of over 60 bail and bond funds from around the country. The list can be organized by state and by pretrial vs. immigration detention, or you can donate to the Emergency Rapid Response Fund if you'd like your donation to be split between all of the funds. ActBlue has also set up a donation page that allows you to give to bail funds, mutual aid funds, and racial justice organizations across the country. 
Center for Policing Equity is a nonprofit think tank that partners with law enforcement agencies to aid in confronting racial bias in policing through data science. 
Southern Poverty Law Center fights legal battles on behalf of a variety of civil rights issues. They also run the Intelligence Project, which tracks extremist hate groups in the United States, and Teaching Tolerance, which provides free anti-bias teaching materials to educators. 
Support funds for victims and their families
A Change.org petition calling for justice in the killing of George Floyd is the most signed in the site's history. You can also support his family's memorial fund. Several funds and petitions exist for the recent killings of Black Americans including Ahmaud Arbery, Breonna Taylor, Rayshard Brooks, and a Color of Change petition calling for an end to police violence against Black people.  
Other ways to take action
Contact your legislators to demand accountability: Call your local and state representatives 
Join a Mutual Aid Network
Buy from Black-owned businesses and restaurants in Boston 
Register to vote and check for upcoming election dates and registration deadlines. 
Know your rights under Massachusetts law. If you've witnessed or experienced a hate crime, you can file a complaint with the Attorney General's office or call the Hate Crime Hotline: 1 (800) 994-3228
Educate yourself and be an active ally
Read
"How To Be an Anti-Racist" — Ibram X. Kendi
"Boston. Racism. Image. Reality." — Boston Globe Spotlight team's seven-part series published in 2017
"Boston-area bookstores are sharing anti-racist reading lists. Here's what's on them." — Boston.com
"How to Make this Moment the Turning Point for Real Change" — President Barack Obama in Medium
"Talking About Race" — National Museum of African American History and Culture (NMAAHC) shares online resources from articles, interactive exercises, and videos to help people navigate conversations about race.
"Being Antiracist" — Angela Y. Davis for NMAAHC
Antiracist Allyship Starter Pack — Tatum Dorrell, Matt Herndon, and Jourdan Dorrell share a Google sheet of resources and tools to learn about racism
Anti-Racism for Beginners — Melyssa Griffin and Tiffany Bowden share a guide for people "diving into the world of anti-racism for the first time."
"Tragic Death of George Floyd Reveals Continuing Problem of Police Violence" — Equal Justice Initiative on Police Violence
"Waking Up White: And Finding Myself in the Story of Race" — Debby Irving (The racial justice educator, writer, and author also shared how to broach difficult conversations about race with Boston.com.)
Watch
How to make racism a solvable problem—and improve policing — Center for Policing Equity co-founder Dr. Phillip Atiba Goff provides actionable steps in his 2019 Ted Talk
"I Am Not Your Negro" — a 2016 documentary from director Raoul Peck that "is built upon [James] Baldwin's writings, using them to remind us incisively of how little has changed."
Listen
"Seeing White" — John Biewen hosts this podcast series with collaborator Chenjerai Kumanyika about what "whiteness" means and racial structures in America on Scene on Radio
"1619" — a podcast from the New York Times Magazine's "The 1619 Project," an historical analysis of American slavery created by Nikole Hannah-Jones.
"Broken Justice" — a podcast series from PBS NewsHour about public defenders and the U.S. criminal justice system.
For Kids
"How to talk to kids about George Floyd" — Harold S. Koplewicz, MD
"Books that promote diversity and inclusion" and "Books about racism and social justice" — Common Sense Media
Make your voice heard on Boston.com by sharing your story with us at [email protected].
Add to our resource list here.